The Rise and Fall of Little Voice
Jim Cartwright
Birmingham Repertory Theatre Company and West Yorkshire Playhouse
Birmingham REP
–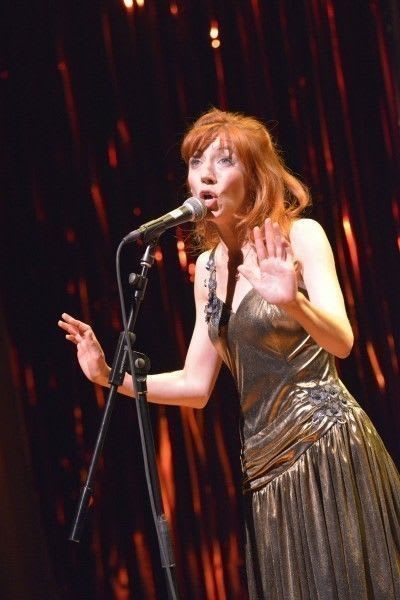 Two former Coronation Street regulars appear in Jim Cartwright's tale of a shy, reclusive girl named Little Voice and her overbearing, alcoholic, outrageous mother Mari. At the show I attended, it was obvious that a section of the Birmingham REP audience contained big fans of the duo.
Vicky Entwistle, otherwise known as gobby factory worker Janice Battersby, takes the role of Mari while Chris Gascoyne—Peter Barlow in almost 1,000 episodes of the Granada soap—plays her love interest Ray Say.
James Brining, artistic director of West Yorkshire Playhouse who directs, gets commendable performances from both actors.
As I wrote when I reviewed Derby Theatre's take on this play six months ago, there is a temptation for directors to plump for an over-the-top production, with the actors possibly making their characters more flamboyant than Cartwright intended.
But Brining lets the humour in the script speak for itself and the play is all the more poignant because of it.
Entwistle, dressed in sparkly tops and leather skirt, is the mother from hell, a widow who has a keen interest in men and having a good time. She is past her sell-by date, as is most of the food in her kitchen because housework does not even come bottom of her list of priorities.
Entwistle explores the profundity of the character, not only showing us a working-class mother but also disclosing a fleeting concern and even love for her difficult daughter.
Gascoyne, in his first stage play for 11 years, is the entertainments agent with "a crooner, a dog act and two strippers" on his books who wants to get into artiste management. There is nothing sleazy about Gascoyne's manipulative Ray Say; this makes the revelation of his true feelings for Mari almost shocking. Gascoyne gives the role credibility and authenticity.
Nancy Sullivan is LV, the young woman who shuns social contact and stays in her bedroom listening to records left by her late father. When the electricity fails, she begins to sing, mimicking some of the world's greatest singers. Ray Say spots his once-in-a-lifetime chance of making the big time.
It is a problem for a director to cast someone in the role of LV which Cartwright originally penned for Jane Horrocks. Nancy Sullivan brings a fresh quality to the part, presenting us with someone who can be depressed as well as frightened to deal with anything that takes her out of her comfort zone.
There is the occasional bond between the fragile LV and Mari, exemplified when the youngster looks after her mother who is so drunk she cannot stand up. Sullivan also comes up with a heart-rending speech towards the end in which LV mercilessly berates her mother for her selfishness.
Sullivan has a good, powerful voice. Some of her impersonations are spot-on, although she is not quite there with a couple of the voices she tackles.
I particularly enjoyed Joanna Brookes's interpretation of Mari's put-upon friend Sadie. Unlike previous productions I have seen, Sadie is not a dopey figure of fun with a silly laugh; Brookes is quiet and compassionate, making Mari's dreadful treatment of her especially touching.
There is a solid performance by Brendan Charleson who adds his own little touches to the part of nightclub boss Mr Boo while Tendayi Jembere gives a tender display as Billy, the telephone engineer who befriends LV.
Designer Colin Richmond is able to utilise the huge, tall, revolving REP stage to produce a clever two-storey set and Philip Gladwell's lighting is particularly memorable.
But that cannot be said of the mish-mash of news bulletin extracts and adverts from the early 1990s when the play is set; they are used for scene changes and at the interval but I found them difficult to hear and decipher—they became an intrusion long before the end.
The audience at the performance of The Rise and Fall of Little Voice that I saw rose almost as one to give a standing ovation. It was well deserved for revealing new insights into a show that is becoming increasingly familiar.
Reviewer: Steve Orme