The Rise and Shine of Comrade Fiasco
Andrew Whaley
Gate Theatre, Notting Hill
–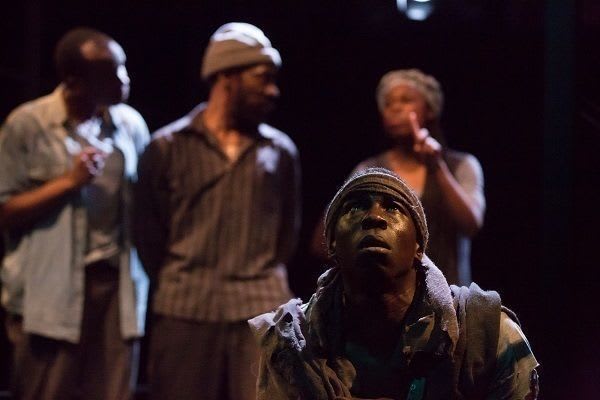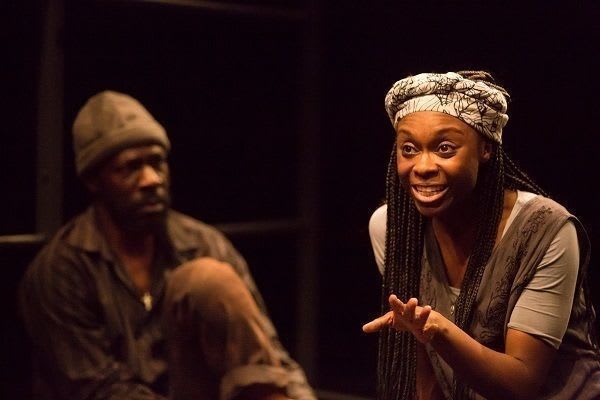 This latest contribution to the Freedom Burning Season is the reward to Elayce Ismail for winning the J P Morgan Award for Emerging Directors.
In The Rise and Shine of Comrade Fiasco, Andrew Whaley has chosen to depict the recent revolutionary history of Zimbabwe in an oblique but poetic manner.
Set in a prison cell represented by a cage, the play starts with a pair of hung-over drunks and a pretty woman who might be a lady of the night bantering in comic fashion, using physical theatre skills to convey their recent tribulations, moving into an uncomfortable set of relationships.
We soon become familiar with the antics and bickering generated between Kurt Egyiawan's serious Chidhina, Gary Beadle playing larky, older Jungle and Joan Iyola as the supposedly civilising female Febi.
Nothing in this light-hearted opening prepares the audience for the explosive arrival of Abdul Salis in the role of the terrified Comrade Fiasco.
Whether he is a ghost, a dream-figure or real life flesh and blood is far from clear but Fiasco's entrance instantly transforms the play and helps the cell's incumbents to bond.
Slowly, using a variety of personalities, including both young and old, they tease and encourage their visitor to come out of his shell, revealing a tale similar to those of the legendary, jungle-bound Japanese soldiers who did not know that the War was over until a generation later.
In Fiasco's case, he apparently hid in a cave in 1978 so that by 1986 Zimbabwe when was free his undoubted dedication as a freedom fighter should have been redundant, did he but know it.
On a different level, his rebirth is probably intended to symbolise the difficulties suffered by the infant Zimbabwe as it tried to forget its sometimes shady existence as Rhodesia and established itself as a brave new country.
Each of the actors is offered and takes several chances to enjoy moments in the limelight that shines on their crammed cage, with Abdul Salis conveying bewilderment and fear particularly convincingly.
Overall, The Rise and Shine of Comrade Fiasco is a worthwhile showcase for a fresh young director to show the public some new angles on a familiar tale, although the plotting is a little thin to sustain a full 90 minutes.
Reviewer: Philip Fisher