The Rite of Spring & Petrushka
Choreography by Michael Keegan-Dolan, music by Igor Stravinsky
Fabulous Beast Dance Theatre and The Dance Touring Partnership
Northern Stage, Newcastle
–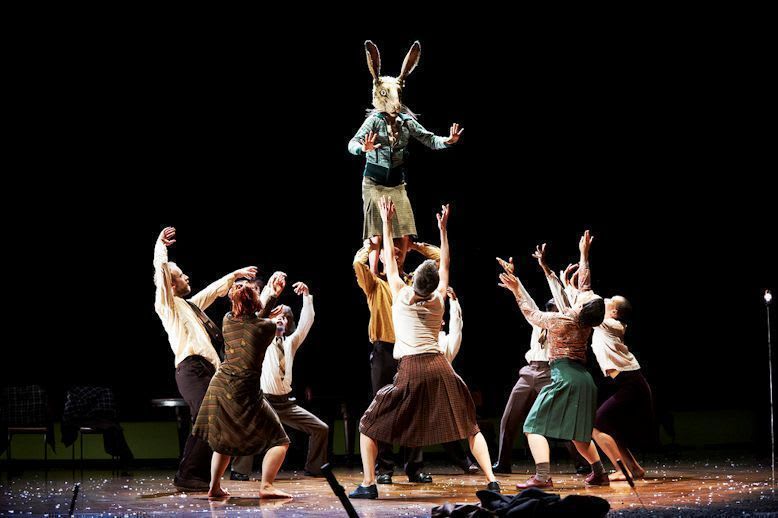 The North East hasn't had much opportunity to see the work of Michael Keegan-Dolan's Fabulous Beast Dance Theatre. They brought James Son of James to Northern Stage in 2007 - I described it at the time as "a bleak picture of misery and passion concealed beneath a veneer of respectability" - and the choice of The Rite of Spring for this tour seemed to reinforce the impression I was had of a choreographer focusing on darkness and suffering.
Primitive ritual, sacrifice and death to bring in Spring lie at the core of the music and Nijinsky's original choreography and Keegan-Dolan's re-imagining of the piece goes along the same path but with a more animal savagery as the dancers become, variously, hares and vicious dogs, and later, instead of the sacrificial girl (Anna Kaszuba) being watched and encouraged by the "wise old men", all the dancers put on women's clothing and encourage and assist in the girl's dance to the death.
It starts bleakly with snow falling on the grey, wintery stage (beautifully subtle lighting by Adam Silverman) and the "old woman" (Bernadette Iglich), who in the original merely foretells the future, takes a more active role, a constant presence who manipulates the dancers and leads them to the final sacrifice and the blossoming of spring.
Although nature is definitely "red in tooth and claw", at end there is light and hope.
After the interval comes Petrushka, the tale of the puppet clown. This is also a re-imagining of the story and it is very different in tone from The Rite of Spring. It begins, as Keegan-Dolan says in his programme note, in light, but it isn't unadulterated light, for brooding over it all, sat high above the stage, is the same old woman as began the first piece, wearing the same costume and manipulating the dancers like a puppeteer.
With little distinction between male and female - indeed, there's a little cross-dressing - and no clear identification of Petrushka himself, let alone the Moor and the Ballerina as the dancers one by one become clowns in white-face, the story is obscured but, although it is brighter than Rite, all is not sweetness and light. However as Rachel Poirier climbs a rope ladder dropped from the flies at the end, it is as though Petrushka is ascending to an unknown but - possibly better - future.
It's a well balanced programme, showcasing the talents of a strong ensemble and expressing the dark and light of Keegan-Dolan's choreographic imagination.
Reviewer: Peter Lathan