The Rite of Spring & Petrushka
Choreography by Michael Keegan-Dolan
Fabulous Beast Dance Theatre
Sadler's Wells
–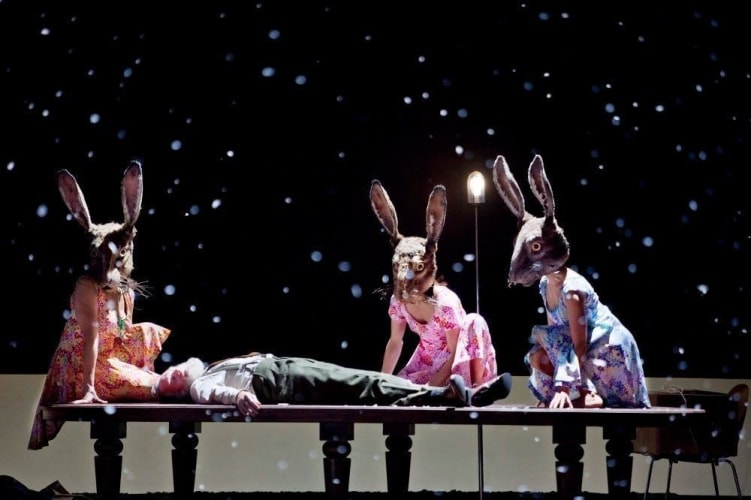 Where Vaslav Nijinsky, Léonide Massine, Kenneth MacMillan, Maurice Béjart, Pina Bausch and more have trod before comes Michael Keegan-Dolan's Fabulous Beast Dance Theatre's linked double bill, The Rite of Spring & Petrushka, the first out of a commissioned A String of Rites season to celebrate the centenary of Igor Stravinsky's The Rite of Spring, which so upset its 1913 Paris audience.
Premièred four years ago at the London Coliseum (in co-production with the ENO), Keegan-Dolan's The Rite of Spring is a skinnier beast today, its cast reduced from the eighteen men and three women in 2009 to six of each, though gender appears to be immaterial.
And it seems to me that this chamber version to a four-hand piano score played by sisters Lidija and Sanja Bizjak is a tame beast too. No orchestral woodwind, brass, and strings, timpani replaced by a couple of stage drum rolls and percussive stamping feet, no visceral shock to the solar plexus, no frenzied pagan drive.
What remains is an Irish folk tale, all dull earthy hues. This is an Ireland where it snows incessantly and people in drab woolly hats and coats clutch boxes marked fragile. Downtrodden, gloomy, controlled by a smoking shamanistic witchy elder (the magnificent Olwen Fouéré) in trailing black coat and high hat.
Repressed lives: bog dwelling, primitive, superstitious, narrow, scared, dog and hare coursing imagery a distraction. The fabulous animal heads (design Rae Smith)—ah, that's what's in the boxes marked fragile—are not as menacing as they could be.
Hands clap, reach to heaven, knives are pulled, a young girl is stripped, soil rubbed on bodies, mother earth humped by all. Not enough. Snow falls; the earth remains dark. More is needed to bring the light of spring. Maybe, a proper Maslenitsa carnival…
Stripped naked, baring all, discarding winter clothes, the dancers put on flowery spring frocks, but the snow still falls. Then Anna Kaszuba dances a haka warrior dance, golden light streams in (lighting design by Adam Silverman), and curtain. Is it curtains for her, though?
Keegan-Dolan's new interpretation of Petrushka (composed two years before the earth-shattering Rite) seems to continue where his Rite leaves off. From darkness to light—from rite to dazzling, blinding, disorientating light—is this Petrushka confined in a mental asylum?
Dancers in white, cross-gendered and cross-dressed (was Aristophanes' three genders speech in Plato's Symposium consulted?), Petrushka, the Ballerina and the Moor invisible amongst them on an all-white silk-walled set.
Petrushka, the Ballerina and the Moor are elements in all of us, confused desperate humanity. Pierrots, one by one they daub their faces white, as the ringmaster Charlatan, the witchy woman in black, looks on from her high post, whilst her partner (grizzled Bill Lengfelder), lazily smoking, lounges at its foot.
Their hand-held lights sweep the stage and auditorium. Fingers point. Solos, duets, trios pull free from the group of ten, but the group remains constant till a rope ladder falls from the flies, and Rachel Poirier makes a break for it. As she nears the top, the black curtain falls again.
The ends we can fill in for ourselves, for this Petrushka and Rite of Spring are surely intended as metaphors for the human condition. A matter of life and death.
Keegan-Dolan's Dance Theatre has a contemporary dance style of its own, in this instance more Isadora Duncan, more Rudolf Steiner and Dalcroze Eurhythmics, than Pina Bausch Tanztheater, fluid, rhythmic, abstract.
The dancers are good—androgynous Ino Riga, intense Anna Kaszuba and Rachel Poirier, compact Brooke Smiley—and I wanted to be moved, excited, jolted, but found little dramatic tension in an interesting production, which feels in a state of evolution.
Supported by Culture Ireland as part of Ireland's EU Presidency Culture Programme 2013, The Rite of Spring & Petrushka is a Fabulous Beast Dance Theatre production with Sadler's Wells in a co-production with Movimentos Festwochen der Autostadt in Wolfsburg, Brisbane Festival, Galway Arts Festival and Melbourne Festival.
Reviewer: Vera Liber