The Roundabout
J B Priestley
Cahoots Theatre Company
Park Theatre (Park 200)
–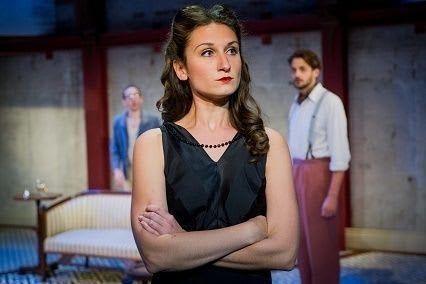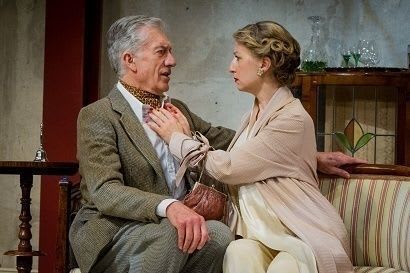 Director Hugh Ross on behalf of the Park has simultaneously made two invaluable discoveries. The first is actually more of a rediscovery, in that this 2¼-hour long play, which disappeared from view for close to 85 years, turns out to be a highly enjoyable comedy with hints of influences from both Shaw and Chekhov.
As a pleasant bonus, this production's leading lady Bessie Carter, who is making her professional stage debut in the role of spirited if rather patrician Communist Pamela Kettlewell, appears to be a star in the making. She has great fun as an ugly duckling who rather uncharacteristically decides to become a swanky swan.
The events take place in a rather austere, art deco living room at the country pile of her rather ineffectual and frustrated father, Lord Kettlewell. There, Brian Protheroe's character welcomes the kind of house party that could easily have made for farce rather than a comedy of manners with political leanings.
His huffing and puffing Lordship is constantly frustrated by all aspects of life but receives great assistance from Hugh Sachs as the splendidly laconic Chuffy Saunders. A man like this with a great line in witty, if rather camp, repartee would make him a welcome guest in anyone's home.
Amongst the other guests are several tediously self-important members of the nobility, but also Stephen Blakeley playing Comrade Staggles, a northern Communist with lecherous tendencies and an ideological weakness in that he has a taste for the good things in life.
The older womenfolk do not fare well, although Lisa Bowerman as the long separated Lady Kettlewell shows great sangfroid during her daughter's not especially subtle attempts to bring the old folk together again.
While elements of this play can be overly sentimental, the political dimension represented by that old Chekhovian dilemma, where the landed gentry cannot afford to keep up the family home, is intriguing. This is particularly the case when matters are viewed through a Communist microscope, even if that is not as well focused as it perhaps should be.
Indeed, at one point even there was a distinct possibility that the British equivalent to a serf might buy his Lordship out of house and home with all the symbolic resonance that would have implied.
In any event, even if it does not see him at the very peak of his game, The Roundabout is yet further proof that J B Priestley was one of the best writers of a well-made play during the heyday of that form in the middle of the twentieth century.
Reviewer: Philip Fisher