The Royale
Marco Ramirez
Lincoln Center Theater
Mitzi E Newhouse Theater
–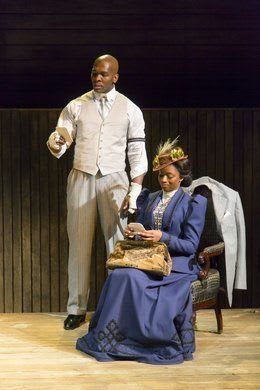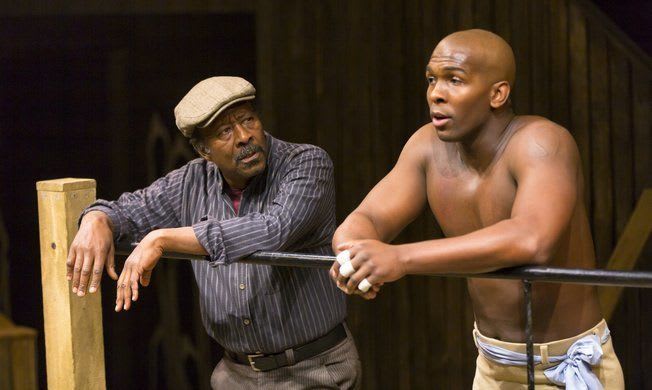 The latest play in Lincoln Center Theater's Private Reels series might look like a fictionalised boxing biopic played out on stage, but you don't need to dig far beneath the surface to discover that The Royale is actually much deeper.
Set in the early years of the 20th century, this deep investigation of American racism centres on Jay "The Sport" Jackson, a thinly disguised version of Jack Johnson, potentially the best boxer of his era. The reason for uncertainty is that eloquent Jackson / Johnson, admirably played by Khris Davis, was Colored, in contemporary parlance African-American.
While he can beat black all-comers without breaking into a sweat, Jackson's ambition is to fight and beat Bixby, the recently retired World Champion, "The Great White Hope", to prove a point for himself and his race. What he hopes will transpire was what would in real life become "The Fight of the Century" between Johnson and James J Jeffries.
This is where the racism comes in. As Jackson's flashy promoter John Lavelle playing Max eloquently points out, a fight between a white boxer and a black boxer would enrage half of the United States' population. As such, the 80-minute play becomes a struggle for recognition rather than merely a typical sporting drama, though it contains just as much tension.
The protagonist will let nothing prevent him from achieving his goal, accepting a ludicrous financial deal and receiving sterling support from Clarke Peters as trainer Wynton and sparring partner / protégé Fish, portrayed by McKinley Belcher III.
Director Rachel Chavkin has created a claustrophobic wooden set, which is reminiscent of the kind of pen that might have been used for cockfighting. Her staging of the fights is equally effective, given that the boxers never actually lay a "glove" on each other but still end up reeling on the wrong end of knockout punches.
The fifth person who becomes embroiled in the debate is Jackson's sister Nina, played by Montego Glover. As one might expect, she is introduced to provide a calmer perspective on a situation that has so many levels but also to introduce an insuperable moral dilemma. The evening builds to a final fight for the heavyweight championship of the world that is as unexpected as it is exciting.
While viewers a century on might be rooting for Jackson to use his popularity and talent to further the hopes of his downtrodden fellows, politics in the era of Theodore Roosevelt and latterly William Taft were much harsher.
By taking on white society, Jackson was not only risking his career and wealth but also potentially even his life and those of others in a play that is constantly gripping at the same time as addressing some of the most serious issues with which society has to contend.
Reviewer: Philip Fisher