The Schaubühne Berlin under Thomas Ostermeier
Peter M Boenisch (Editor)
Methuen Drama
Released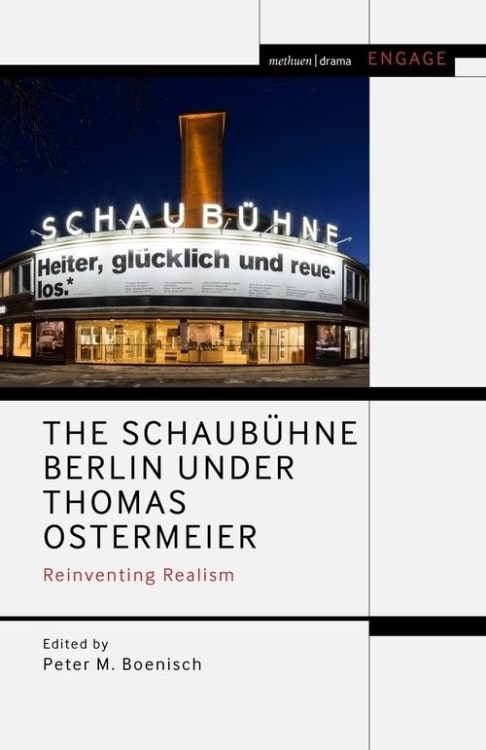 Thomas Ostermeier should be well-known to British audiences, having enjoyed great success and often controversy with productions at such venues as the Barbican and those used in the Edinburgh International Festival. His work is very distinctive, likely either to offend or attract viewers depending upon their taste and willingness to embrace lively modern stagings of both classic plays and new writing.
The Schaubühne Berlin under Thomas Ostermeier comprises a series of essays looking at the history of the theatre and the work of its Artistic Director. Coincidentally, the publication also marks two anniversaries, since Ostermeier took over the reins at the theatre 20 years ago, while his equally distinguished predecessor Peter Stein did so 50 years ago.
The achievements of both are reviewed in considerable detail throughout a book that starts with a succinct history of The Schaubühne Berlin, always a radical and revolutionary theatre, relating it to the troubled history of its home city and country. The theatre's attraction largely lies in its creation and continued operation around an egalitarian, collective philosophy, laid down in a mission manifesto reprinted here in full for the first time in English.
Many will find the most valuable chapter to be that entitled "'Audiences know their cause will be treated': Making political theatre at the Schaubühne" comprising an interview between Clare Finburgh Delijani and Thomas Ostermeier. In this, the director outlines the history of the company from its founding in 1962, emphasising the significance of its early years, run by a disaffected group of drama students. He also makes clear the enduring importance of the work of Bertolt Brecht, an early influence on the former students and equally significant to their successors from Stein onwards.
Ostermeier's methodology as a director has always been unorthodox and challenging, attempting to combine some aspects of performance from the Elizabethan age with an aesthetic closer to 'In Yer Face' theatre, which he championed in Germany. The process and underlying philosophy are explained in further detail in the chapter "Theatre towards the liberation of thinking: Experimenting with realism(s) at the Schaubühne, 2000-2010" by long-term collaborator Jens Hillje, who Ostermeier brought in as dramaturg at the beginning of his tenure.
Hillje summarises the position in the early days by referring to a dual strategy: "on the one hand, we took classics and modernized them according to what we had learnt from contemporary playwrights. On the other hand, our second strategy was to commission and develop new plays that very directly dealt with societal and political topics."
The chapter by Jitka Goriaux Pelechová considering Thomas Ostermeier's Shakespeare productions will give readers a very good idea of both the visual and philosophical impact of his work, while leading actor Lars Eidinger's contribution to and as Hamlet over a 12-year period is put under the microscope by Elisa Leroy.
Many other topics are addressed, including the theatre's strong political underpinning, the FIND festivals of international work, Katie Mitchell's interactions with the company and its connections with Latin America.
Going over and above these themes, the second strand of performance that gets due attention is dance, which has run in parallel with acting throughout Ostermeier's time at the helm, sometimes separately and often intertwined with the work of playwrights such as Falk Richter.
It is in the nature of a book of essays that there will be some overlaps and each reader will find the chapters that they most appreciate, but the book presents a good overview of its subject, whether for readers who are well acquainted with this important European company's work or those who are keen to learn more about it.
Reviewer: Philip Fisher