School of Rock
Music by Andrew Lloyd Webber, book by Julian Fellowes and lyrics by Glenn Slater
Winter Garden, New York
From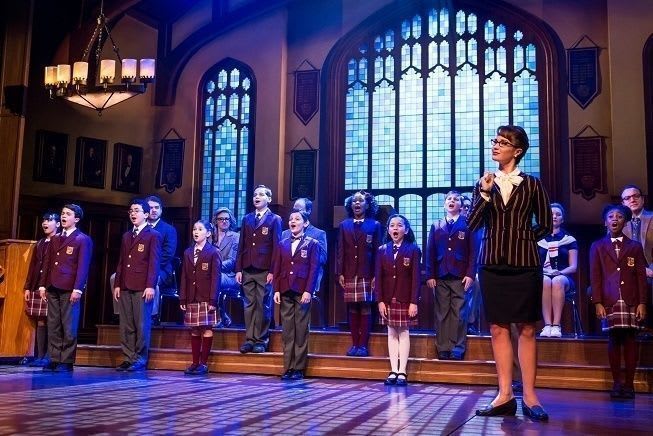 What do you get by crossing the people behind (say) Star Trek, Jesus Christ Superstar, Downton Abbey and Sister Act? The answer is School of Rock, a phrase that just begs to be growled at top volume.
You also get what is almost certain to be a smash hit across the globe, combining Paramount's cult teen musical movie with the ever-popular Lord Lloyd Webber and Julian Fellowes who spawned the class-obsessed historical TV smash hit before adding in the popular composer-lyricist Glenn Slater.
It has to be admitted that the storyline is at times almost laughably bad with suspension of disbelief likely to demand a big effort for adults in the audience.
To get things going, a lazy, overweight wannabe rock star steals his unpaid landlord's job teaching at a swanky prep school for kids of rich uncaring parents. Maybe America is different, but in Britain this would be tricky given the need for Criminal Records checks for those working even peripherally with children.
Alex Brightman's Dewey then gives up on curriculum, encouraging his untenably talented sub-teen pupils to play loud rock all day every day without anybody at the school noticing.
In order to get his pint-sized new band The School of Rock to The Battle of the Bands, Dewey also seduces the prim principal, played by the golden-tonsilled Sierra Boggess, and kidnaps fourteen vulnerable children with pushy, influential parents.
By that point, it would be easy to wonder how Downton Abbey, with the same progenitor thinking up the plots, made it to the small screen at all.
However, on this occasion, all can be forgiven because of the music and the uber-talented children.
Making selections from such an ensemble is unfair but here goes. If 10-year-old Bobbi Mackenzie who plays Tomika does not become a soul star with a sensational voice, best demonstrated in her a capella version of "Amazing Grace", it will be a big surprise.
Similarly, Brandon Niederauer plays a mean guitar, as does Evie Dolan, while Jared Parker on keyboards and Dante Melucci's drumming are also worthy of note.
On the acting front, Isabella Russo as Summer, the band's manager, has impressive comic talent.
The music is a slightly incongruous mix of songs like the kids' plea "If Only You Would Listen", which is pure Lloyd Webber, a love song "Where did the Rock Go?" and heavy rock, with the oft-repeated "Stick it to the Man" strong enough to release as a single that could top the charts.
There is also some lively choreography courtesy of JoAnn M Hunter and rock concert visual effects created by scenic designer Anna Louizos and lighting colleague Natasha Katz.
While the plotting is unlikely, cheesy and excessively sentimental, it does build to a feelgood climax with just a touch of pathos. In other words, just what the kids at whom the show is aimed will lap up, while most of their parents will probably easily forgive the weaknesses.
Alex Brightman gives an exceptional performance, holding things together throughout. This allows the talented youngsters, who play their own instruments with great dexterity and exude innocent charm under the direction of Laurence Connor, to have a great time and woo their enthusiastic audiences.
With all of this going for it, Andrew Lloyd Webber and Co should be set for a long run at the Winter Garden and must already be planning openings in key cities around the world.
Reviewer: Philip Fisher