The Seagull
Anton Chekhov in a new version by Simon Stephens
Lyric Hammersmith
–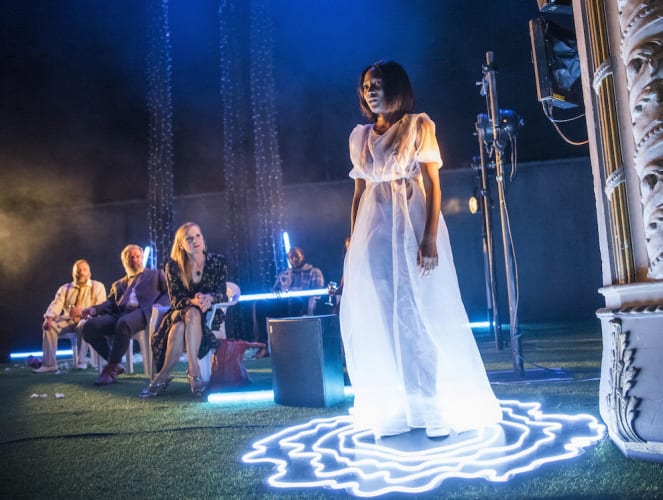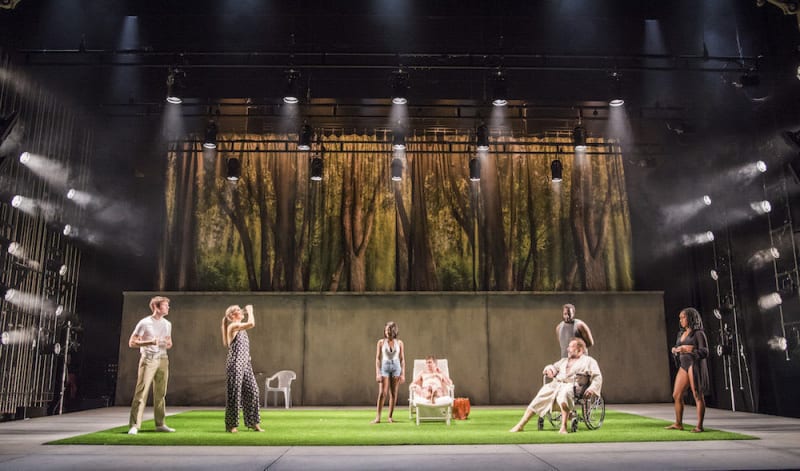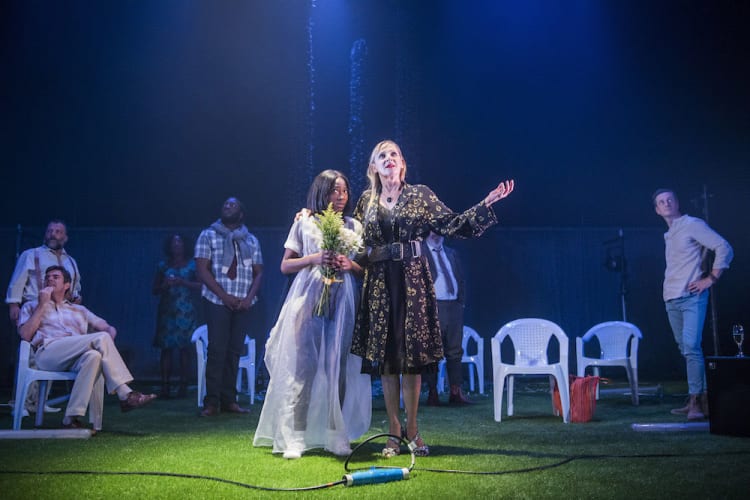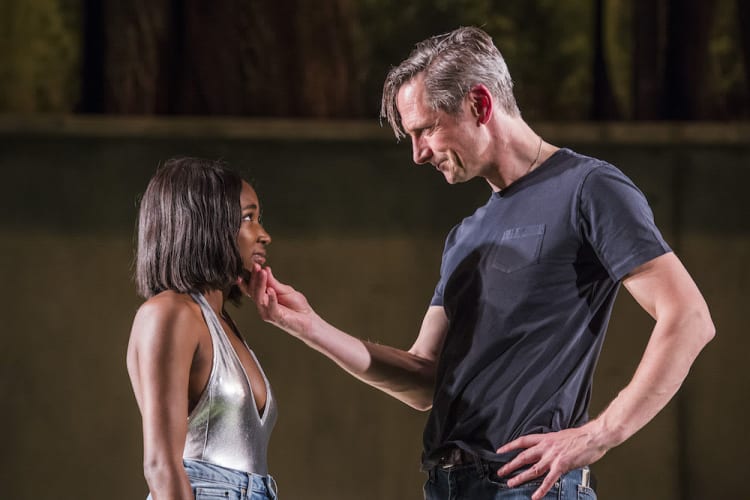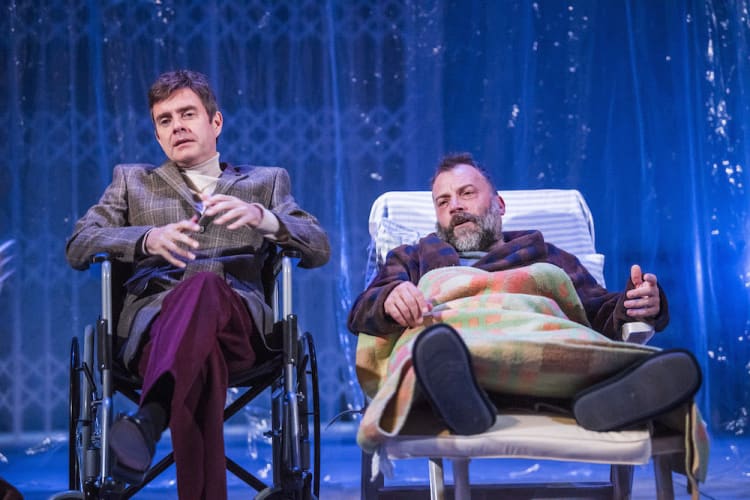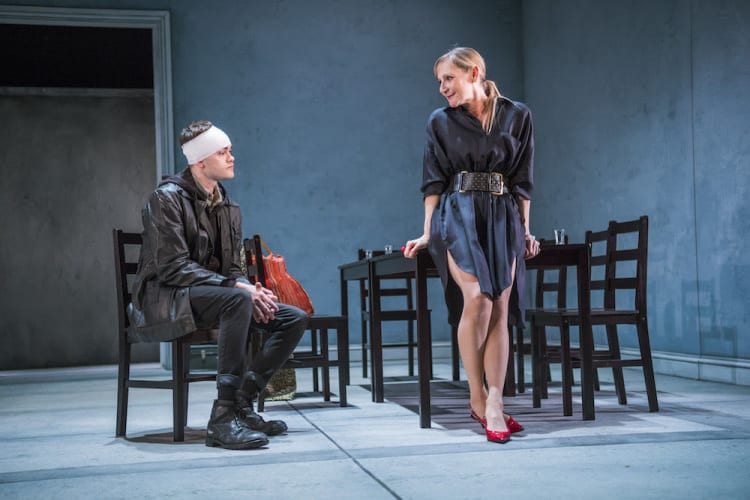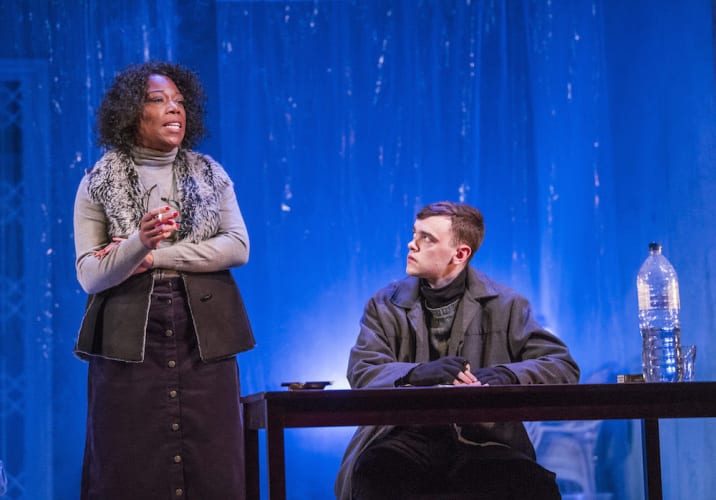 Naturalised, electrified (fairy lights and electric guitar), derussified, Chekhov's Seagull flies anew, yet again, in Simon Stephens's new version (literal translator Helen Rappaport). I must confess I had reservations, having seen his Cherry Orchard rewrite for Katie Mitchell at The Young Vic, but how wrong I was. For three hours in a hot little theatre (must be all that electricity) my attention is held unwaveringly by a play that speaks directly to a modern audience.
Well it would wouldn't it—a play about writers and actors to a press night audience full of actors and writers. Lots of knowing laughs, lots of laughs that stem directly and naturally from the fresh text and subtext (superbly brought out). Stanislavsky eat your heart out, Chekhov was right, it is a comedy—a tragi-comedy perhaps, but a comedy of manners nevertheless.
Peter Malkin's baroque sound design hints at Molière and Marivaux and operatically underscores to comic effect the big speeches, entrances and exits. And the final act's storm is acoustically tremendous: movement sensor lights flare on and off, the plastic curtains blow in the wind, a tremulous wet Nina appears as if out of nowhere.
Set in the twentieth century before computer technology, when everyone seemed to smoke like chimneys, in the seventies perhaps, on Peter's estate in the countryside where horses are still anachronistically the only means of transport, a motley crew gathers, the actors speaking in their own natural accents. It works brilliantly. And the play within the play is not bad, either.
Why is it that Scottish accents are best at delivering funny lines? And Irish? Must be the intonation and emphasis. Brian Vernel's tragically gauche Konstantin (Konstantin funny, imagine that) is Scottish as is "Blue Moon"-singing Paul Higgins's Hugo the doctor. Lloyd Hutchinson's crisp-munching Leo the estate manager is Irish.
And they do get the biggest laughs. Especially when they address the audience directly. House lights are kept up for some of the duration. Director Sean Holmes winkles out The Seagull's intrinsic humour and milks it, not too subtly, for all its boulevard theatrical worth. And having no big name actors is a plus.
Nicholas Gleaves's self-centred Boris is subtly Northern, Nicolas Tennant's Peter is a Southern nouveau riche rough diamond and his tarty sister Irina's (Lesley Sharp going way over the top, parodying many big and small screen actresses) posh estuary accent veers all over the place. The rest are mostly London in all its variety.
Everyone is on first name terms, though some of the names are English approximations of the originals, so Masha becomes heavy drinking, heavy smoking Marcia (Cherrelle Skeete giving it lip), Shamrayev becomes shaggy bear Leo, doctor Dorn becomes witty Hugo.
The truism that there are no small roles is apposite in this ensemble production: the minor roles are the underpinning of the whole. I am particularly taken with Raphael Sowole's Simeon, the simple teacher in love with the grumpy Marcia. Michele Austin's Pauline seizes her moment with those offensive flowers, and even the labourer Jacob (Lloyd Cooney) has his time in the sun. The production runs on casters unlike the lives of its protagonists.
"I'm a human being, Boris." "You could be so much more." Irina is hanging on for dear life to her younger lover, giving him head (and a tissue) to win him back from nubile Nina (Joyeux t-shirt) who wants to be an actress. Vulnerable star struck Nina (petite Adelayo Adedayo) from the other side of the lake, in awe of these tacky celebrities, seeks fame and falls for the wrong man. Fame is not what it is cracked up to be hypocrite Boris tells her in a cringe-worthy chat-up scene.
Poor Konstantin, in shades, leather jacket and rifle—to impress Nina—brings her a bloody "weird metaphor" seagull in a plastic bag. He will shoot himself too, he says. He is the seagull; she is the seagull—who is the bloody seagull? Aren't they all, just waiting to be shot of it all, to be put out of their misery by pitiless Time?
Sick Peter is scared of dying; the Chekhovian doctor distracts himself with love affairs and travel; Pauline is pining away, as is her daughter; Simeon allows his wife to shoot him down at every turn; and Irina, well Irina is hanging on for dear life to the lie that she is not aging or dying in front of her audience.
And this is comedy—what are you laughing at, you're laughing at yourselves (Gogol, Inspector General)? A mirror held up to nature—Chekhov knew his Hamlet well. Irina and Konstantin's (Tino to Pauline) private banter is from Hamlet. What a self-absorbed family…
An over-familiar play has been re-energised, thankfully not traduced, the attention to detail is comically tuned, and the big set soliloquies ably done. Laurels all round, nor forgetting designer Hyemi Shin, whose act three three-doorway set adds to the frantic farcical comings and goings. What a charade this life of ours is…
Reviewer: Vera Liber