The Secret Agent
Theatre O and Matthew Hurt
Theatre O
Traverse Theatre
–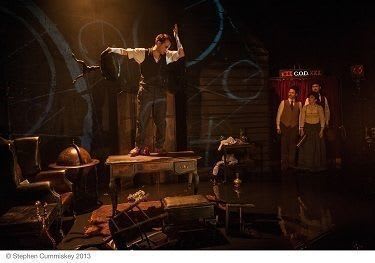 Theatre O is a company that works hard to create effects but does not always regard the underlying plot as paramount.
In this case, it would help a great deal to be familiar with the Joseph Conrad classic on which the physical theatre company has based its show. Otherwise, there is a risk of confusion, especially in the rather ethereal early scenes.
It all looks pretty cool but isn't the best introduction to a story of deception and unhappy families.
As the performance develops, Conrad is allowed to play a bigger part after Verloc's home life is shared with us, revealing the love that his wife feels for her simple brother, Stevie.
This puppy-like character becomes embroiled in international espionage with unexpected consequences for all involved.
Fans of the company will enjoy the melodramatic style but those in love with storytelling may prefer to stick with the novel.
Following Edinburgh, this show lands at the Young Vic.
Reviewer: Philip Fisher