The Seven Year Itch
George Axelrod
Salisbury Playhouse
–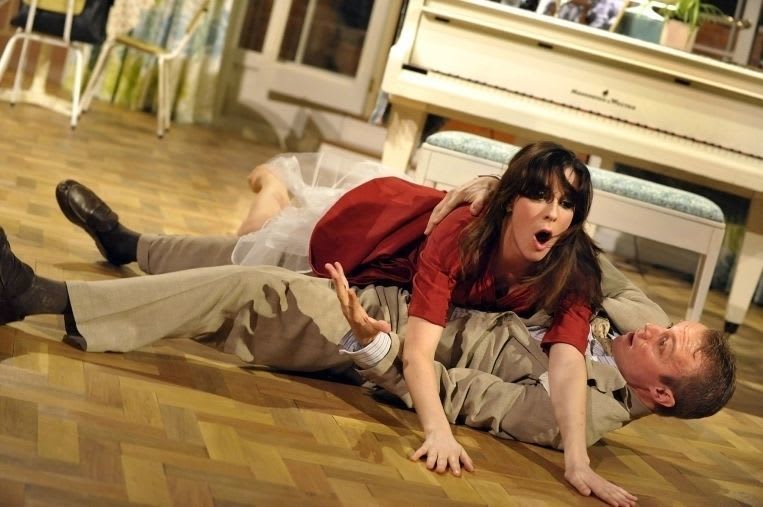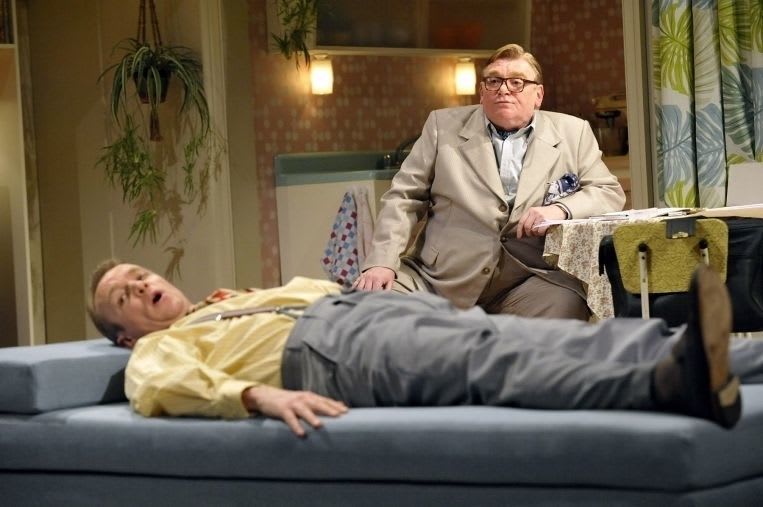 The image of Marilyn Monroe posing over a New York subway grate, with her white dress blown up above her shoulders, is among the most iconic of the 20th century.
Less familiar is Billy Wilder's film The Seven Year Itch from which it is taken.
And less familiar still is Axelrod's play of the same title now revived in a sophisticated production directed by Blanche McIntyre for Salisbury Playhouse.
At once I must confess that the film, though not the image, had passed me by. Strange, for as an avid film fan (weren't we all then?) I saw most of this stuff and even sat in a crowded RAF camp cinema to see Monroe in Niagra.
Readers might think the Monroe role of the model renting the apartment upstairs would be the precarious item in this rare stage revival. Not so for Richard Sherman, the husband sweating out the summer in town while his wife and son are at the beach, is frought with challenge.
Gyuri Sarossy, whose CV includes much classical theatre as well as most of the TV soaps, deserves a medal for taking it on and while early performances are promising, this part seems to demand a Richard Briers or even a Danny Kaye, for if ever there was a Walter Mitty this is it! Not that anyone of this calibre was cast in the film for which the role went to Tom Ewell of whom I must admit I had never heard.
Yet if one feels sorry for anyone in this play, it is the holidaying wife Helen Sherman (Hattie Ladbury), who makes only brief appearances, and their son Ricky who appears at the opening only to vanish into the sea-blue.
Verity Rushworth is excellent as The Girl and it is no surprise to learn that she has played a sunbeam in panto and a daughter in The Sound of Music.
However the scene stealing in this production is unquestionably carried out by Gerard Murphy as a lugubrious psychiatrist, Dr Brubaker.
Design is by James Cotterill and while I am often mean in my credit to scenery and lighting, not to mention sound, I have to record that the first rise of the curtain here prompts an instant burst of enthusiastic applause!
Reviewer: Kevin Catchpole