The Shark is Broken
Ian Shaw and Joseph Nixon
Sonia Freeman Productions, Scott Landis, GFour Productions, Larry Magid and Tulchin Bartner Productions in association with Jane Bergère
Ambassadors Theatre
–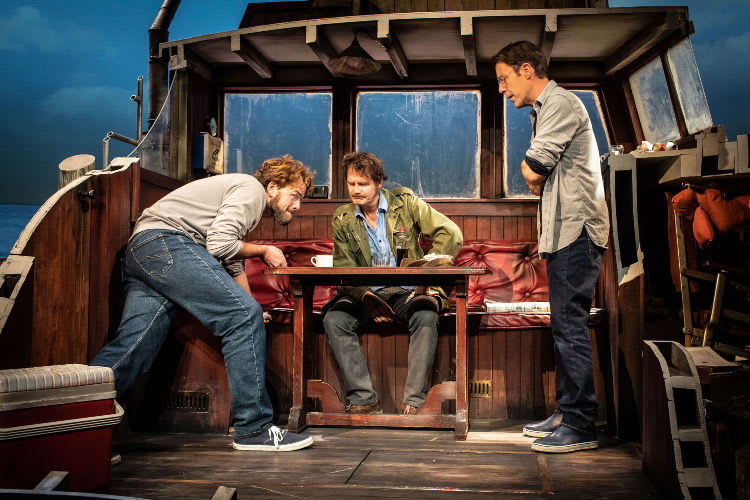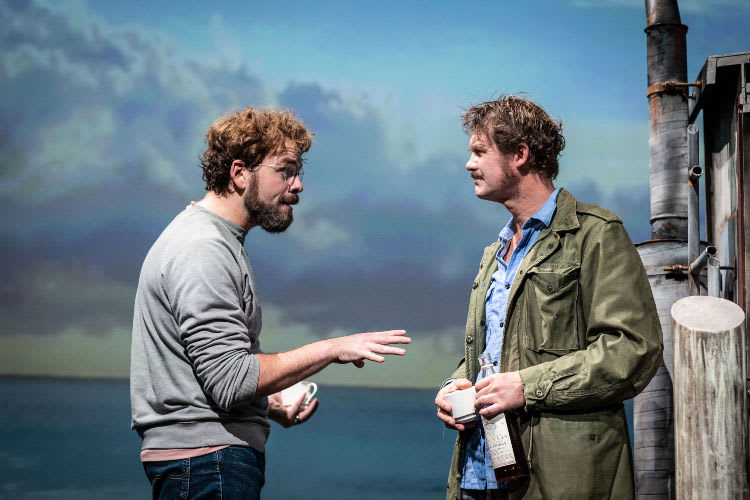 This shark is the big one in Spielberg's Jaws movie. Not a real one, of course, but a mechanical monster. In fact there were three of them, all prone to break down, that held up filming and took the picture way beyond budget. Its leading actors, Robert Shaw, Roy Scheider and Richard Dreyfuss, left at a loose end during these hold-ups, filled up the time drinking, playing games and chatting.
It is common knowledge that their relationship wasn't always amicable with particular tension between Shaw and Dreyfuss. Drawing on first-hand accounts of the time, such as that of Carl Gottlieb, screenwriter of Jaws, Shaw's own diary and what Spielberg and others have put on record, his son Ian and co-writer Joseph Nixon have recreated those confrontations in the cabin of the Orca. The result feels like the real thing.
Enthusiastically reviewed when it opened in Brighton and on the Edinburgh Festival Fringe in 2019, it should have opened in the West End last year, but COVID forced postponement. Now, at last, it arrives with one change of cast, a fuller script (running about 90 minutes) and a stunning set by Duncan Henderson that has the Orca afloat against a sea and a sky that are constantly changing thanks to Nina Dunn's video design and Adam Cork's soundscape.
You don't have to remember Spielberg's movie to enjoy The Shark is Broken, though the way in which the actors' relationships match those of its characters does add the possibility that there is an element of role-play in Shaw's behaviour, and there is a direct reference in its ominous opening music, warning you to watch out, things could get dangerous.
With the intake of whisky (by Shaw especially and in Dreyfuss's case some other substances), it is perhaps not surprising that confrontation can become violent, but the clash between the older established actor with his classical theatre credentials and the ambitious young emerging star with Scheider on the sidelines is also hilarious.
It is fascinating to see Shaw working on the development of a key speech in the film script and watching the way he manipulates situations. There is a contrast in the way these men approach their profession, but, while Scheider keeps a calm equilibrium, both Dreyfuss and Shaw seem to have a confidence problem though they deal with it differently.
Guy Masterson's direction uses the transitions between scenes to give the production a meditative rhythm, which aids the balance between content and comedy, and he gets first-rate performances from all three actors.
I spent several months working with Robert Shaw in his early days and Ian Shaw as his father isn't just a lookalike; he presents a personality that I immediately recognise. Demetri Goritsas and Liam Murray Scott make their Schneider and Dreyfuss just as believable. This isn't impersonation but real performance. There is nothing faulty about The Shark is Broken; it is theatre well worth seeing.
Reviewer: Howard Loxton