The Shawshank Redemption
Adapted by Owen O'Neill and Dave Johns from the novella by Stephen King
The Assembly Rooms
–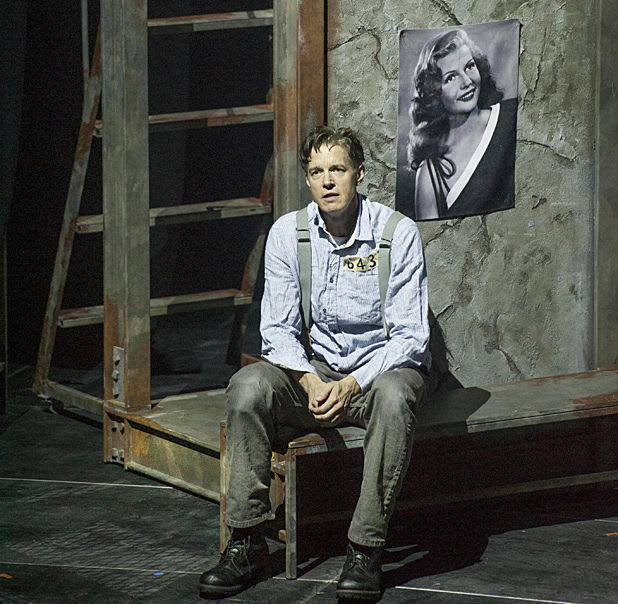 Inevitably, Edinburgh audiences will be desperate to see one of the biggest theatrical productions on the Fringe in 2013.
The combination of a staged version of a cult movie and a company containing several favourite comedians having a little fun before the serious business of telling gags always proves popular.
This year it is a gritty prison drama directed by Lucy Pitman-Wallace that exercises a cast led by American screen star Kyle Secor as Andy Dufresne, a banker who allegedly killed his wife and her lover, landing him in the toughest jail in town, ruled with a rod of iron by a Bible-bashing Warden, co-writer Owen O'Neill.
The narration is driven by Omad Djalili as Red, the fixer that every screen (and stage) prison needs. He keeps things flowing through 100 minutes of prison horrors led by the guards but also a pair of tough homosexuals, who make things hard for poor Andy.
Comic relief is offered by none other than Private Pike from Dad's Army, Ian Lavender as a dippy librarian.
The drama builds nicely to a satisfying, if somewhat predictable, climax that will leave audiences happy.
This stage adaptation, which benefits from a set comprising five cages and chilling soundscape, may not really cover up the thinness of the melodrama. However, The Shawshank Redemption is a crowd-pleaser rather than a serious drama and, seen in that light, should get close to filling the large Assembly Rooms Ballroom throughout the run.
Reviewer: Philip Fisher