The Simon & Garfunkel Story
Paul Simon and Art Garfunkel
Maple Tree Entertainment Limited
Lyric Theatre, Shaftesbury Avenue
–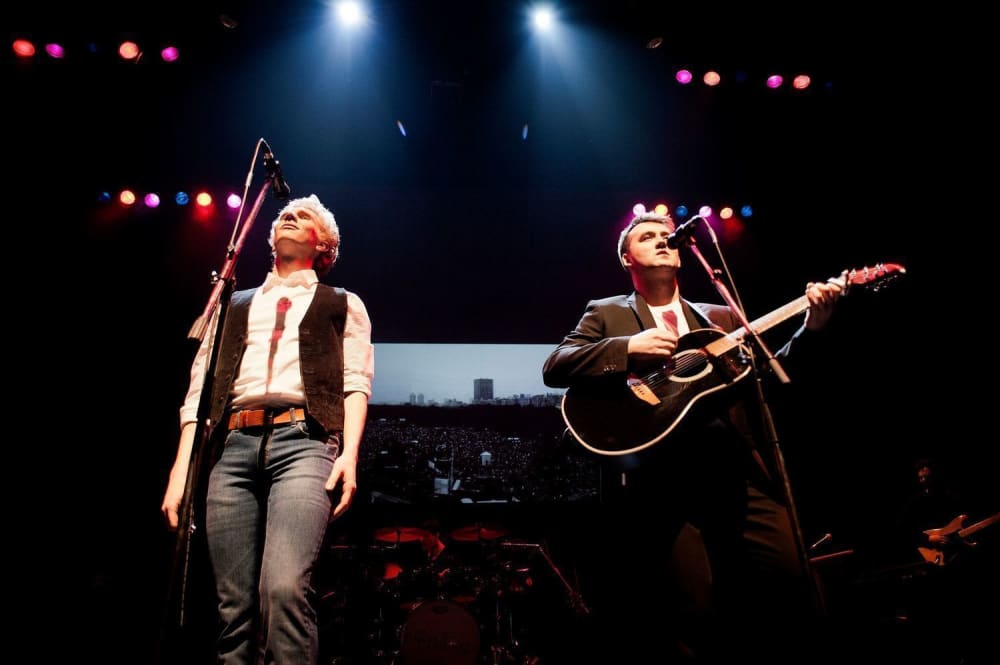 Folk-rock duo Simon & Garfunkel split up in 1970, not far short of 50 years ago. It is a mark of their enduring popularity that this show has just about sold out its four dates on Shaftesbury Avenue before the first performance, though there may be the odd ticket available for succeeding shows on the first Monday of each month until the end of the year.
The franchise, created by original director David Beck, has also spread across the world so the show might just be playing in a theatre near you at some point in the near future.
The formula is predictable. Two genuine Simon and Garfunkel sound-alikes front what is to all intents and purposes a tribute band concert.
Sam O'Hanlon portraying Paul Simon also plays a mean acoustic guitar, while a three-piece backing band, supplemented by a horn section after the interval, does the necessary to keep the evening rocking.
The band plays all of the duo's greatest hits and some unknown older material, sometimes with quite heavy rock arrangements by current director Dean Elliott to please younger fans.
What makes this into a theatrical event are some shrewd additions. The leads narrate a simplistic dual biography, covering the years from a first meeting in school in the late 'forties or just after through a first record 60 years ago, when the boys were sweet 16 and calling themselves Tom and Jerry, to those short years of joint fame with a brief acknowledgement of their future careers as solo artists and for Art Garfunkel as a movie star.
Somewhat incongruously, when they narrate, Charles Blyth, who has the look of Art Garfunkel, and Sam O'Hanlon, who is considerably further in physical terms from Paul Simon, sound like over-enthusiastic British disc jockeys from the days when they were all bred in the Home Counties and specialised in particularly corny jokes, which was at least the Simon and Garfunkel era.
Illustrating the story are literally hundreds of photos and film clips designed either to show Simon and Garfunkel's development and defining moments or put their times into historical and cultural perspective to get Kennedy and Nixon, numerous film stars and to accompany "Mrs Robinson" some key moments featuring Dustin Hoffman and Anne Bancroft in The Graduate.
True devotees and those that have anything more than a passing affection for the music will not be too fussed about the frills. For them, the big attraction is a two-hour-long Simon and Garfunkel (almost) concert with a live band giving memorable renditions of greatest hits such as "Homeward Bound", "Cecilia" and, closing the evening, a classic double encore of "Bridge over Troubled Water" and "The Boxer".
Reviewer: Philip Fisher