The Sisters / The Battling Ettricks
Peter Mortimer / Mary Picken
Cloud 9
Low Lights Tavern, North Shields / Surf Cafe, Tynemouth / Comrades Club, Whitley Bay
–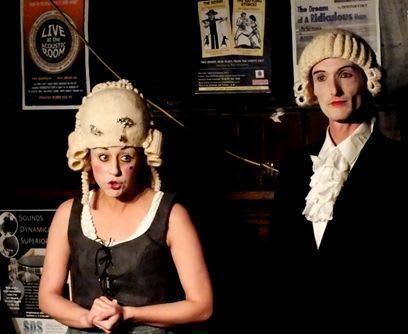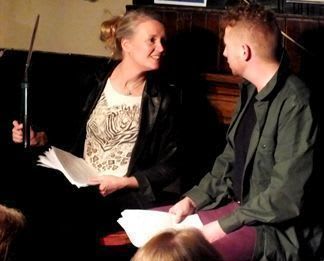 It's the stuff of nightmares for any theatre company: it's the opening night of your double bill, each with its own cast, and one of your actors simply doesn't turn up. You're a small company and can't afford understudies. What do you do?
When one of the cast of Peter Mortimer's three-hander The Sisters was a no-show, what director Neil Armstrong decided to do was abandon all the movement and perform it as a script-in-hand radio play. Christina Dawson, who was performing in the other play, joined remaining cast members Arabella Arnott and Dylan Mortimer on three chairs facing the audience after just an hour's rehearsal.
And not one single member of the audience complained or asked for their money back.
For various reasons, I wasn't able to see the show until the fifth performance by which time the cast were well settled into their performances and it felt that it had always been intended to be played that way. The voice, the facial expressions, the body language—they were all there, all convincing and all enough for us to follow the emotional journeys of the characters. Congratulations to the excellent cast for turning what could have been a disaster into an enjoyable piece of theatre.
The Sisters is a change of direction for Mortimer, a move away from the absurdism of plays like She's on Toast, a move which began last year with The Young Man, the Old Woman and the Roof. One thing which does remain, however, is a playful (and often funny) use of language which prevents the piece from being purely naturalistic.
It's a play about two sisters—Phoebe (played by Dawson) and Daphne (by Arnott)—who don't get on and who are being seduced by the same man (Mortimer). There's a lot in it about sibling relationships, about self-image and self-worth, and about misogyny but Mortimer makes his points with much humour.
The second, shorter play—Mary Pickin's The Battling Ettricks, also directed by Armstrong—is the story of an unhappy 18th century marriage between William (Robbie Lee Hurst) and Catherine Ettrick (Christina Dawson). Or rather, it's the story of Catherine's petition for a legal separation. Or rather, it's the story of Catherine's petition for a legal separation played out as a bare-knuckle fight between the two of them.
Little more than ten minutes long but managing to pack in a good amount of the historical background of the period, some dance, a load of sound effects and what is, essentially, a sad story, it's an hilarious romp, played with great energy and enormous enjoyment which the audience shared.
Reviewer: Peter Lathan