The Sleeping Beauty
Choreography by Kenneth MacMillan after Marius Petipa / music by Tchaikovsky
English National Ballet
London Coliseum
–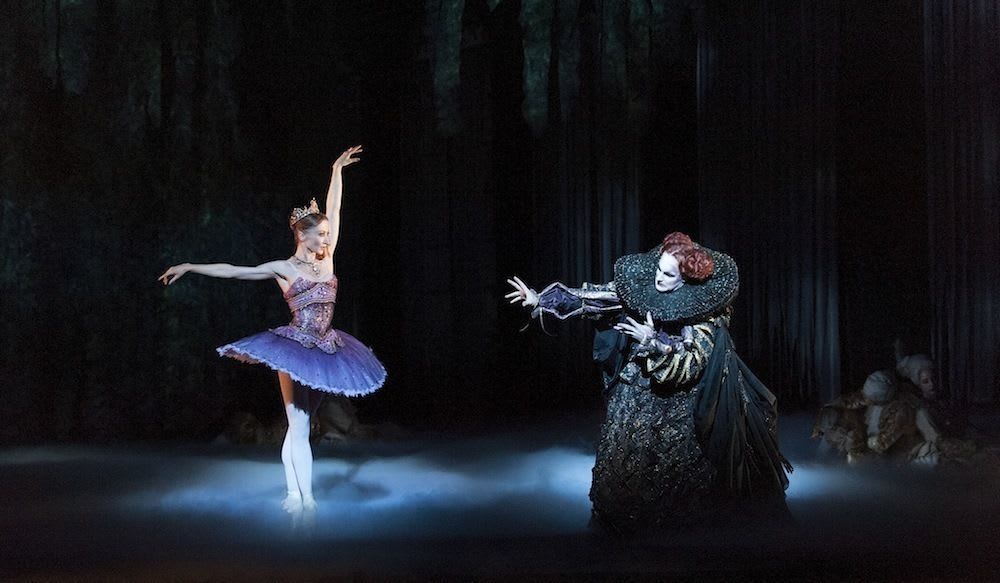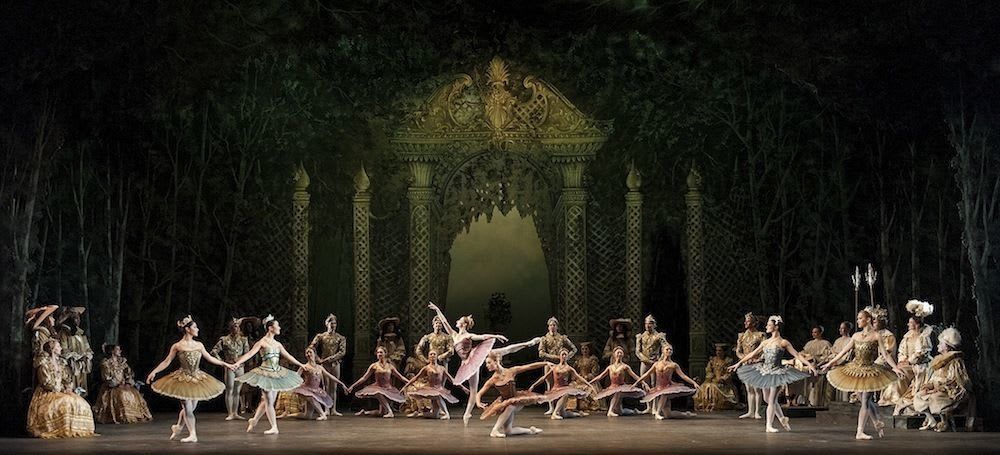 Kenneth MacMillan for all his love of the dramatic and erotic was a self-acknowledged classicist at heart, and for him Sleeping Beauty was "the most important ballet in the classical repertoire." "It was his touchstone", his widow writes in the programme notes.
MacMillan staged three productions of the ballet: the first in 1967 for Berlin's Deutsche Oper (design Barry Kay), the second in 1973 for The Royal Ballet (design Peter Farmer), and the third for American Ballet Theatre in 1986 (design Nicholas Georgiadis).
It is the latter that the ENB took on in 2005, keeping Nicholas Georgiadis's lavish costumes, but using Peter Farmer's simpler evocative set design, easier for a touring company.
The period is Peter Lely Stuart at the start and Thomas Gainsborough Georgian at the finish. Perruques, high collars, fancy hats and regal costumes under a golden glow, nursemaids in starched wimple headdresses and knitting women in Puritan hats, fairies in dusky gemstone tutus, and the evil Carabosse (James Streeter a pantomime dame) in Elizabeth I red wig and glittering black gown.
The Sleeping Beauty is a long, showy ballet hugely demanding of the performers—most of the female roles danced entirely on pointe—but especially of the lead ballerina. Tamara Rojo, the newly-installed artistic director of the English National Ballet, takes the lead as Princess Aurora and sets the standard.
Back where she started in England—she danced for two years with the ENB as a young dancer—she has ambition and stamina. Ambition to take ballet to as wide an audience as possible, and one does not need to look any further than this evening's dazzling performance for an example of sheer stamina and guts.
This is a prima ballerina at the top of her technique: balances in attitude held for longer than necessary, little need for cavaliers to hold her hand, an indomitable imperious woman dancing sixteen-year-old Aurora for an Imperial audience. And the audience erupts. This is a gala performance, slow, sure, in total command.
And Rojo raises the standard of the large cast around her, the ENB dancers dancing as if their lives depended on it. Begoña Cao, Adela Ramirez, Shiori Kase all of a flutter, and Laurretta Summerscales and Nancy Osbaldeston, the latter two nominated for the Emerging Dancer Awards, give perfect performances as the five fairies bestowing christening gifts.
A fine stable of dancers, displayed to impressive effect: in the Act III divertissements James Forbat glitters as Gold, Begoña Cao as Diamond, Jem Choi, Senri Kou and Laurretta Summerscales as Silver.
Nancy Osbaldeston puts her large eyes to good use as Red Riding Hood, and Shiori Kase and Yonah Acosta in the Bluebird sequence remind me that Michael Coleman, now performing the tubby comic Cattalabutte Master of Ceremonies role, was once a most elegant Bluebird at The Royal Ballet.
But it is Vadim Muntagirov who gives the most lyrical interpretation of the evening as Prince Désiré, Aurora's saviour with a kiss. His gentle, boyish face full of longing, his feet barely kiss the floor, his leaps soar (Baryshnikov his role model). Only twenty-two to Rojo's thirty-eight, his emotion is external, Rojo's internal. After an arduous lifting pas de deux he flies through his solo.
Good to see him with a new partner to stretch his experience, but one misses the emotional rapport he has with his usual 'soul mate' partner Daria Klimentová, here dancing the Lilac Fairy who takes on Carabosse and makes everything right. Delicate, tiny, with a bewitching girlish smile that belies her age (forty-one), goodness personified, she takes on evil and triumphs.
The Sleeping Beauty is a total triumph for Tamara Rojo, as artistic director and as a dancer still in her prime: a production of this quality rarely makes the provinces. Go and be swept off your feet.
Good casting, three hours of dancing that is worth every penny, Milton Keynes, Liverpool, and Manchester have already had the pleasure, Oxford's and Southampton's is yet to come. Family friendly, there is also a special under-fives matinee at 2:30PM on 15 January at the London Coliseum.
Reviewer: Vera Liber