The Slightly Annoying Elephant
David Walliams, adapted by Samantha Lane, music and lyrics by Tom Gray
Little Angel Theatre
HOME Manchester
–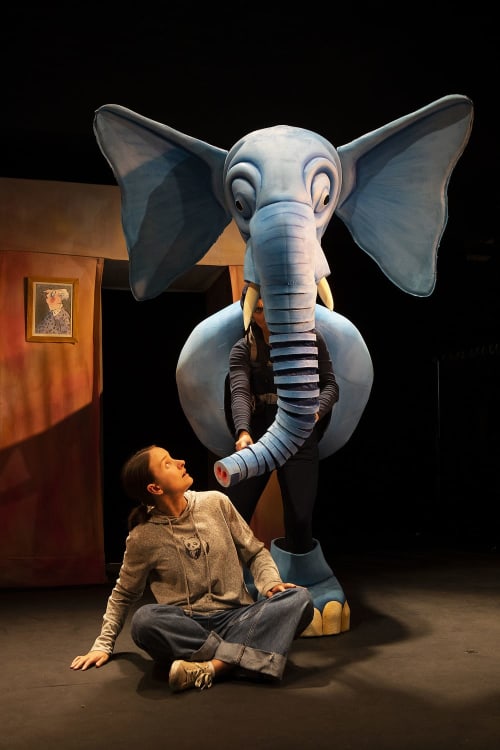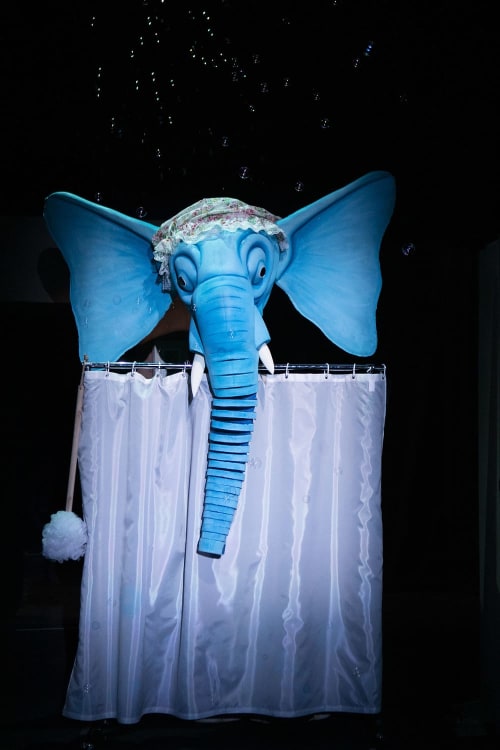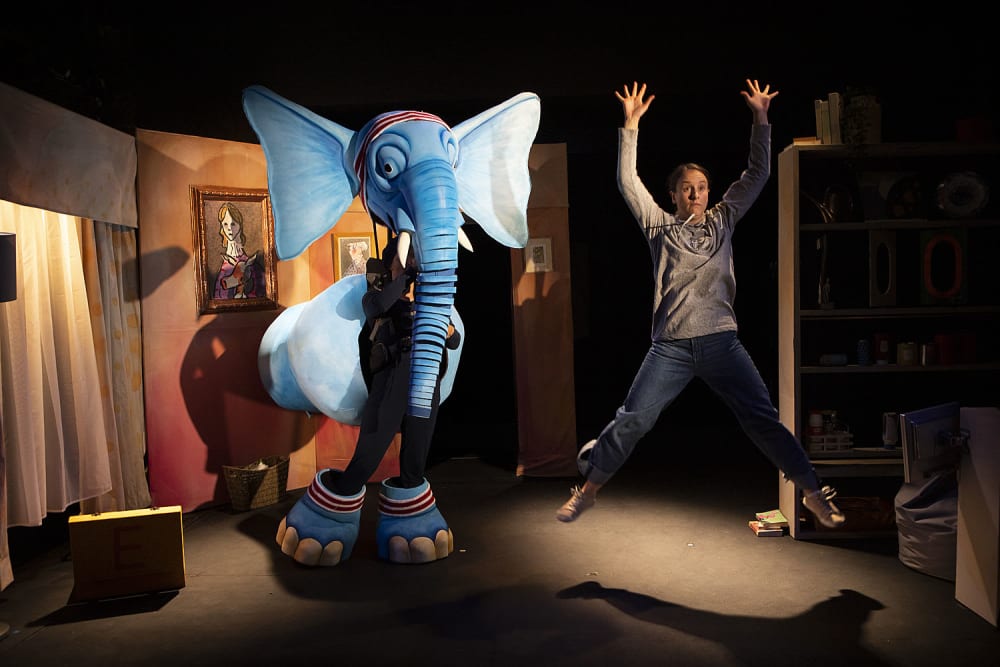 For most of the year, children's theatre seems largely confined to weekends, especially theatre for the very young, unless it is linked with a major film or TV series, but it's possible to see lots of morning and afternoon performances for all ages throughout the Christmas period.
HOME continues its association with Little Angel Theatre with one of the many adaptations of stories by the amazingly prolific David Walliams that are popping up in theatres all over at the moment, not least with the musical version of his The Boy in the Dress at the RSC, which is drawing comparisons with Matilda the Musical.
The Slightly Annoying Elephant is on a much smaller scale, with just two performers and a single set. Heidi Goldsmith is Young Sam, who settles himself down in front of his favourite cartoons with a tin of biscuits and a fizzy drink after his mum has gone to work, but keeps getting interrupted by knocks on the door, most of which are junk mail. Then her peace is shattered by the arrival of the titular pachyderm, played by Alex Bloomer.
We learn in some of the slightly confusing flashbacks that Sam signed up at the local zoo to adopt an elephant, as many of us have done, but this particular elephant, annoyingly, added some small print give him permission to live at Sam's house and bring his friends. He demands to use the toilet (lots of farty noises from off that went down well with the primary school party in front of me), to have a shower and a nap, to have Sam make him something to eat and to use his bicycle, with predictably disastrous results.
And then, to top it all, his friends start to arrive, lots of them (all played by Bloomer in a variety of accents), all with luggage, all saying they are here to stay permanently—and Sam's mum is due home at any moment. And when you've got a lot of elephants upstairs all at once, it isn't going to end well.
This is an enjoyably silly story with a very large blue elephant, designed by tour director Maia Kirkman Richards based on the book illustrations by the great Tony Ross, that certainly fills the space in Ingrid Hu's set design and there are some bright, cheery performances to fit the bright, cheery visual appearance of the production. However, this unaccompanied adult found it a little slow at times, which I think might at least partly be due to the fact that we are confined to Sam's living room while the elephant goes offstage to do some of the more exciting things, such as riding a bicycle, which we experience only through sound effects and Sam's reactions. Sam often has to fill time on an otherwise empty stage between the elephant's various annoying escapades.
But if you've never seen an elephant with detachable ears ride a bike in a troublesome helmet, do its exercises in sweat bands (I think the Mr Motivator reference may have been too old even for a lot of the parents and teachers) and snore loudly while watching antiques programmes on the telly, this may be worth finding a 3- to 8-year-old child in the family to take to this show. It runs for around 45 minutes straight through so doesn't outstay its welcome even for the younger children, and the top-priced adult tickets are cheaper than the lowest prices at many of the big shows in the region.
Reviewer: David Chadderton