The Solid Life Of Sugar Water
Jack Thorne
Graeae Theatre Company and Theatre Royal Plymouth
National Theatre (Temporary Theatre)
–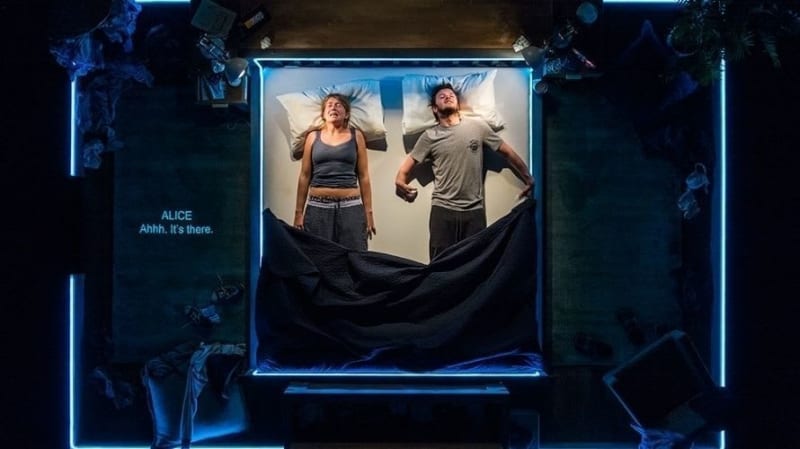 Already acclaimed and awarded a stash of stars on the Edinburgh Fringe last year, Jack Thorne's play about a couple who lose their baby now reaches the National after a short tour.
For more than three decades, Graeae has led the way in putting disability and disabled performers on stage and connecting with a disabled audience.
Alice, the mother in this play, is deaf and played by a deaf actress. The actor playing her husband Phil is also differently abled. Throughout its concentrated 90-minute or so duration, projected text titles, integrated into the setting, serve those with impaired hearing.
However, The Solid Life of Sugar Water does not make disability of a physical or sensory kind its subject. This could be any couple faced with their situation.
Beautifully written with an exciting theatrical reality and staged with imagination by director Amit Sharma and his designer Lily Arnold, it is about love, sex and trauma, much of it played out in a bed on which the audience appears to look down like a fly on the ceiling.
Its detailed anatomisation of sexual practice makes it strictly adult material but it is touchingly funny as two intercut monologues present a conversation that fails to communicate, demonstrating how wrong we can be when we think we understand our partners.
But there is more than that to this couple's problems, something else that's interfering with their sex life. The play switches back to how they met and reached this point. It is tenderly comic and quite delightful, which makes the play even more poignant when things turn starkly tragic.
It's a play about intimacy, making what could be prurient beautiful, in which the actors completely engage with the audience. Genevieve Barr and Arthur Hughes are phenomenal as Alice and Phil and the production meticulous about detail (even the tea in a mug gets turned 90% to maintain a fly-on-the ceiling perspective).
But for all the finesse of the production, it's a play about feelings, beautifully captured. See it—you'll be glad that you did.
Reviewer: Howard Loxton