The Solid Life of Sugar Water
Jack Thorne
Graeae Theatre Company and Theatre Royal Plymouth
Royal Exchange Studio
–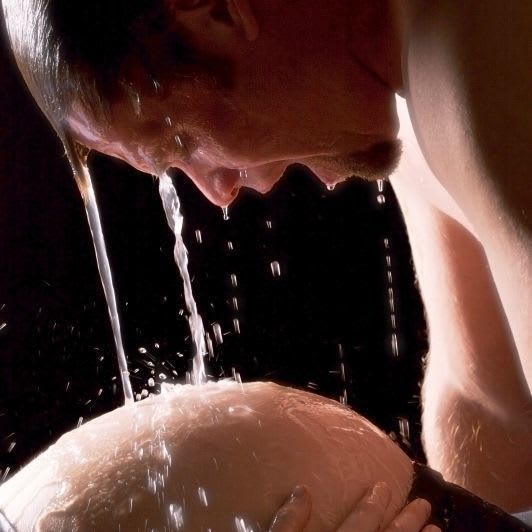 A collaboration between Theatre Royal Plymouth and Graeae Theatre Company, The Solid Life of Sugar Water portrays young couple Phil and Alice attempting to recover their relationship following a stillbirth.
It's easy to see why the piece received such acclaim at last year's Edinburgh Fringe Festival, and its brutal honesty, power and intimacy with the audience is enhanced by the Royal Exchange's studio space.
Lily Arnold's clever set design consists of a large double bed upright against the back wall, so that the audience is given a bird's eye view of the couple in bed. This optical illusion is enhanced by the addition of covers that attach to the sides of the bed, carefully handled mugs of tea and shoes, chargers and bedside furniture on the 'floor'. As the play's main focus is Phil and Alice's attempts at physical intimacy, the majority of the action takes place in this bed.
The two performers are excellent in their roles, with Genevieve Barr demonstrating real vulnerability under Alice's strong, independent exterior, while Arthur Hughes is a highly likeable and entertainingly awkward Phil. It's very encouraging to see deaf and disabled actors in roles that don't dwell on their conditions, which ensures that Phil and Alice are depicted as a couple first and foremost. Captions also help to make the performance accessible, and by being projected onto different blank areas of the set, are well incorporated.
The play's script—the work of Jack Thorne, of Harry Potter and the Cursed Child fame—is naturalistic and observant, with the majority of Phil and Alice's lines directed at the audience rather than each other. These interwoven monologues often result in comedy, particularly when Phil's ideas of how to please Alice sexually are instantly contradicted by her.
There are plenty of laughs throughout the piece, which are welcome relief next to the dark moments. Phil and Alice recount the tender, amusing episodes from their early relationship, from the exploding parcel that leads to their meeting, to the first time they sleep together soundtracked by Dire Straits. This narrative strand is interwoven with the stark aftermath of the stillbirth, and the more recent past leading up to it.
This unsettling juxtaposition reaches its most disturbing point as Alice goes through labour, crying out in pain, while next to her Phil enacts their first successful attempt at physical intimacy since the stillbirth. It may seem deliberately shocking, but this scene communicates how raw and inescapable their pain is. Certain phrases relating to the birth are repeated over and over, as if the couple are mesmerised by it.
At the play's conclusion, Phil and Alice are facing each other in the bed. They speak directly to each other, saying "I love you" for the first time—this long-awaited communication signals hope for their future and makes for a more uplifting end.
The only real issue with this play is its length. The pace is slow, and at one hour twenty minutes without an interval, it does drag in places. A break would be disruptive, but it could benefit either from an injection of pace or some cuts here and there.
This aside, The Solid Life of Sugar Water is definitely worth a watch for its unflinching, funny and powerful treatment not just of the sensitive topics of stillbirth and miscarriage, but of relationships, intimacy, honesty and love.
Reviewer: Georgina Wells