The Song of Lunch
Christopher Reid
Pleasance Courtyard
–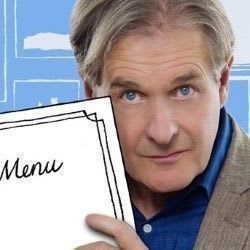 In the middle of the last century, verse plays were all the rage. Nowadays, they are a great rarity, which makes Christopher Reid's gentle verse comedy literally extraordinary.
Not only is the form a reminder of British mores 70 or so years ago but so is the story.
Robert Bathurst plays a literary type who once published a spectacularly unsuccessful book of poetry and still thinks of himself as a writer.
We meet the delusional upper class type as he is preparing for a nostalgic lunch with Rebecca Johnson as an old flame.
The pair haven't met for 15 years and, while the lady is happily married, her old beau is still pining.
Not only is love not what it was, nor is a favourite Italian, even after rather too much wine flows and embarrassment ensues.
Director Jason Morell allows Robert Bathurst to strut his stuff with aplomb, while Rebecca Johnson provides support in a limited role. There are also some witty and attractive cartoon graphics designed by Charles Peattie to make the 55 minutes flow past smoothly.
Reviewer: Philip Fisher