The Spoils
Jesse Eisenberg
The New Group
Trafalgar Studios
–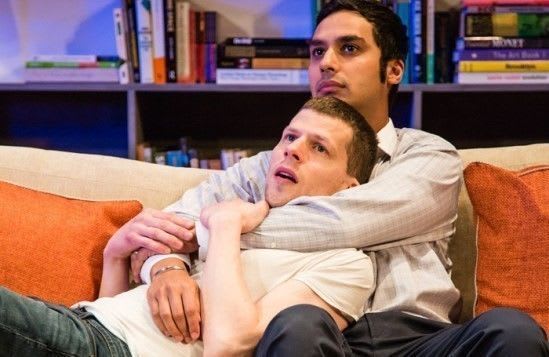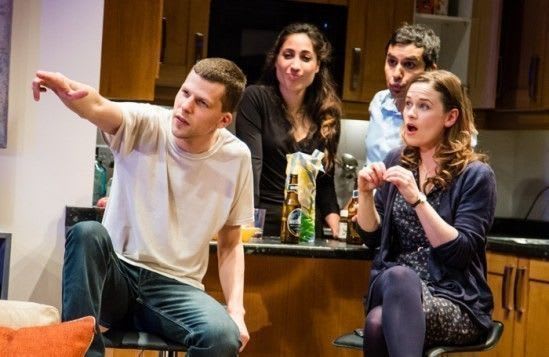 Commercially, this Off-Broadway import is holding all of the cards. It has popular stars from both sides of the Atlantic to ensure that the theatre will be full, while groupies hang around the stage door every night.
Jesse Eisenberg, who wrote the piece and stars, has built his reputation on the silver screen in The Social Network and Batman V Superman. His American co-star Kunal Nayyar hails from The Big Bang Theory, while Annapurna Sriram from Billions has also been shipped in from the original production, along with director Scott Elliott.
The British contingent is led by Katie Brayben, fresh from Beautiful and King Charles III, while Alfie Allen is another screen favourite from Game of Thrones, as well as Lily's brother and sometime muse.
The play is another matter and might best be characterised as an acquired taste.
Its protagonist Ben is a rich kid living in an apartment bought by his father and making a better effort of talking like a film director than generating any material.
On the basis that he is neurotic, educated and Jewish with a love of navel gazing, Ben will inevitably be compared with almost every character that Woody Allen has ever portrayed. However, there is a difference.
Whereas an Allen creation feels like somebody that you know, it is far less likely that the average viewer will have met someone close enough to Ben to believe that people like this exist. Otherwise, they will spend a long night observing a crushing bore who looks like a fully-functioning adult but behaves like a needy schoolboy.
More particularly, it is incredible that sensible grown-ups would support and befriend a man who delights in insulting them for fun. Indeed, to make the point absolutely clear, Ben has a desire to defecate on the woman of his dreams not only metaphorically but literally.
For reasons that are far from clear, his Nepalese roommate Kalyan played by Nayyar is in thrall to the ultimate pothead loser, supporting him even while on the receiving end of a regular barrage of hurtful insults.
Kalyan's girlfriend Reshma, played by Miss Sriram, is a trainee doctor. For whatever reason, she is the only visitor to Ben's apartment with the ability to see straight through his tedious, often delusional flannel.
By comparison, Alfie Allen as banker Ted and Katie Brayben playing his fiancée Sarah both humour a character who spends most of his time deriding Ted and making unsubtle passes at his remarkably patient future wife.
Judging by the iconic Jasper Johns whiteout Stars & Stripes ("White Flag"), Jesse Eisenberg wrote The Spoils as an ironic comment on the vacuity of The Great American Dream.
Many of those buying tickets might fail to identify such hidden depths and instead hope to find their entertainment in some of the sitcom jokes and sight gags.
Having said all of that, fans of the various cast members might well wallow in an opportunity to see them in real life, while enjoying an opportunity to groan at Ben's excesses.
Reviewer: Philip Fisher