The SpongeBob Musical
Book by Kyle Jarrow, based on the series created by Stephen Hillenburg
The Path Entertainment Group
The Alhambra Theatre, Bradford
–

Listing details and ticket info...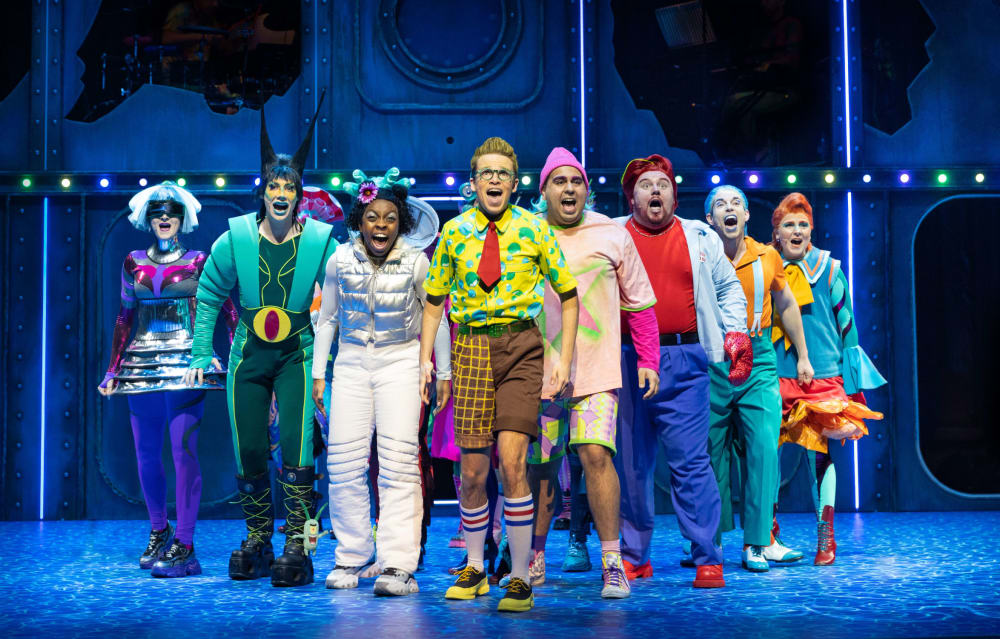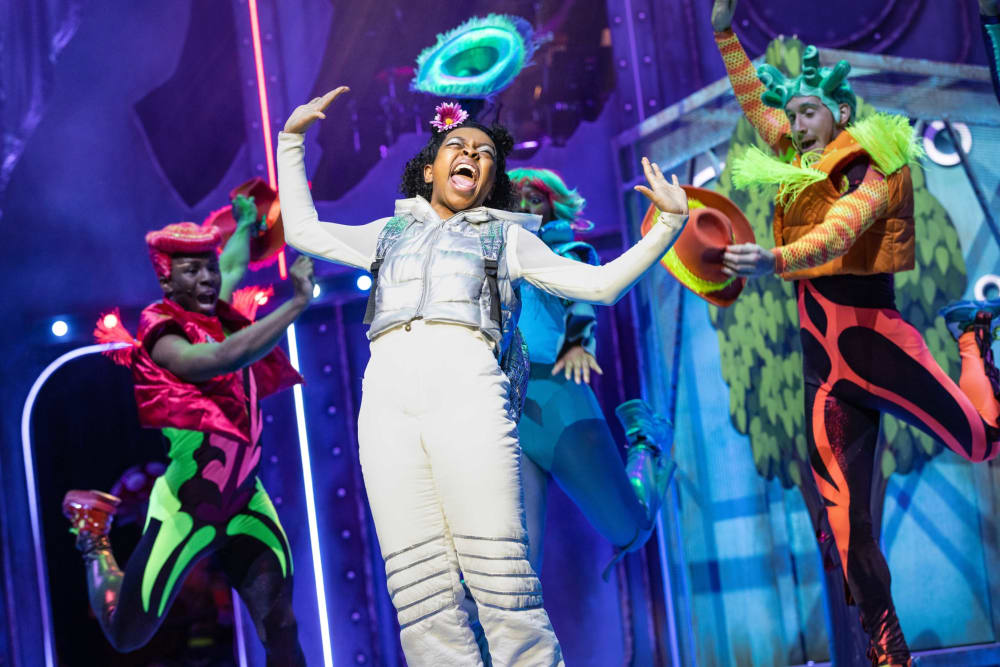 I had stopped watching Nickelodeon by the time SpongeBob SquarePants surfaced from the briny deep in 1999, but the cartoon series made such a huge splash (sorry) that it was impossible not to hear about it. Beloved by Gen Zers for its zany and subversive sense of humour, the show has given rise to a flood (sorry, again) of merchandise, films of dubious merit, and—most importantly—a Tony-winning Broadway musical.
As fans of the cartoon will know, SpongeBob SquarePants (Lewis Cornay) is, well, a sponge—albeit a supremely energetic and optimistic one, dressed in shorts—who dwells in Bikini Bottom with a group of eccentric aquatic creatures, including his best friend, Patrick (Irfan Damani), a sweet-natured but dim-witted starfish.
Life seems normal at the beginning of the show, with SpongeBob waking up in his submerged pineapple house. After feeding his beloved sea snail (Gary), he goes to work at the Krusty Krab restaurant, a burger joint owned by Mr. Krabs (Richard J Hunt). Then, suddenly, a violent tremor rocks the town of Bikini Bottom.
A news report reveals that the shock was caused by the nearby volcano, Mount Humongous, and if something isn't done soon, all of Bikini Bottom will be destroyed. Duh duh duh! Fortunately, SpongeBob and Patrick are on the case, along with their scientifically-minded pal Sandy Cheeks (Chrissie Bhima), a Texan squirrel who survives underwater thanks to a diving suit.
The SpongeBob Musical is a huge amount of fun from beginning to end, with the excellent cast bringing considerable energy and commitment to their roles. Lewis Cornay excels in the title role, capturing the character's restless exuberance. Irfan Damani gives a loveable performance as Patrick, SpongeBob's more lethargic BFF, and Chrissie Bhima is highly engaging as Sandy.
Promotion of the show has relied heavily on the casting of Drag Race UK star Divina De Campo as the evil mastermind Plankton. De Campo is undoubtedly an arresting stage performer (they were extraordinary in Hedwig and the Angry Inch last year), but on this occasion they weren't given much to do.
Richard J Hunt is hilariously funny as the money-obsessed Mr. Krabs, and Tom Read Wilson absolutely nails the role of Squidward Q Tentacles, SpongeBob's misanthropic co-worker. His performance of "I'm Not a Loser"—complete with tap-dancing and back-up singers—was the highlight of the evening.
Musically, the show is enjoyable if slightly forgettable, with songs being contributed by a number of eclectic artists, including the Flaming Lips, Panic at the Disco! and Cyndi Lauper. I was intrigued to learn that one of my favourite songs from the show, "No Control", was originally written by David Bowie for his lesser-known 1995 album Outside. If only other jukebox musicals adopted such an adventurous approach to song selection.
Besides the silly humour of Kyle Jarrow's enjoyable book, the most memorable aspects of the show are its dazzling set design and costumes. Steve Howell's versatile set is full of eye-catching colour, and Sarah Mercadé's costumes allow the cast to recreate the cartoon's much beloved characters without distracting too much from their performances.
A train-related issue meant that I had to leave the show 10 minutes early, which means that I didn't get to see SpongeBob and his gang defeat the villainous Plankton. Perhaps the biggest compliment I can give the show is to say that I was supremely miffed at having to leave early as I was having such a great time.
Reviewer: James Ballands