The Taming of the Shrew
William Shakespeare
Royal Shakespeare Company
Barbican Theatre
–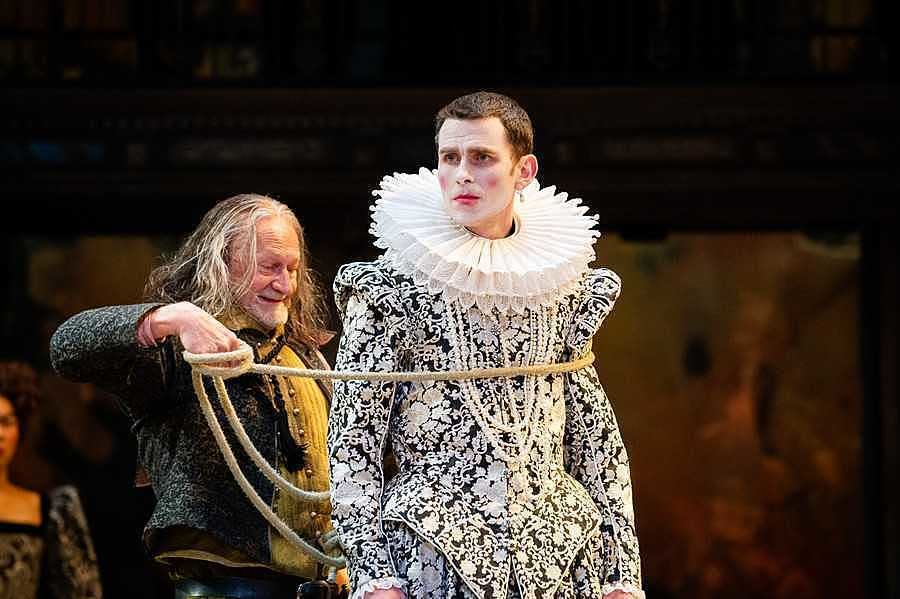 Although the RSC's policy for this season is to follow the principles of gender equality, this production directed by Justin Audibert goes several stages further.
With only a handful of exceptions, he used an underlying philosophy of gender reversal. In many cases, this means changes to names and also to Shakespeare's sacred text. However, there is inconsistency.
While the genders of all of the leading lights are reversed, some get minor name changes, while the enterprising director has admitted defeat, leaving Joseph Arkley rather incongruously playing Katherine or Kate opposite Claire Price's Petruchia (sic).
Readers will already have determined that this is a most unorthodox rendering of a classic that many viewers today regard as difficult due to its attitude to women. Nobody could criticise this version of that, although the changes raise other questions.
The opening sees Amanda Harris playing Baptista determined that James Cooney as her much-admired but very camp younger son Bianco will not marry until his temperamental sister has done so.
Arkley is extremely good when difficult Kate is eventually cowed but his demonstrations of bad temper look exactly that.
While a series of rather sleazy women circle around the younger sister, it is only after the arrival of Miss Price—who completely dominates the evening with a wonderful performance in the person of Petruchia, determined to tame the shrewish elder sister—that the fireworks start.
The nature of the three-hour-long evening is changed by all of the gender-swapping. Rather than an arrant male bully, Petruchia, with hair resembling a wind-blown haystack, always appears to be operating with her tongue firmly in her cheek, having a whale of a time with a frankly timid victim.
In a similar way, the women circling around Bianco talk with unconvincing bravado, while he does little more than simper and toss his flowing locks. Indeed, there is a great deal of physical gesturing and slapstick, meaning that a significant part of the production looks like a cross between Carry On and The Keystone Cops.
There are some fine supporting performances, with Richard Clews playing Petruchia's servant Grumio (a man playing a man no less), Laura Elsworthy as Trania and Amy Trigg as Biondella particularly catching the eye.
It would be remiss to avoid mention of the excellent Sophie Stanton, whose main gag relies on the use of an unknown mechanism enabling her to glide across the stage like some graceful swan on a pond.
There is also a fair amount of extraneous material, which lengthens the evening, not always for the better.
Overall, although Justin Audibert plays extremely fast and loose with almost every aspect of the play that Shakespeare wrote, viewers are likely to find much to enjoy in an amusing production relying on modern values but set in historical times and should relish the opportunity to see Claire Price at the top of her game.
Reviewer: Philip Fisher