The Taming of the Shrew
William Shakespeare
Derby LIVE
Derby Theatre
–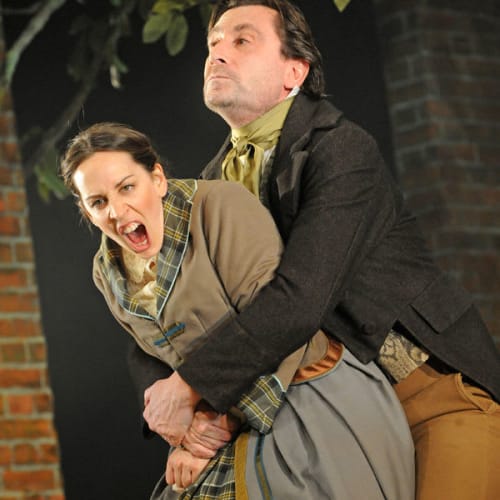 There's a school of thought that proclaims The Taming of the Shrew has no place in today's world because of its misogynistic and patriarchal themes. Despite that, it continues to be performed regularly.
The Royal Shakespeare Company's current version has Katherina submitting to Petruchio because of lust; she can't wait to get him into the great bed that forms the set.
Pete Meakin's adaptation for Derby LIVE—the organisation's final production at Derby Theatre before the University of Derby takes over artistic programming of the building—goes further: Kate sells out. She abandons her shrewish ways simply to get what she wants: money and possessions.
It's a fascinating interpretation and you're left with the feeling that Petruchio and Kate, both disreputable characters, fully deserve each other.
Meakin sets the play in 1850. It starts impressively with black-and-white footage of a steam train thundering along tracks before coming to rest in a station.
Although Derby-born Lizzie Winkler is fiery enough in the early scenes as Katherina, the production really comes alive when Sean O'Callaghan starts behaving abominably as Petruchio.
I've seen several interpretations of The Taming of the Shrew but I've never seen Petruchio played with such matter-of-fact cruelty and callousness. At one point he canes a young servant without justification and also rubs the boy's face into food Petruchio deems is unsuitable for his new wife.
O'Callaghan immerses himself in the role and visibly shakes on one occasion when ill-treating Kate. There are times, though, when he bellows a little too much when making a point.
Lizzie Winkler shows a massive change from the Katherina who starts the play to the Kate who ends it—she becomes totally compliant and subservient. The way she stuffs into her mouth the money Petruchio has won in the final wager is little short of grotesque.
Although it's difficult to warm to the plights of the two main characters, this isn't a depressing production.
There are delightful performances from all the cast but in particular Robin Bowerman as a noble Baptista; Richard David-Caine as a sprightly Tranio who disguises himself as an idiotic Lucentio; and Peter Dunwell as large but likeable Gremio.
As adapter and director, Meakin does an excellent job. He's stripped the play of characters he thinks are unnecessary, so out goes Christopher Sly, and the notion that we're watching a play-within-a-play, along with Grumio, Biondello and Vicentio. Some people may miss the confusion over mistaken identities but the result is an enjoyable two-hour romp.
On a separate note, there's a big debate going on in Derby over whether the city needs a 1,000-seat theatre so that it can become a force in the arts world. But when I saw The Taming of the Shrew—the evening after press night—only a fraction of the 500-odd seats were taken. That was a pity.
This production's had plenty of publicity. Derby LIVE has a good track record for produced theatre and Pete Meakin is well-known for his innovative Shakespeare productions. So I'm at a loss to understand why so few people turned up. This Shrew deserves better.
Reviewer: Steve Orme