The Taming of the Shrew
William Shakespeare
Shakespeare's Globe
–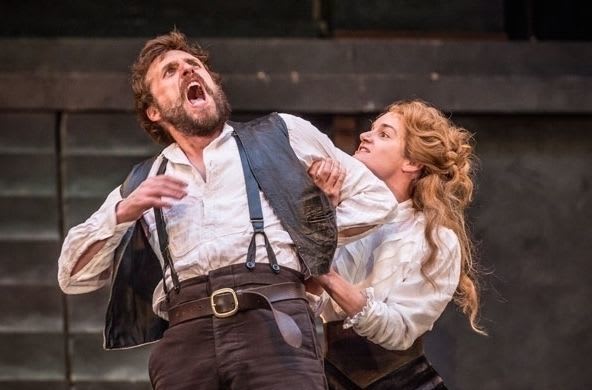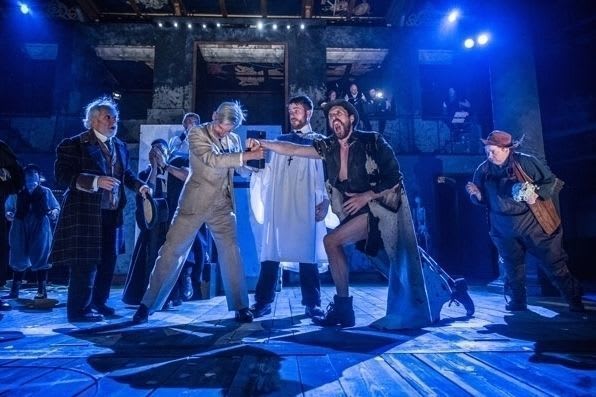 Reflecting the fact that 2016 is the hundredth anniversary of the Dublin Easter Rising, director Caroline Byrne has made this an Irish Shrew set in that period. Designer Chiara Stephenson has hidden the colourful façade of the Globe stage behind a screen of dull grey and dressed it appropriately.
The play hasn't been relocated—it is still in Padua, and there is no attempt to make the Rising part of the plot. It is the choice of a time and a society close to our own but still governed by the patriarchal values that make this play problematic for modern audiences—but a time when the "new woman" was reacting in protest and when, in the Irish rebels in proclaiming their Republic, declared common suffrage and equal rights for men and women.
In this production, strong-willed Katherine is another rebel against male domination. She wants her rights too. Aoife Duffin gives her the same passionate intensity she stunned us with earlier this year in A Girl is a Half-Formed Thing.
Powerful delivery plus authentic accents aren't easy for non-Irish ears to adjust to and there are times when subtitles would be useful. I understood little of the song which dramaturge and lyricist Morna Regan has substituted for Shakespeare's Induction which, it seems from the programme, presents a modern actress celebrating Irish women and singing of freedom before transforming into her Katherine character. The Globe acoustic isn't perfect and, sung straight out to the centre block, it wasn't clear in my side seat.
It might have helped make the director's concept clearer in presenting this story of a termagant daughter who needs must be married off before her father is prepared to pair her docile young sister Bianca with a suitor; a termagant tamed by the near sadistic tough love of Petrucchio, the fortune hunting man who is prepared to wed her.
That taming is brutal and the constraints on women are graphically presented in a physical sequence introduced in preparation for Katherine's wedding. The strings that tighten her corset become ropes with which she is pulled this way and that by, significantly, the women of the household, a taste of what marriage might mean? This is a production that puts as much emphasis on the physical as on text, which is heavily cut to concentrate on the story.
Whatever its feminist points, most such additions are comic; there is even a credit for a separate physical comedy director (Joe Dieffenbacher). From the start, Aaron Hefferman's Lucentio, supported by his servant Tranio (Imogen Doel), is as much clown as young lover for Bianca.
Subtlety isn't the name of the game here and there is lots of crowd-pleasing, bold humour, its exaggerations a match for the harshness it leavens. There is a delightful, if caricatured, Gremio from Raymond Keane, like a dapper retired brigadier, and Gary Lilburn makes Baptista a gentle buffer too, though still exercising tyrannical rights as a father, oblivious to the situation's injustice.
Edward MacLiam's roaring Petrucchio is so overblown that you feel that perhaps this is all an act—but he never seems to let up, though there is a moment, a kiss as he takes Katherine back to Padua, when something suggests a different man and, with Katherine seeming compliant, he too becomes gentler. However, any happy ending here is an artificial one.
If you take a look at the way most of the men are portrayed in this Shrew, they are a pretty poor lot, but they still have the upper hand. Women still have to go on fighting.
Reviewer: Howard Loxton