The Tempest
William Shakespeare
Royal Shakespeare Company
Barbican Centre
–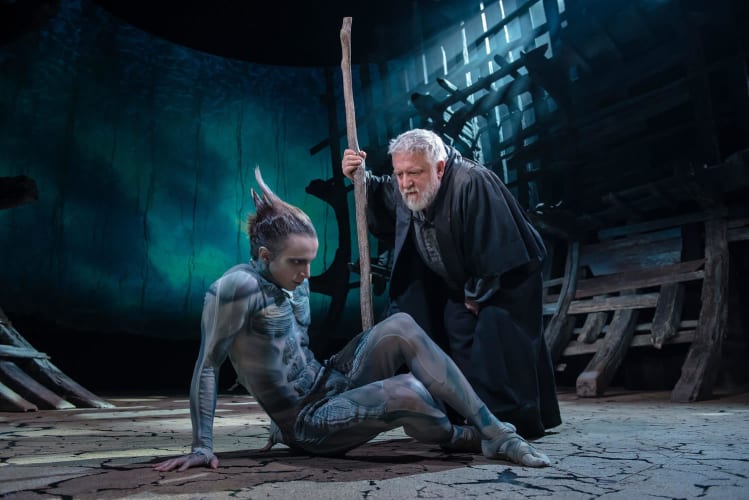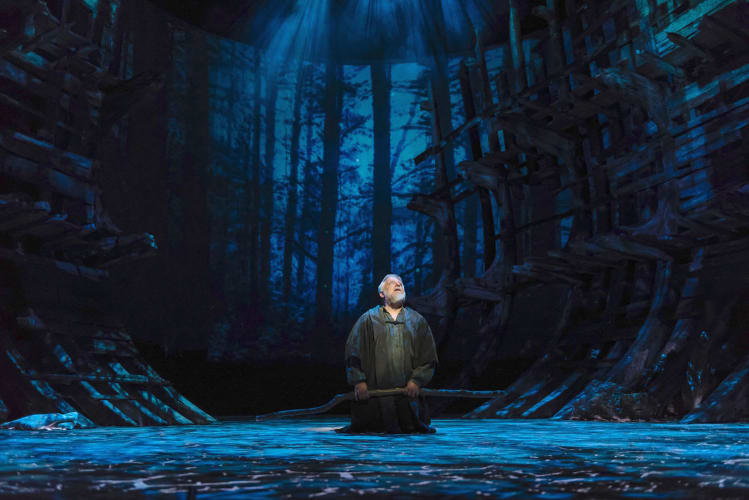 This transfer from the RSC's home in Stratford may not be the most tempestuous Tempest that you will ever see but it will live long in the memory thanks to a series of wise and in some cases brave decisions by the company's Artistic Director, Gregory Doran.
The first is the casting of possibly the greatest Shakespearean actor of his day, Simon Russell Beale, as Prospero on the stages where he was such a fine RSC Ariel for Sam Mendes almost quarter of a century ago.
In addition, Doran has commissioned perhaps the most spectacular computer-generated graphics that have so far graced a British stage.
Indeed, The Imaginarium Studio's images created by Finn Ross to complement Stephen Brimson Lewis's production design, based around a rotting ship's hull, can occasionally overwhelm the action. More often, though, they enhance the experience and can take the breath away. To pick a few examples, the opening tempest is devastating even though it can be dizzying, Ariel first appears holographically, before being embodied by the lithe Mark Quartley and a dreamy scene of heavenly spirits is doubly beautiful for the colourful imagery and operatic virtuosity of the performers.
However, there is far more to delight in than the kind of imagery more commonly associated with both violent and more serene video games.
Simon Russell Beale turns Prospero into a kind, immensely humane, if occasionally resentful, dictator ruling his island with a rod of soft wood. He is deeply devoted to Jenny Rainsford's wide-eyed Miranda, a loving daughter who, in turn, is bowled over by Daniel Easton as a surprisingly gentle Ferdinand and her "brave new world".
Along with an unexpectedly intelligent and generous but horribly deformed Caliban, portrayed by Joe Dixon, these are the main players in a superbly cast drama of deceit and revenge.
The Tempest has more to offer than its tales of love and mendaciousness with a particular highlight the low comedy injected by the superb double act of James Hayes and Simon Trinder (even when dressed as a clown, an instantly recognisable comic genius for all occasions) as Stephano and Trinculo, a pair of lovable drunkards to die (laughing) for.
There are odd notes that one could give, particularly around audibility, possibly because the acoustics are masked by the machinery required to carry the three-dimensional videos? In addition, the marooned Duke of Milan and his consorts, in ragged Ruritanian costumes are not as easily distinguishable as some might like.
However, in the final analysis, these are minor quibbles to set against 2¾ visually stunning hours of otherwise unadulterated pleasure in the company of the incomparable Simon Russell Beale, surely on the way to adding yet more awards to an already creaking cabinet, and his superlative friends.
Tickets are going to be hard to come by but anyone who loves good acting in a classic play presented in spectacular fashion should do whatever it takes to see Gregory Doran's unforgettable production, which literally sets new standards for the stage.
Reviewer: Philip Fisher