The Tempest
William Shakespeare
Grassroots Shakespeare London
Lion and Unicorn Theatre
–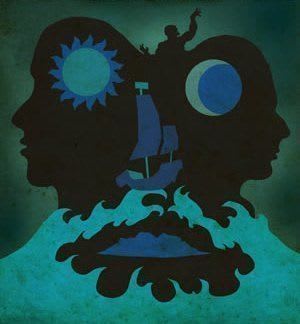 Men down on their knees scrubbing floors are not a familiar sight so audiences arriving for this production may recognize that they are shipboard, scrubbing the deck to open Shakespeare's tale of a deposed Duke using magic powers to wreak revenge on those who wronged him, get restitution and find reconciliation.
The play proper begins with Duke Prospero and his sprite servant Ariel surmounting the packing cases that litter the deck and stirring up a mighty storm, but first the company comes on in chorus to explain their "original practices" production style: essentially "there's no director, we think up everything for ourselves".
The opening storm, whipped up by Ariel, is a chaos of noise and swirling ropes and rocking crates from which a few clear words emerge before those aboard are cast into the deep. It is a dramatic opening, though a little long, and sweeps moves directly to the Duke's daughter Miranda expressing her concern for those caught up in the terrible tempest. In the scene that follows, in which Prospero fills in the whole back-story of his deposition (a scene which sometimes seems to go on for ever, especially after a long confusing storm) Matthew Walker firmly establishes the character of his Prospero.
This Duke is determined and in control, somewhat pedantic in manner but confident in success he shows a sudden gentleness even as he uses his magic to send his daughter to sleep. In his relationship with Ariel he sometimes displays affection but this is a man used to being obeyed.
Adam Blampied's Ariel is all activity, an eager Peter Pan like boy who can't wait for the big adventure of freedom. Prospero's other creature, Caliban, is no grotesque. His rags and dirtiness must be part of Prospero's punishment for his attempted rape of Miranda. Max Wilson gives him an intriguingly blurred voice that perfectly suggests an intelligence without understanding. He knows pain and pleasure, beauty too but Prospero has limited his education. He is indeed the slave that Prospero calls him and these two hard-working amoral innocents are in contrast to the arrogance of the nobility, especially Siobhán Daly's Sebastian (who despite the name is played as the King of Naples's sister). With her thirties Buck House accent and her horsey outfit, she is a spoilt royal brat.
The King's son Ferdinand, on the other hand, like a younger generation royal, is prepared to get his hands dirty and can turn his hand to anything and Christian Kinde can give him a pin-up glamour too to justify the wide-eyed wonder of Daisy Ward's innocent Miranda suddenly discovering her first boy.
Wisely the production doesn't attempt elaborate effects. The banquet is mimed with menace rather than grandeur to good effect, though Ariel's Batman Harpy is a misjudgement in an otherwise engaging performance. The marriage-blessing masque becomes a camp cabaret of Ariel's invention which rather misses its purpose. It is a wildly comic idea but unlikely to be what Prospero wanted.
The comedy duo of Stephano and Trinculo are too self-consciously being funny, and there is another misjudged self-indulgent "old man" performance as Gonzalo. This seems a failure of judgement not of talent: a director's hand to curb them would have helped here.
The verse is also handled somewhat cavalierly. Not until his final speeches does this intelligently played Prospero get to grips with it and Caliban's description of the beauties of the island is deliberately fractured. Avoiding the "great speech coming up" style that can infect the best known passages is to be commended but that shouldn't mean that you can't share these pleasures with the audience. This Tempest needs more moments like that when Kinde's Ferdinand, presenting Miranda to his father, captures both the verse and the emotion precisely.
This young company has enthusiasm and imagination and is adept at making much from little. They need to be more self-critical but that can be extremely difficult when there is no single arbiter to decide what works.
Grassroots Shakespeare London runs this production in repertoire with A Midsummer Night's Dream as part of the Lion & Unicorn Theatre's "Magical Shakespearean Christmas".
Reviewer: Howard Loxton