The Tempest
William Shakespeare
Shakespeare's Globe
Sam Wanamaker Playhouse
–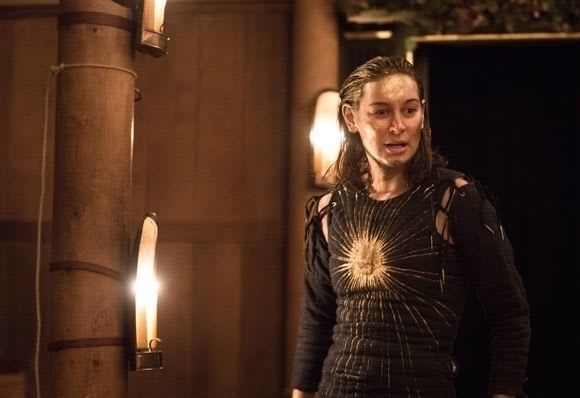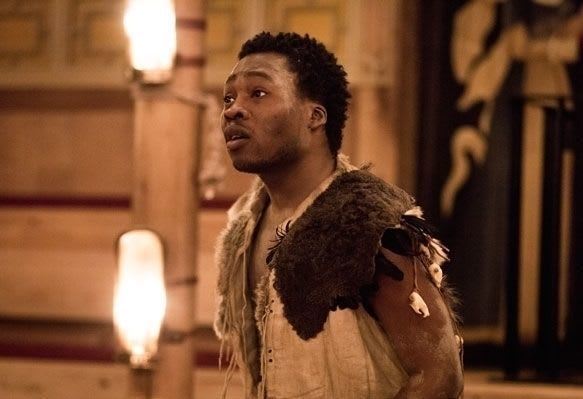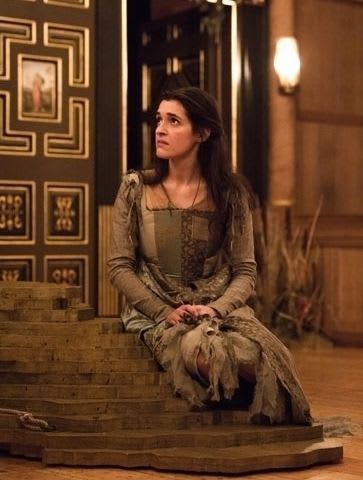 Prospero and The Tempest are often seen as Shakespeare's farewell to the stage so it may seem appropriate that Dominic Dromgoole should choose this play as his last production as Artistic Director of Shakespeare's Globe before moving on to pastures new.
It is a production of intensity in the candle lit intimacy of the indoor Sam Wanamaker Playhouse that reveals both the darkness and the comedy of the story, delivering a pretty full text along with the masque-like moments that may originally have been created with an indoor theatre in mind.
Prospero, deposed Duke and magi, and Miranda his daughter both make their appearance before the doors are shut and the play begins then Prospero calls up a vision in miniature of a storm-tossed vessel, battling mechanical waves in a storm of is devising. Then the storm is all round the theatre and the stage becomes the ship's deck, seamen tossed from port to starboard. Prospero watches from the Pit as his spirit servant Ariel flies above controlling the wind and waves. At last the shouts become incomprehensible then added calls of "Farewell my brother! Farewell!" are heard from all around as men are swept off by the sea.
Dromgoole immerses the audience in his production with voices around them, goddesses descending from the heavens and skeletal dogs chasing evil-doers through them.
Tim McMullan's rich-voiced Prospero sometimes sounds like a kindly bear, sometimes a cruel one and vengeful. He is a control freak who makes his daughter suddenly sleep and seems to delight in torturing Caliban. Later, touched perhaps by Ariel's dutiful devotion, he turns forgiving and this seems to reveal a deep sadness in him, realising how little he has been aware of others. This really is a man who could have been so caught up in his books that he failed, and lost, his dukedom.
Fisayo Akinade's Caliban isn't ugly. He may stink like a fish, perhaps that makes him seem so, or is it just that he looks African? With one of Shakespeare's loveliest speeches he shows a fine appreciation for beauty. Perhaps it was an innocent instinct made him want to "populate the island" that led to Prospero's charge of child abuse. His education halted, he's a frightened and rebellious child.
This staging doesn't stress the colonialist parallels nor does it really play the colour card; it's caste that matters, for Ferdinand, the King of Naples son (clearly and intelligently played by Dharmesh Patel), is not Caucasian and Prospero sees him as a suitable match for Miranda.
Miranda is very much the over-protected daughter, childishly shrill at first, Phoebe Pryce's voice reflects her growing up as her father allows it, though momentarily struck back to wide-eyed childishness when she sees the entire male entourage of Ferdinand's father.
Pippa Nixon is an androgynous Ariel. A rather slow delivery with some odd stresses strangely seems to emphasise the speed with which s/he executes his/her tasks. S/he sings beautifully and makes a harsh-voiced harpy. This Ariel is a spirit almost as bemused by mankind as Miranda is by men and able, invisible, to inspect them very closely.
Paul Rider is a rather gentle Alonso, King of Naples. If this is the man who helped Antonio usurp Prospero's dukedom, the apparent loss of Ferdinand has changed him; but Brendan O'Hea's snide Antonio is doubly evil, as he plots murder with Alonso's brother Sebastian (Christopher Logan).
Dromgoole brings out a touch of humour in Prospero's treatment of his daughter and at the shipwrecked nobles' fear, rather than be terrified with them. Joseph Marcell's gentle Gonzalo, the loyal nobleman who ensured that Prospero had his favourite books, become a butt for laughter too, with his meandering loquaciousness, but the main comedy comes with the King's drunken butler Stephano and the jester Trinculo. Trevor Fox and Dominic Rowan make an excellent comic duo, sometimes adding modern ad-libs to the script, Stephano half-sozzled and a puffed-up Trinculo with a touch of Basil Fawlty.
The comedy could be helped by more candles, the renaissance masqueing too (in which there is even a bearded goddess), but the soft lighting often adds to the effect and the plot gives little excuse for the carried candelabra which lit faces in, for instance, this director's Duchess of Malfi.
After the opening action, things inevitably slow down for the early scenes of back-story exposition, but Dromgoole moves things easily to mix plot, fun and elegant effect.
Like all Shakespeare's late romances, which were possibly intended for just such theatres as the Sam Wanamaker Playhouse recreates, there is the opportunity for theatrical splendour but this Tempest doesn't overdo it. Its general simplicity gives it pace and its emphasis is almost always on the text.
Reviewer: Howard Loxton