The Terrible Infants
Oliver Lansley
Les Enfants Terribles
Wilton's Music Hall
–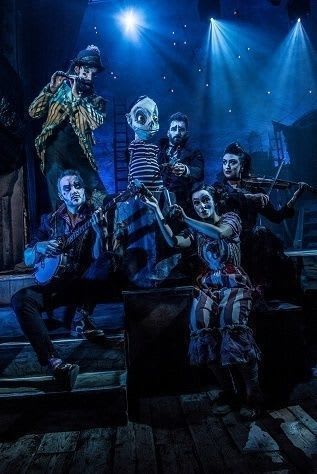 Les Enfants Terribles is celebrating the tenth anniversary of what has become a cult classic with this latest of numerous revivals.
After so long, the five strong ensemble, led by writer / co-director Oliver Lansley, is approaching perfection in presenting two deliciously dark hours of high quality family entertainment.
The Terrible Infants consists of a series of original fairy tales, all oddly intoxicating and unsettling with their own odd sense of morality.
Running through the show is the story of little Tilly who is unable to tell the truth. Her problem is a tail that grows longer with each succeeding tall tale.
With her exception, most of the strongest stories come after the interval. Leading the way in every sense is Beatrice, who is a magnet for bees and even bigger beasts. Better still, she has her unorthodox experiences narrated by Dame Judi Dench, tongue firmly in cheek.
Coming in together for this critic, equal runners-up are Linena, a ragdoll who remakes herself—literally—before her materialistic donors and a washing machine cause unanticipated difficulties and Thingummyboy, who is so self-effacing that he literally disappears from view.
Thanks to the vision of Lansley and co-director James Seager, the attractions of Les Enfants Terribles go much deeper than a series of lovely stories that amuse and, at times, chill.
This company delivers total theatre at its best, evoking Victorian melodrama and music hall with the highest of traditional production qualities, making Wilton's Music Hall the perfect venue this highly evocative evening.
The music, played and sung by the performers, is lively, while every trick in the acting book is utilised with physical theatre, poetic storytelling, puppetry and shadow play all having an impact at various points in what is a truly charming theatrical experience.
So many family shows are grudge buys for parents or grandparents. However, The Terrible Infants is good clean fun that will have as much appeal to the grown-ups as the kids that they bring along as an excuse for attending.
Reviewer: Philip Fisher