The Theatre Channel Episode Seven: Rogers and Hammerstein
Richard Rodgers and Oscar Hammerstein II
Adam Blanshay Productions
Regent's Park Open Air Theatre
–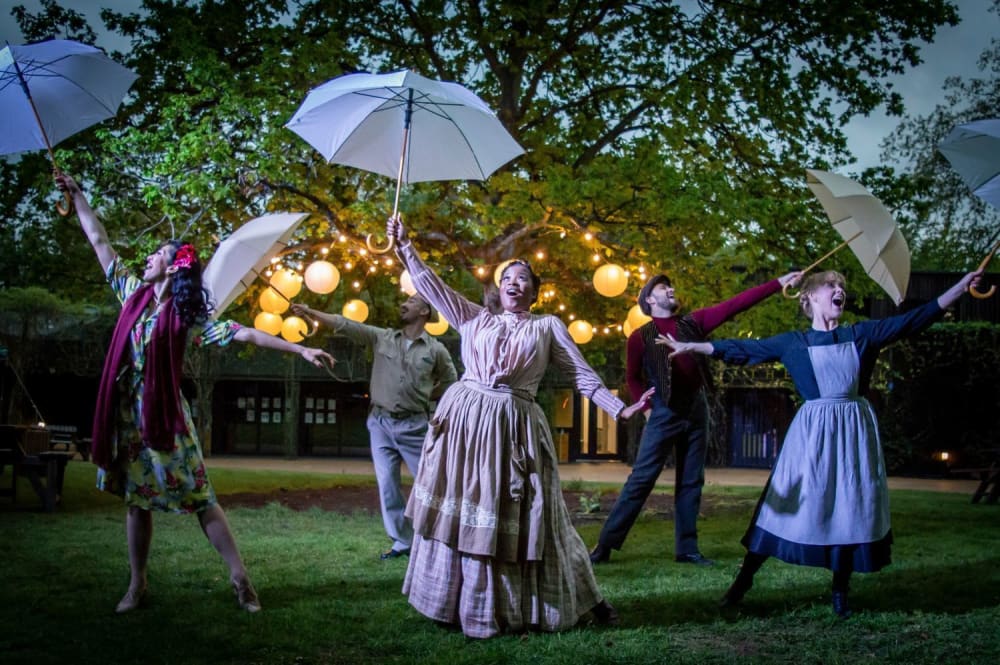 Thom Southerland directs the latest episode from The Theatre Channel, partnering with Regent's Park Open Air Theatre in a celebration of the work of Rodgers and Hammerstein.
In addition to the songs, this episode also features a behind-the-scenes look at the upcoming revival of Carousel at the Open Air Theatre. This 110-minute edition features a bevy of stars but also offers The Café Five and ArtsEd graduates Tavio Wright and Ethlinn Rose golden opportunities to share the limelight.
In their fresh, outdoor location in the environs of the theatre in Regent's Park, The Café Five open the presentation with a kind of tuneful R & H mash-up "Sounds of the Earth / The Carousel Waltz / So Far / It's a Grand Night For Singing" from the musical revue A Grand Night For Singing.
The songs are punctuated by commentary from Ted Chapin, departing President of the Rodgers and Hammerstein Organization. He welcomes adventure and new interpretations and that is exactly what we get as Caroline Sheen beautifully sings "Whistle a Happy Tune" from The King & I. This is wittily directed using the premise that the lead singer is nervously awaiting an audition, as are members of The Café Five.
The high quality of the singing is impressively maintained as Amara Okereke delivers the rather more demanding "Love, Look Away" from Flower Drum Song.
Rather than merely a greatest hits session, this programme also features "The Gentleman is a Dope", a song from Allegro, according to Chapin "by far and away their most interesting failure". Josefina Gabrielle does a fine job of demonstrating that, even if the musical did not hit the dizzy heights, this dramatic song was well worth revisiting.
Daniel Koek's rich baritone is used to good effect for "This Nearly was Mine" from South Pacific, a song suitably enhanced by some of the park's leafier and more attractive locations.
Bravely singing in the (heavy) rain, Tavio Wright and Ethlinn Rose prove to be talented triple-threats as they team up to sing "Sixteen Going on Seventeen" from The Sound of Music.
The video ends with an unexpected combination as Michael Xavier has the epic task of successfully bringing together "Climb Every Mountain" and "You'll Never Walk Alone" respectively from The Sound of Music and Carousel. Symbolically for these times, supported by The Café Five, he sings the rousing finales to these songs to a theatre that is completely deserted.
Reviewer: Philip Fisher