The Theatre of Sarah Ruhl
Amy Muse
Methuen Drama
Released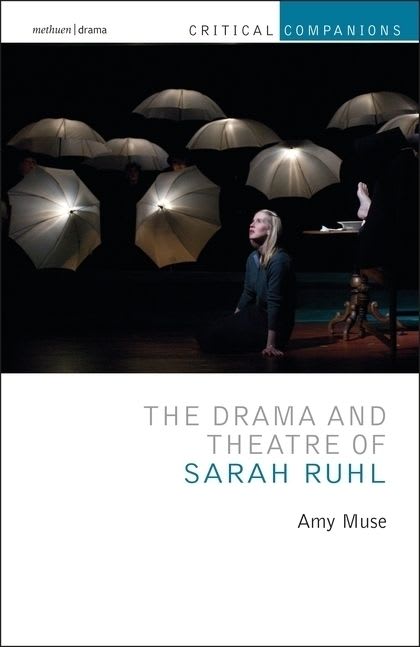 The latest publication in the Methuen Drama Critical Companions series focuses on the career and work of a playwright who has never been afraid to challenge standard theory. In some ways, her eclecticism can be understood by comparing it with the career and work of a heroine, Caryl Churchill.
Sarah Ruhl writes from the heart, seeking to explore emotion without necessarily having as great a concern for composing the traditional well-made play as most playwrights.
British viewers should be familiar with at least a sample of this prolific writer's work, since a fair amount has made it across the Atlantic. Even so, they may be surprised to discover the size and scope of Miss Ruhl's oeuvre, although one or two of the works covered have either never been performed or only for a brief time in the smallest of venues.
As Amy Muse identifies from the start, her subject looks at the world so differently that even stage directions must be regarded as an integral part of each piece, arguably more important than some of the plotting.
In particular, the proposition is posited that a key to understanding the thought processes of this writer lies in Virginia Woolf's explorations of consciousness and her concentration on "moments of being".
Rather than covering a career chronologically, the writer has chosen to identify certain strands and themes then group plays within them.
The starting point is consideration of the early adaptations of inter-alia Maeterlinck and Chekhov as well as the letters of Elizabeth Bishop and Robert Lowell. Next comes a chapter on the fabulous including her updating of the Euridice story and consideration of a play that this reviewer would love to see, scenes from Court Life or the whipping boy and his Prince. This intriguing work apparently draws parallels between the lives of two dynasties, the Stuarts in Britain and the Bushes in America.
Unusual love stories form another chapter, as does a tangential consideration of the impact that religion and its underlying ethos can have when viewed on stage.
Following Amy Muse's wide-ranging and thoughtful analysis, there are assorted contributions from other Ruhl experts.
First, Ms Muse jointly interviews two directors who have worked with the playwright, Hayley Finn and Sarah Rasmussen, each of whom offers helpful personal insights.
This chapter is followed by three essays. Jill Stevenson talks about Passion Play and interaction between ancient and modern. Thomas Butler explores lightness in the plays and, finally, Christina Dokou takes a psychoanalytic approach to Euridice referencing Freud and Jung and making a strong case for a view of the play that takes into account the Electra Complex, i.e. a daughter who fixates on her father.
Reviewer: Philip Fisher