The Theatre of Rupert Goold
Sarah Grochala
Methuen Drama
Released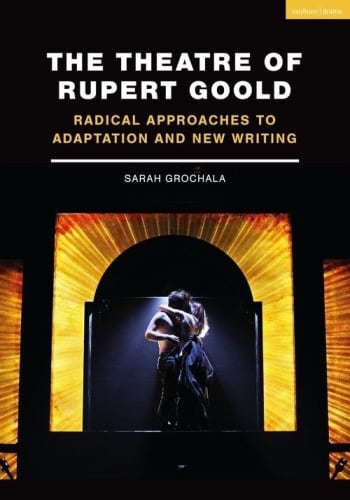 It is telling that this in-depth analysis has been written by a theatre practitioner rather than an academic. Sarah Grochala not only has an in-depth understanding of her subject but an ability to write in wholly intelligible language, eschewing the mystique that so many in the world of academia prefer.
This book, which is subtitled "Radical Approaches to Adaptation and New Writing" broadly splits into two halves. The first looks at the work of Rupert Goold in chronological sequence, starting with school and university but quickly moving on to a limited number of independent directing opportunities.
His foundering early career really took off after what was effectively an internship at Salisbury Playhouse under Jonathan Church, which led to the chance to become artistic director at Northampton Royal and Derngate. Rather than play things safe at a regional theatre with a highly traditional audience, Goold was happy to stamp his own authority and tastes on the town, counterintuitively improving occupancy rates while challenging his visitors.
This attitude continued after appointment at touring company, Headlong during which time he also worked closely with the RSC presenting a series of wildly imaginative and innovative productions of Shakespearean classics including Macbeth and The Tempest.
By the time that the director decided he needed to move on in order to advance his career, there were potential openings available at both the RSC and National Theatre but he felt that his career would be better developed by replacing Michael Attenborough at the Almeida. There, after presenting a series of his own iconoclastic productions, Goold has more recently preferred to work closely with associates, first Robert Icke and then Rebecca Frecknall.
The second half of this volume looks at Goold's work in action, considering his approaches from a series of different perspectives. These include his thoughts about Shakespeare, working with new writing and the development of talent. In doing so, they highlight a consistently original and often ground-breaking approach to theatre making.
Underpinning the analysis is a series of interviews with Rupert Goold and other key figures from his career, including Ben Power, Robert Icke and leading playwrights including Mike Bartlett and Lucy Prebble.
This methodology works perfectly to present a thorough but also wholly readable account of Rupert Goold's career to date, reminding readers of highlights such as his work on Shakespeare with the RSC, often featuring casts led by Sir Patrick Stewart and modern plays including Ink by James Graham, Enron by Lucy Prebble and King Charles III by Mike Bartlett.
This book will obviously be of great interest to any theatre practitioners, but young directors in particular should learn a great deal about their trade. Academics and general readers will also learn much more about an erstwhile enfant terrible, who has now been working in the industry for the best part of quarter of a century and become one of British theatre's leading lights.
Reviewer: Philip Fisher