The Thin Place
Lucas Hnath
Playwrights Horizons
Peter Jay Sharp Theater, Playwrights Horizons, New York
–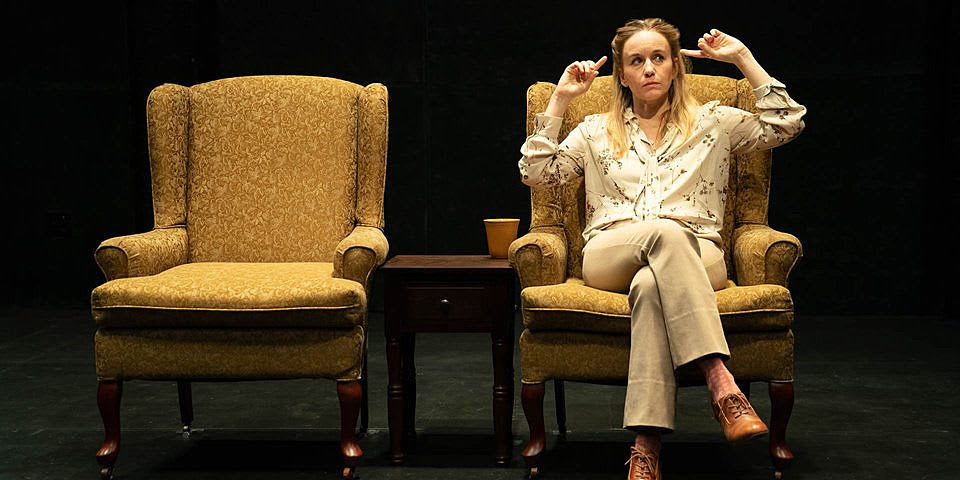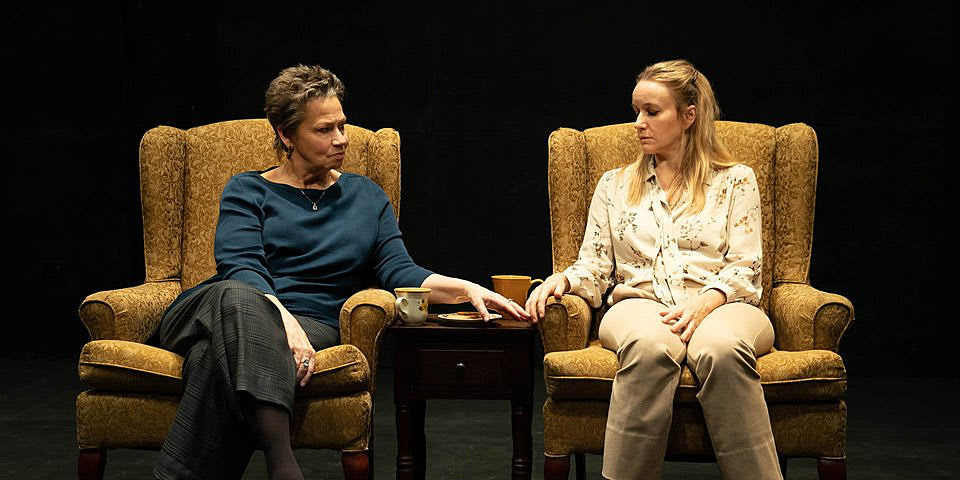 Les Waters's production of The Thin Place is intended to be as unsettling as its subject matter: communing with the dead.
On a stage containing little but two comfortable armchairs and a coffee table, the first ten minutes are taken up by monologue from the impressively controlled Emily Cass McDonnell taking the role of shy, timid Hilda.
Wearing a telling crucifix, she explains how her grandmother played games trying to inculcate Hilda into the tricks of reading the mind.
After accusations of demoniac activities from Hilda's mother and banishment, the old lady died but that is far from the end of the story.
Seeking succour, the young woman approached a medium from the North of England named Linda portrayed by Randy Danson. In passing, one might observe that, to an Englishman, her accent could not be placed but sounded closer to a remote Caribbean island than Lincolnshire or neighbouring counties.
Having put the quick and the dead in touch, Linda becomes a firm friend with vague suggestions that there might have been something more to the relationship.
Unlike the average charlatan, she also confesses that the activities of those conducting séances are no more than clever trickery, much to the disappointment of her very willing victim.
The heart of a 90-minute evening features a small dinner / drinks party to which the two women have been invited by Linda's cousin Jerry and their mutual friend Sylvia, respectively played by Triney Sandoval and Kelly McAndrew.
The conversations are wide-ranging, allowing playwright Lucas Hnath to make some trenchant observations about American society today and the politics of capitalism.
In particular, as the performance moves towards a closure, viewers are given time and space to consider the nature of truth and the ways in which those with influence can ignore and subvert it, a timely message to citizens on both sides of the Atlantic.
Les Waters's production builds tension nicely, greatly assisted by the sterling efforts of lighting designer Mark Barton that, on occasion, will literally elicit squeals from some of the more callow audience members.
The Thin Place is a slow burner that will spark interest while viewers are watching the action slowly unfold but remain with them long after they have departed the theatre and try to piece together not only the personal interactions but also the underlying meanings and messages of what looks simple but is a surprisingly complex piece of theatre.
Reviewer: Philip Fisher