The Tiger Lillies Rime of the Ancient Mariner

The Tiger Lillies
Queen Elizabeth Hall, Southbank
–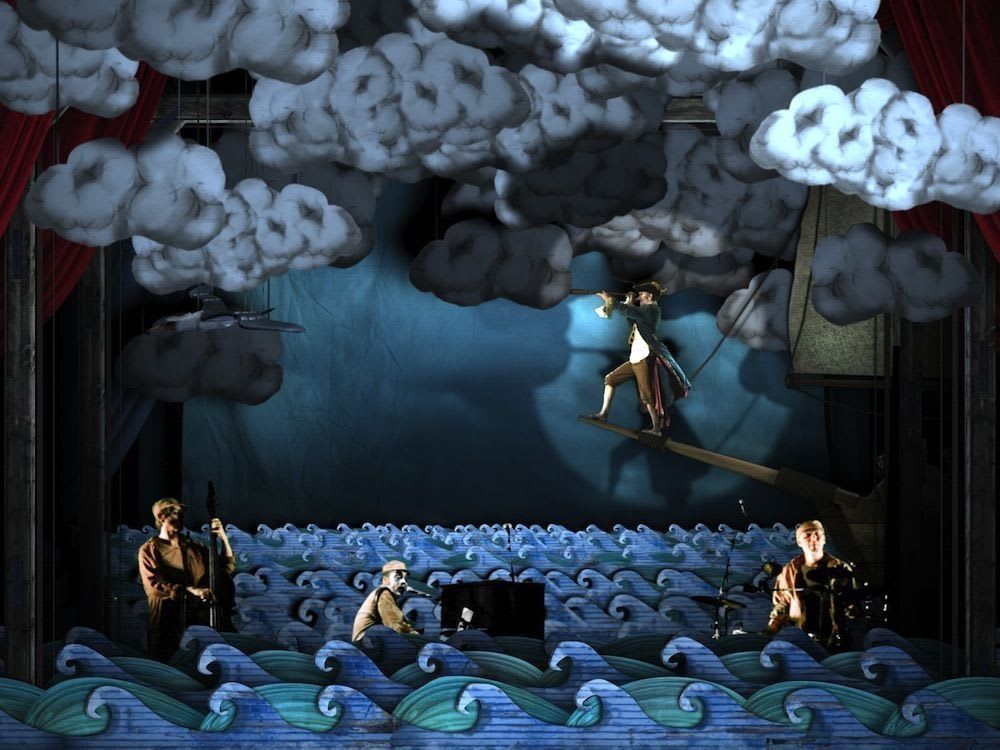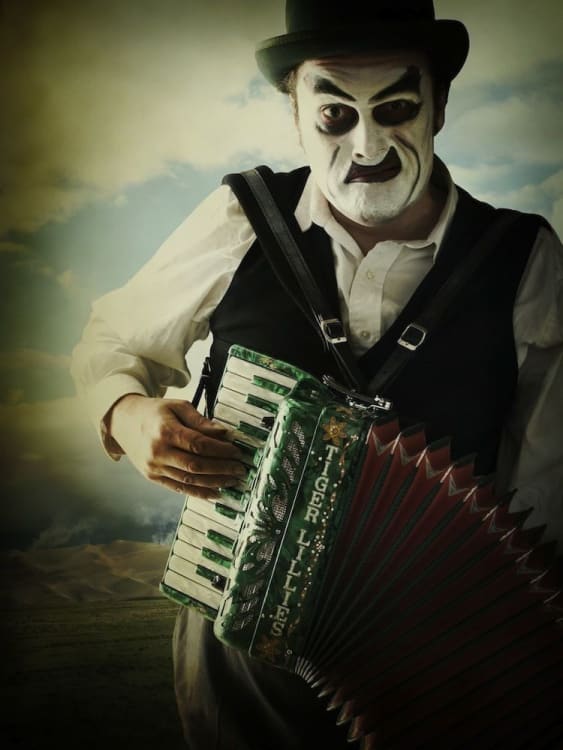 From their award-winning Shockheaded Peter to their taboo-busting close to the bone cabaret shows, from last year's Hamlet with Denmark's Republique Theatre to The Rime of the Ancient Mariner—with too many shows in between to list—the Tiger Lillies have built up a loyal demographic-defying following over some (hard to believe) twenty-five years.
Martyn Jacques's crystal-clear, crystal-shattering castrato voice, Carpathian gypsy accordion melodies and dramatic, jazzy ballads on piano bend Coleridge to his will, distilling and rewriting the Rime in Tiger Lillies Edward Gorey-esque signature hellfire grotesquerie.
But, fans know what they will get—there's always a bit of recycling—waste not want not—and the Tiger Lillies do not disappoint: familiar foot-tapping tunes haunt the score, fantastical fairground painted faces, Lindsay Kemp and European expressionism... It's no surprise that Terry Gilliam is a fan.
Spectral sailors in horror masks on a sailing ship adrift in the sea, rolls of barrels, a gibbet, a Grinling Gibbons sun, a Méliès moon, a smoke-belching oriental sea monster with black scaly tail, fiery chimneys made of skulls, an ice-encrusted Neptune amongst the icebergs, and frond-trailing mermaids amongst octopus tentacles. 'Slimy things did crawl on slimy seas'.
A trick underwater ballet, from an aerial troupe, fleshes out the picture book puppet theatre style presentation—behind a projected music hall proscenium arch, under a searching lighthouse spot.
Waves break and roll, clouds blank out the sun, the mariner (in beaky mask and tricorn hat), not a very pleasant chap, is seen in silhouette buggering the cabin boy, and killing the albatross with his crossbow. In a clever twist he becomes the albatross, sitting on the mainsail mast, his hat exchanged for its head.
A seedy lot these sailors—and the three musicians in costume, Jacques especially with his jolly tar's long plait, grimacing slashed mouth, and hollow black eyes. Adrian Stout on theremin, musical saw and contra bass underlines the Transylvanian refrains, whilst Mike Pickering on drums and percussion enhances the creaking timber and storm sounds.
Twenty blood-thirsty songs of hypocrites, cabin boys, stormy seven seas, rotting flesh, death maidens and death ships—shoals is rhymed with souls—and a living hell worm the story of the ancient mariner into our psyche. One does not need to have read Coleridge to enjoy the evening.
Mark Holthusen must take major credit for his amazing animations and designs projected on to front and back scrims, giving a 3D effect to the ninety-minute production, which is faithful in its own way to the Romantic Gothic, supernatural tale.
As must the uncredited video performers in this Rime co-production, with Théâtre de Nîmes—scène conventionnée pour la danse contemporaine and Scène Nationale de Sète et du Bassin de Thau, which had its world première in Nanterre last year.
My companion, not given to effusiveness, taken with the production, giving it five stars, wondered whether The Tiger Lillies Rime of the Ancient Mariner was not only channelling Coleridge's poem but also emulating his opium habit.
PS A short promo and the full show are available on YouTube.
Reviewer: Vera Liber