The Tigerface Show
Justin Teddy Cliffe
The Other Room, Cardiff
–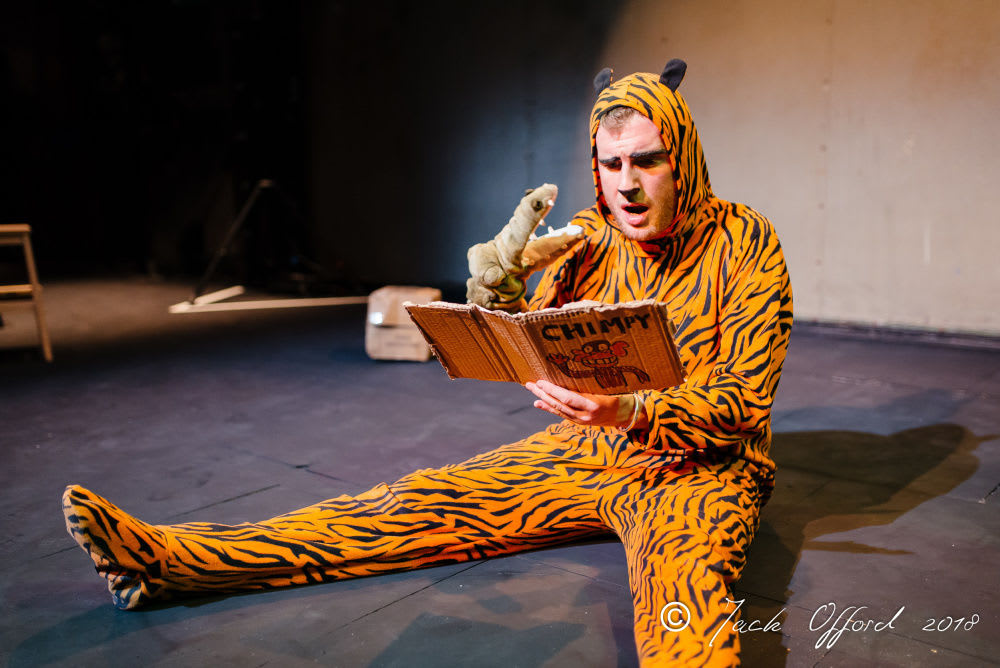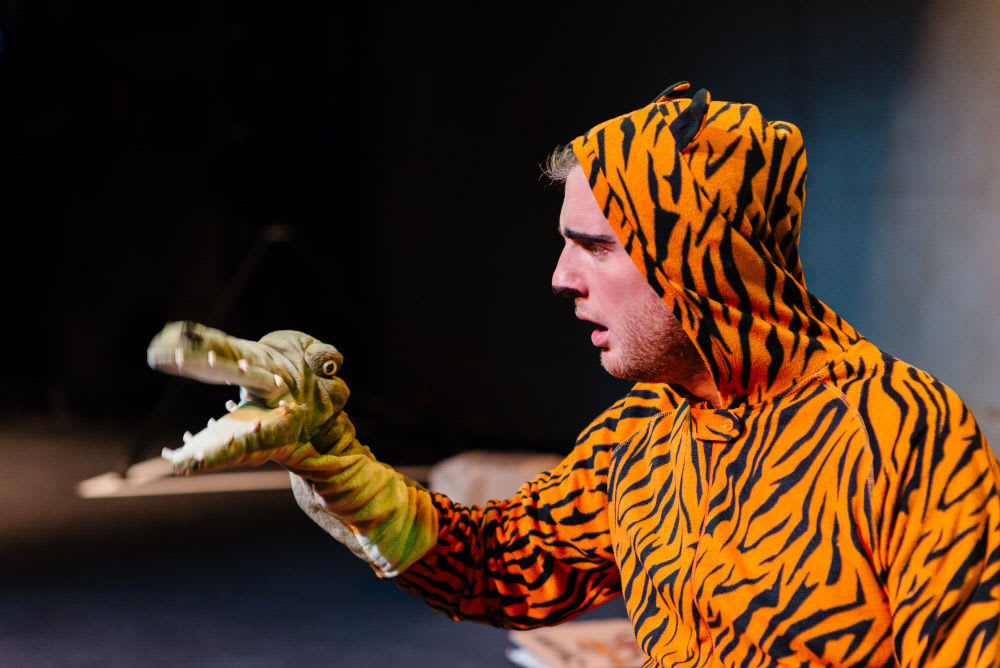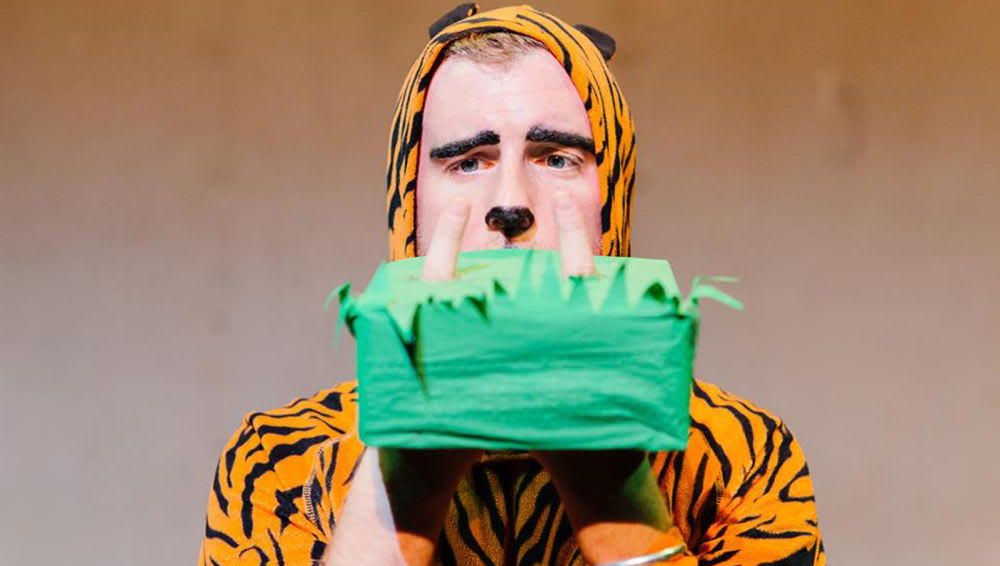 The latest show in the Spring Fringe season at The Other Room comes from Newport-based performer / writer Justin Teddy Cliffe and draws heavily on the conventions of television aimed at young children in order to explore the concerns of adults.
The title is displayed on a video-screen, as we take in the performance-space—scattered with cardboard boxes labelled as rocks and tree-stumps, blatantly fake palm trees and various toys, including a monkey and a rather impressive miniature keyboard-glockenspiel. The floor is strewn with numbers and letters and a German (I think) children's song plays over the sound system.
When the main protagonist wanders in, he is wearing a tiger onesie (with minimal make-up) and trailing a small trolley full of other toys. For the first few minutes, he treats us to some clownish mimes and intentionally weak jokes and indulges in amusingly half-hearted audience interaction.
The conceit of the piece is that this is a re-creation of a long-cancelled television programme, The Tigerface Show, whose aim was to teach pre-schoolers about literacy, numeracy, the natural world, and relationships. We, the audience, are adults who are presumed to have been fans of the original—although, despite the preponderance of expletives, this isn't one of those grisly "blue" versions of kids' TV favourites which occasionally play to audiences of drunken students.
Instead, Cliffe's "Tigerface" character is an adult who sincerely mourns the loss of his show and what it represents and is close to succumbing to depression and loneliness. He is rescued, though, by the continuing interventions of various not-quite-imaginary friends.
Cliffe quickly builds up a rapport with the audience, ably assisted by Kirsty Harris as his "dream maker" and Bob Condick as his largely unseen foil—he also collaborates on the convincingly authentic sound and video design. Director Paul Jenkins displays a firm hand in respect of discipline and fluency.
If there is a problem with the piece, it is that it states its thesis—don't let go of childhood dreams—a little too explicitly: telling at the same time as showing. Nevertheless, Tigerface is as refreshingly uncynical about children's entertainment as it is cynical about life beyond it.
Which is not to say that conventions aren't subverted—there are references to sex and violence. But, ultimately, the hero remains essentially an innocent and spares no effort in encouraging his audience to embrace its inner child.
The opening night audience was suitably ebullient—although Tigerface might work just as well in front of a crowd of grumps, who may be in tune with the central character's disappointment with the real world; or even (with suitable editing) for actual children, who might appreciate its constant, playful breaking of the fourth wall.
The show ends on a note of collective celebration of wish-fulfilment; a fitting climax to a heartfelt and, despite itself, good-natured hour of entertainment.
Reviewer: Othniel Smith