The Tin Drum
Carl Grose, based on the novel by Günter Grass
Kneehigh, West Yorkshire Playhouse and Liverpool Everyman & Playhouse
West Yorkshire Playhouse, Leeds
–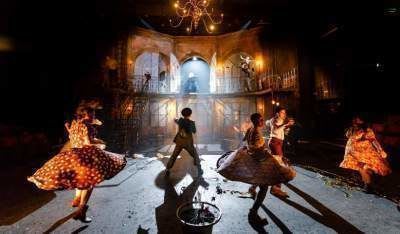 As we left the theatre, my friend and I were approached by a young man in his teens.
"Have you been to see The Tin Drum?", he asked.

"Yes", we said in unison.

"Have you any idea what it was about?"
I can't remember exactly how we responded, but I think we claimed to get the gist of it. This is no reflection on Carl Grose's adaptation, you understand—which I absolutely adored—but rather on the surreal, mythic nature of the source material. Audiences expecting a clear, cause-and-effect narrative may feel frustrated by this production. However, if you surrender to its unique type of magical realism, you're in for one hell of a time.
For its latest production, Kneehigh has chosen to tackle Günter Grass's masterpiece The Tin Drum (1959), a sprawling picaresque novel that explores issues that have become pressingly relevant in recent times: the rise of the far right in Europe, the displacement of people and the simmering racial tensions that divide us.
Understandably, Grose has had to hack away at the novel's 500+ pages, but he manages to preserve its central narrative thread, which concerns the early life of Oskar Matzerath. Born in Danzig (now Gdańsk, Poland) in 1924, our young protagonist bears witness to the horrors of WWII as a shadowy fascist party (clearly the Nazis, but never identified as such) bring about an era of death and destruction.
Oskar must surely rank as one of the strangest characters in twentieth-century literature. Born with an adult capacity for thought and a piercing scream that causes glass to shatter, Oskar is a precocious blend of the angelic and the satanic.
On his third birthday, Oskar rejects the adult world by refusing to grow up: consequently, he retains a child-like stature for the rest of his life. He also comes into possession of a tin drum, which he plays with demonic intensity. When armed with this instrument, Oskar wields a quasi-messianic power that poses a genuine threat to the dark forces spreading over Europe.
Kneehigh are rightly praised for their imaginative and anarchic approach to theatrical storytelling, and The Tin Drum is a shining of example of this. It's such a fascinating melange of different genres—black comedy, musical, opera, cabaret, puppet show—that one hardly knows how to classify it.
Director Mike Shepherd's kinetic direction imbues the production with high levels of energy and exuberance. The 10-person ensemble move across the stage at a thrilling pace, and the production has a restless, endlessly shapeshifting quality.
Charles Hazlewood's eclectic score reflects the fractured nature of Oskar's reality. The performers' standard of singing is variable, but strong overall. For the most part, the music adds another dimension to the production, allowing the characters to reveal their inner thoughts to the audience.
At the centre of the production is Oskar, who is embodied by a sinister white puppet with piercing blue eyes. Brought to life by Bettrys Jones, Dom Coyote and puppet director Sarah Wright, Oskar is a captivating presence on stage—a still point in a turning world.
The cast are excellent across the board. Nandi Bhebhe gives a lovely, heartfelt performance as Oskar's put-upon mother, Agnes. Damon Daunno is dashing and romantic as Oskar's biological father, Jan, and Les Bubb is touchingly buffoonish as Agnes's cuckolded husband, Alfred.
Rina Fatania is hilarious as Oskar's earthy, potato-munching grandmother, and Patrycja Kujawska comes close to stealing the show with her brief appearance as Oskar's fire-starting grandfather. The torch song Kujawska sings while trying to seduce Fatania provides one of the evening's many highlights.
Naomi Dawson's superb set, with its faded walls and heaps of rubble, powerfully evokes the sense of a decaying world. Moreover, it is beautifully lit by Malcolm Rippeth.
Earlier this year, I watched another Kneehigh show, The Flying Lovers of Vitebsk, which I found surprisingly delicate and restrained. The Tin Drum is neither of these things—it is a theatrical feast, bursting with imagination and anarchic energy. It's also one of the best shows I've seen this year.
Reviewer: James Ballands