The Turn of the Screw
Music by Benjamin Britten, libretto by Myfanwy Piper
Regent's Park Theatre & English National Opera
Open Air Theatre Regent's Park
–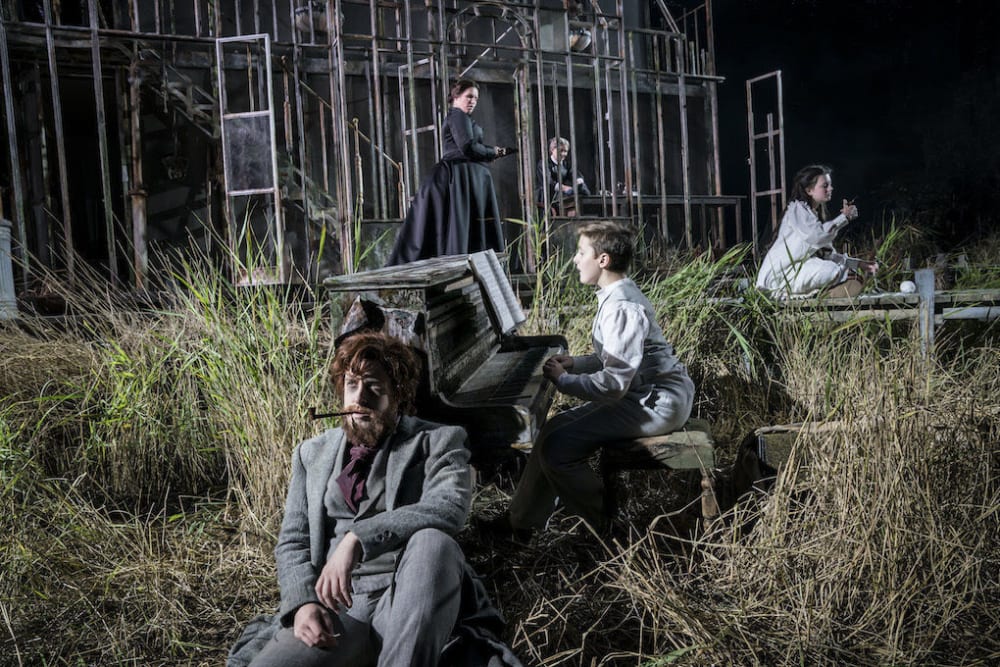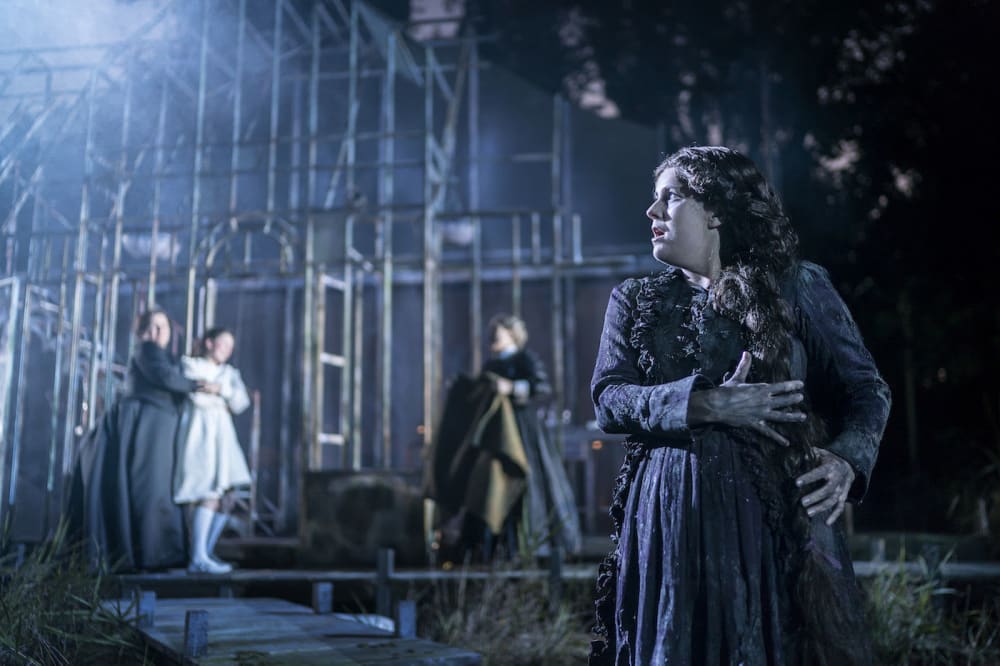 What could be nicer on a balmy summer evening that country house opera? But this isn't Glyndebourne; it's London and the country house is on stage and looks more like a large ruined greenhouse.
Director Timothy Sheader and his designer Soutra Gilmour have set this version of Henry James's ghost story in the ruin of the remote house at Bly where long thrown-out furniture still lies in the long grass, bringing back all of its characters like revenants who act out what happened in the now shattered rooms where it took place so long ago.
As William Morgan's high tenor prologue informs us, "it's a curious story… written in faded ink—a woman's hand, governess to two children," a story of strange corruption, a struggle for control over others that is given added power by one of Britten's eerie and evocative score.
The Open Air Theatre has established a fine reputation for musicals and a few years back did a spectacular production of Porgy and Bess but I believe this is the first time that they have presented an opera from the more classical repertoire.
Britten's sensitive chamber work may seem a challenging choice for such a large auditorium for it is an intimate, claustrophobic story. However, with furniture reclaimed from among vegetation, scenes in schoolroom and bedroom are here brought outdoors and, when the action moves out beneath the great trees or to the edge of the dark lake, the whole landscape becomes haunted by the spirits of Peter Quint (Elgan Llÿr Thomas), former valet to the master, and Miss Jessel (Elin Pritchard), the children's previous governess whom he corrupted, who together exert such a pernicious power over young Miles (Daniel Alexander Sidhom) and Flora (Elen Willmer).
After the pounding rhythm of the coach horse hooves carrying Anita Watson's young Governess to her new post, Britten's music creates the calm, countryside idyll before infiltrating it with unease. Conductor Toby Purser takes things at a fast pace, his chamber orchestra dimly seen like more ghosts within the house (and far too clearly as the evening gets darker).
There is no time for the fractional pauses that I seem to remember from Britten's own performances and the sound texture seems squeezed, losing some of the celeste and tympani. Perhaps it was unbalanced amplification and perhaps that was partly to blame when with three sopranos singing together instead of their different voice qualities merging the effect became rather shrill making diction much harder to follow in a libretto that doesn't waste words.
When seen high above behind dusty glass or lit by pale moonlight, the ghosts here are spooky but when they move through the audience they are less convincing, their wigs looking unreal but not ethereal, though there Sheader adds some excellent business such as placing Quint sitting smoking and leaning against the piano on which Miles is playing showy arpeggios or having him pushing a letter the governess has written to her employer closer and closer to Miles when he wants him to steal it. He has also found an effective way of staging the Colloquy and Soliloquy that open the second act.
Like housekeeper Mrs Grose (Janis Kelly) who doesn't want to believe that the children she loves have become evil, this production didn't fully convince me nor did it leave me with those tree-top cadences or Miles's Malo burned into my brain the way they have sometimes been, but part of the magic is there even if it lacks the full force of innocence being corrupted.
A second cast play these roles in alternate performances.
Reviewer: Howard Loxton