The Two Gentlemen of Verona
William Shakespeare
Royal Shakespeare Company on Marquee TV
Royal Shakespeare Theatre, Stratford-upon-Avon
From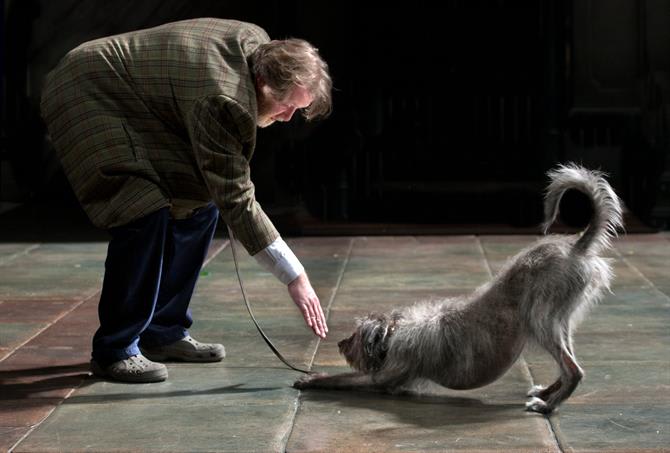 For no very obvious reason, The Two Gentlemen of Verona is one of Shakespeare's least frequently performed plays. Remarkably, RSC debutant Simon Godwin's revival in 2014 was the first on the main stage at Stratford in 45 years.
As one might expect from the RSC, the drama is enhanced and embellished by a live band and a simple design from Paul Wills, who uses the thrust cleverly to effect a series of swift transitions that keep the running time down to 2¼ hours, although the live audience would also have enjoyed an interval.
Given the rarity of productions, it might be natural to assume that the work was far below the Bard's normal standard. That would be unfair. This is a light comedy that bears many of the traits and characteristics of the playwright's much more popular works. Indeed, the central conceit will be familiar to lovers of A Midsummer Night's Dream.
In Verona, Proteus, played by Mark Arends, is desperately in love with Pearl Chanda's Julia, who is reciprocates his enthusiasm. His friend, Michael Marcus as Valentine, is more serious and seeks his fortune in Milan. There, he too falls victim to Cupid's bow on first sighting the duke's daughter Sylvia, portrayed by Sarah Macrae. What could go wrong? Well, this is Shakespeare so we know that "the course of true love never did run smooth".
Before the inevitable happy ending, there are fights, betrayals, arranged marriages, breeches parts, disappointments, vagabonds and disappointed fathers, not to mention suitors. There is also much good humour in a stylish, modern-dress production that adheres closely to the original, with clear verse speaking and heartrending performances from across the ensemble.
In addition to the four leads, each of whom does his or her job admirably, there is fine support especially from some unlikely comic duos. The best of these is Roger Morlidge as Launce (a role played by Patrick Stewart in 1970) accompanied by Mossup as Crab, the kind of shaggy dog that will steal every scene in which he appears.
Morlidge forms another good pairing with Martin Bassindale, while Leigh Quinn provides similar support to Pearl Chanda and, in an otherwise low-key supporting role, Nicholas Gerard-Martin grabs attention as a wooing and moshing punk-rocker.
With this production, Simon Godwin demonstrates that The Two Gentlemen of Verona is a highly enjoyable comedy that has been undeservedly neglected and prospective audiences must sincerely hope that we will not have to wait decades for its next revival.
Reviewer: Philip Fisher