The Upstart Crow
Ben Elton
Gielgud Theatre
–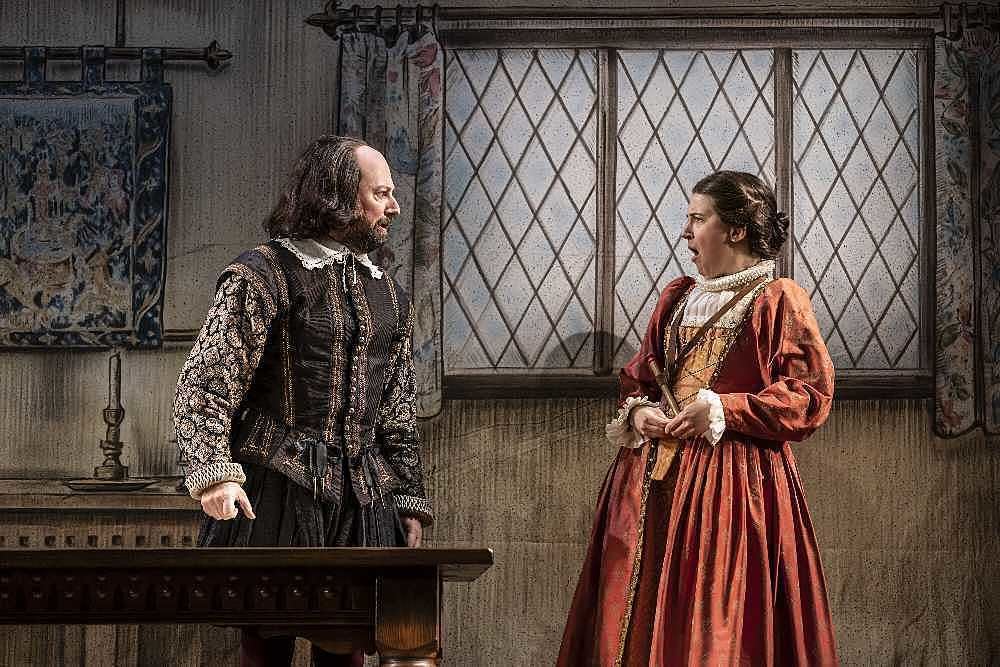 The prime market for this stage version of the popular TV series will inevitably be those who are already diehard fans of the show and / or the multi-talented David Mitchell, making his belated West End debut. They will not be disappointed.
Almost inevitably, Ben Elton, along with his stage director Sean Foley, taps into the aspects that made the original a hit, turning this into a 2¼-hour-long "best of" homage.
There are effectively three imperatives at work on an open stage that attempts to recreate a Jacobean atmosphere using cartoon-style backdrops.
The first of these is the use of William Shakespeare and some of his selected works as a focus for the comedy. The second is the writing of Ben Elton, whose greatest claim to stage fame is as the book writer for We Will Rock You. Lastly, Sean Foley loves slapstick and lowbrow comedy, which arguably makes him a perfect complement to the other attractions.
It was clear on opening night that many of the paying punters were literally laughing ahead of the jokes, anticipating and loving every moment.
For theatre aficionados who may have strayed into the experience uninitiated, there are still many highlights in an evening of comedy that is hit and miss but when it hits catches the funny bone at dead centre. They will particularly enjoy the clever interweaving of Shakespearean themes with contemporary mores.
The central plot line features the excellent Gemma Whelan as Kate, daughter of Shakespeare's London landlady and, more significantly, a talented actress who is desperate to appear on the stage but cannot do so as a result of her gender.
She and Mitchell, who always displays the comic timing of a trained comedian, exchange witticisms with alacrity but there is also an unexpected degree of pathos.
Throw in a couple of Bolshie Brummie daughters played by Helen Monks and Danielle Phillips, Rob Rouse's Bottom (say no more), Rachel Summers and Jason Callender as a couple of Egyptian immigrants, plus a live bear then add in a stream of truly Shakespearean misunderstandings and you have the makings of a show.
Much of the humour owes considerably more to Ben Elton than its nominal progenitor but the scriptwriter has clearly brushed up his Shakespeare, combining plotlines from Twelfth Night, King Lear and Othello to good effect, but also bringing in some rather risqué jokes about race and gender that may offend those that are sensitive about these touchy topics.
However, fans of Elton / Mitchell / the TV series will probably find the slapstick and invented language that seems to have been borrowed from Polari, as popularised by Julian and Sandy (Hugh Paddick and Kenneth Williams) in Round the Horne, an even greater inspiration to unbridled laughter.
In summary, there can be little doubt that with a serviceable plot, a ready-made audience and the attractions of David Mitchell and Co., The Upstart Crow will be a hot ticket for the duration of a limited run.
Reviewer: Philip Fisher