The Vertiginous Thrill of Exactitude / Tarantella / Strapless / Symphonic Dances
Choreography William Forsythe, George Balanchine, Christopher Wheeldon, Liam Scarlett
Royal Ballet
Royal Opera House
–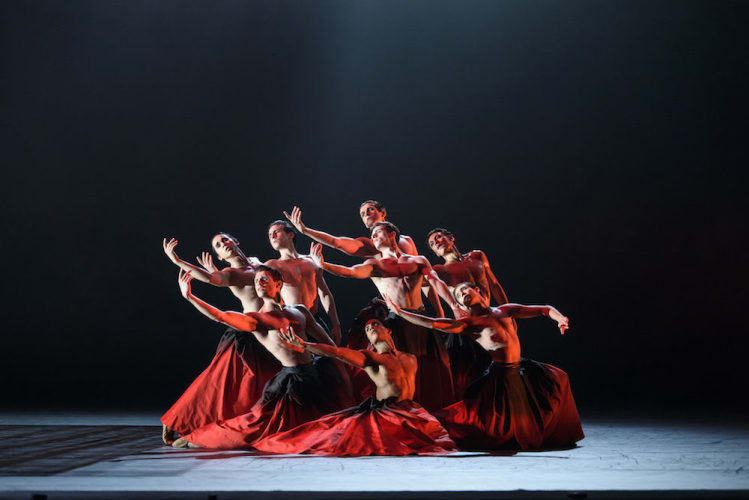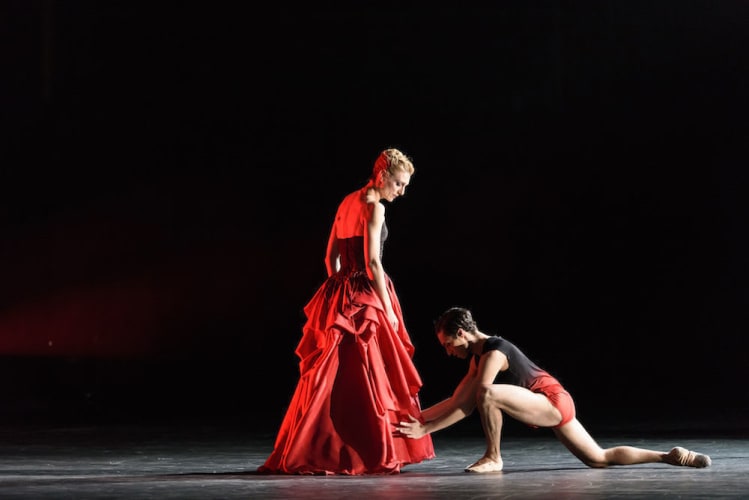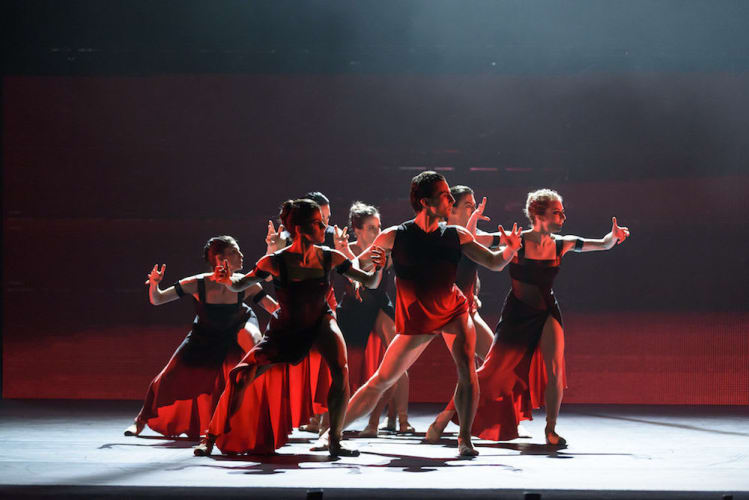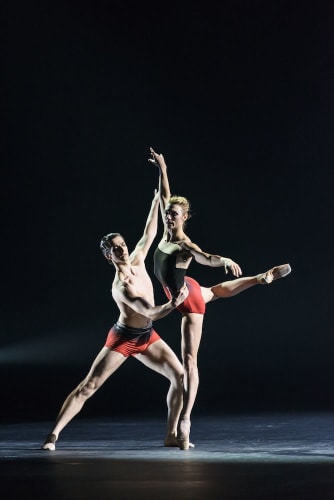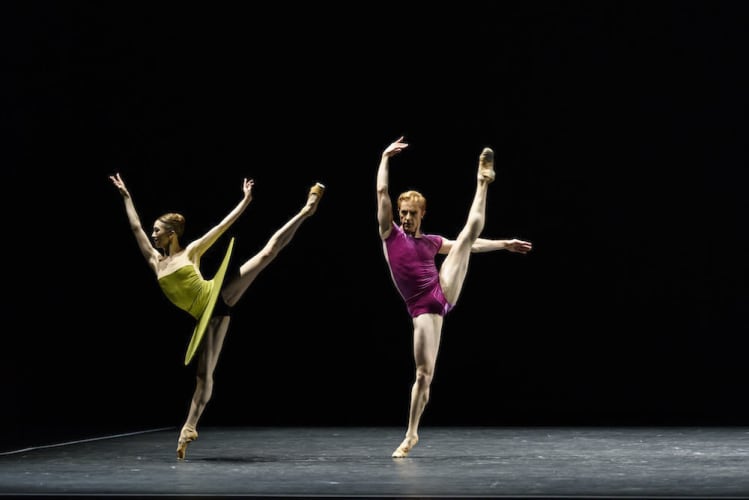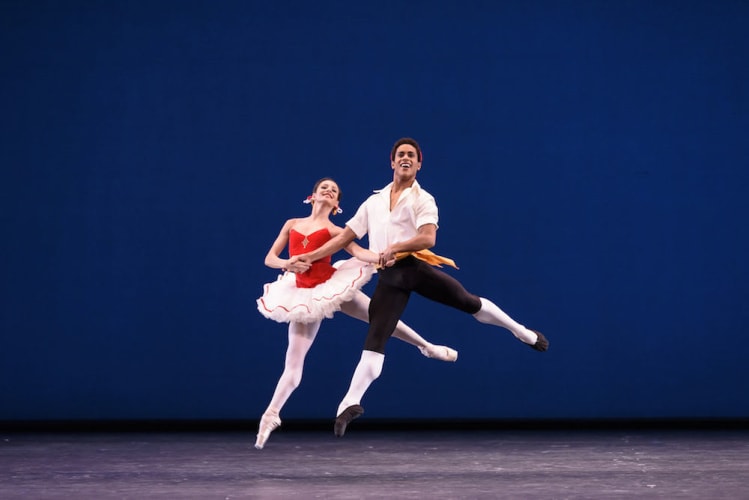 Late to the four-course feast, I wonder what to make of it: two fizzing gala starters, an unseasoned vichyssoise and a rich, meaty main meal cooked a little saignant a little à point. Cast changes slightly alter the anticipated ingredients from the four chefs:, two homegrown, two from abroad.
William Forsythe's The Vertiginous Thrill of Exactitude created in 1996 for Ballet Frankfurt is a skittish plum and lime celebration of classical ballet that requires dancers at the spinning top of their game: princely Vadim Muntagirov, jazzy Steven McRae, light-footed Akane Takada replacing Sarah Lamb, Marianela Nuñez stretching every note of the last movement of Schubert's 'Great' Ninth Symphony and soloist Mayara Magri holding her own nicely.
Watching Forsythe, one sees his debt to Balanchine and here we have a light-hearted 1964 Neapolitan confection from the master himself, Tarantella, a party piece for two dynamic dancers. Francesca Hayward and Marcelino Sambé sail through with charming eye contact and good-natured vivacity.
A folk dance to drain the spider's poison out of one's system, it takes stamina and airborne precision. Sambé does astonishing simultaneous cabrioles devant and derrière before hitting the ground, and Hayward doesn't miss a beat of Louis Moreau Gottschalk's music, sinking deep into spidery pliés on pointe before sailing off with a flick of her head.
Fifteen and ten minutes respectively, these two are a flambé flash in the pan and then they are gone. A thirty-minute interval follows before Christopher Wheeldon's forty-minute Strapless portrait of John Singer Sargent's scandalous Madame X is wheeled on. Truly, Bob Crowley's (Wheeldon's indispensible designer of choice—Alice's Adventures in Wonderland, An American in Paris) gallery and studio scenery is wheeled on and off.
Belle Époque society portraitist Sargent is persuaded to paint Amélie Gautreau, known for her beauty, fashionable clothes and lovers. We catch him painting Dr Samuel-Jean Pozzi (Ryoichi Hirano darkly handsome), renowned gynaecologist and womanizer, in a provocative red dressing gown pose.
Later we find Sargent in a Parisian café sketching his lover Albert de Belleroche. Cartwheeling can-can dancers, black top-hatted clients, tumbling waiters and drinks bar bring Lowry to mind more than Manet.
Backstory set, now we come to her choice of costume and pose. Sargent, in his mind's eye, blends her image with that of his young lover as he rearranges her positions. This is made visually clear without need for notes, but apart from some fluid moves slave to the narrative, there is little emotional investment. Are these people divested of it behind their public masks?
The rest is history. He paints her with one thin strap louchely off the shoulder, society is outraged and she is ruined. Not Sargent. Fast forward to the present day and she, a wan ghost at the banquet, finds she is famous after all, not infamous. Lauren Cuthbertson brings a sweet English rose quality to the lead role, Valeri Hristov walks through his as Sargent, and Calvin Richardson's Belleroche dutifully fades from view.
Reworked since its poor reception last year—and credit for taking criticism on board—it fails to ignite a second time, trimmed though it is. Could be Mark-Anthony Turnage's narcotic music that doesn't turn one on; could be that one needs to invest in the shocking backstory, which now of course seems a storm in a teacup, a little more strongly.
The pièce de résistance of the evening for me is Liam Scarlett's new crimson abstract work, Symphonic Dances, set to Rachmaninoff's eponymous final masterpiece, a tremendous response to tremendous music that sweeps dancers and audience along in its magnificent wake.
Forty-five minutes long, and one is grateful finally for some visceral engagement. What do you see when you listen to music; what do you see when it is prodded by dance? I wonder how often choreographer and audience coincide.
In an interview, Scarlett says, one can chose to see whatever one wishes in these Russian harmonies; for him there is no deliberate narrative here, just musicality. I beg to differ—there's a whole country of nostalgic narrative in Rachmaninoff. And I think, on the evidence before us, Scarlett knows that.
On a dark, bare stage opened up to its full cavernous capacity, I see and hear Prokofiev's epic film scores for Alexander Nevsky and Ivan the Terrible; I see and hear Mother Russia both Imperial and Soviet; I see and hear Stravinsky's Rite of Spring; and gymnastic May Day parades.
Blurred flashes of red washing across the awkward LED screen (design David Finn and Leo Flint) mirror and evoke hazy battles. Not sure about that cumbersome screen, but Finn's smoky lighting delivers the goods.
Georgia O'Keeffe's giant red poppies—Jon Morrell's costumes of red and black remind of steppe Cossacks and Tatars, of Filipp Malyavin's peasant girls in flowing red dresses, and of Constructivist costume design as the dancers shed their layers.
Choreographed especially for Zenaida Yanowsky as a retirement gift—and how can she retire after this regal, graceful, commanding central performance—she is finishing the season and her Royal Ballet career with Ashton's Marguerite and Armand next month. She will be missed.
Scarlett has also worked with Laura Morera. Two different dancers—Symphonic Dances needs to be seen again. I hope he centres it a bit better next time, as those seated on the right lose a few dancers. In a large supporting cast, James Hay and Sambé catch the eye.
Reviewer: Vera Liber