The Victorian in the Wall
Will Adamsdale
Royal Court and Fuel
Royal Court Theatre Upstairs
–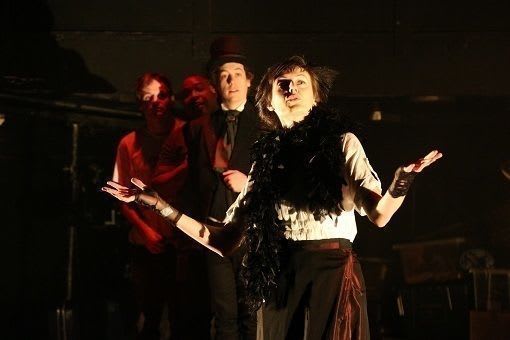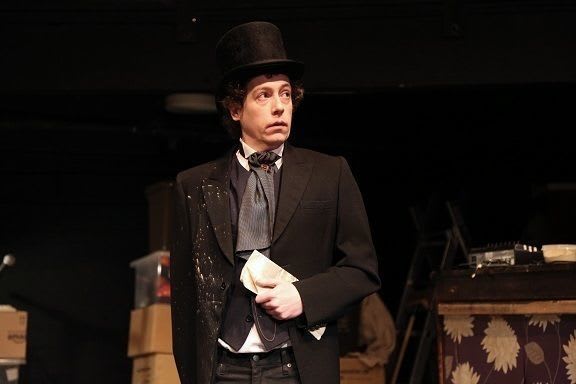 The Victorian in the Wall is one of those pieces that tries to do far too much but somehow gets away with it. The manifold plots are nothing to write home about as we start out by following a likeable but hapless writer guy called Guy, played by auteur Will Adamsdale.
In the compact Michael Vale-designed flat that he shares with Melanie Wilson playing his girlfriend Fi, Guy lives a haphazard life that is clearly intended to make him into a comic everyman.
While the love of his life goes on a business trip for her third sector organisation, Guy is expected to do nothing more than welcome an intellectual, piano-playing builder caller Rob. Well, apart from completing a children's TV script that is already overdue.
In fact, in his efforts to find diversions from writing, as the building works progress Guy mysteriously manages to encounter a Dickensian figure in top hat and tails who just happens to be living in a wall, as well as an African child, who, despite being in middle age, charitable Guy has apparently adopted.
Everybody has great fun doing nothing before an explosive pre-denouement and an ending, which suggests that Fi has zero self-respect and Adamsdale (the writer guy rather than the writer Guy) is an incorrigible optimist or, if you prefer, romantic.
In addition to the main man's building and relationship problems, the play also takes us back to the Victorian music hall and the sad tale of Lou Porter, a favourite with the public but not with her violent husband.
While The Victorian in the Wall is often funny, it also attempts to be a commentary on contemporary living and makes some trenchant and witty jibes at the kind of people who will inevitably make up much of each night's audience at the trendy Royal Court.
The comedy is situational and veers between conversational stand-up and sketch, with some additional absurdity that often adds little to the basic story of a hopeless bloke and his long-suffering partner.
Much of the pleasure to be derived from a packed 90 minutes is delivered by the medium rather than the message.
While Will Adamsdale plucks a sweet guitar and leads some comic songs, his four colleagues (including Jason Barnett, co-composer Chris Branch and Matthew Steer) not only act but become a human soundscape. They also assist with various visual tricks conjured up from the piles of boxes and artifacts that form the performing space's back wall.
The whole is very different from the standard Royal Court ethos of being a writer's theatre but will delight most visitors thanks to its slickly-created, amateurish charm and lashings of strong, quirky humour.
Reviewer: Philip Fisher