The War
Based on Richard Aldington's Death of a Hero, Nikolai Gumilyov's Notes of a Cavakry Officer and Homer's The Iliad
SounDrama Studio
King's Theatre
–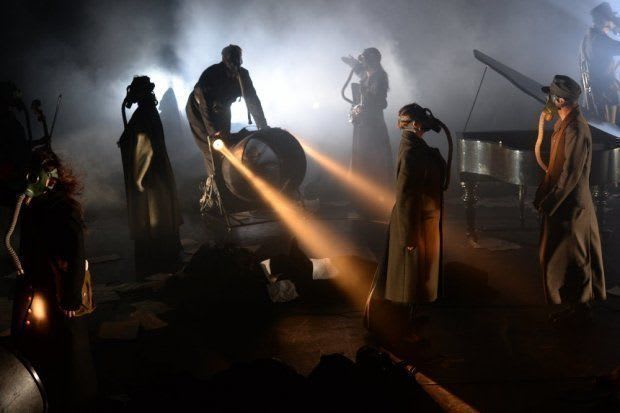 In keeping with so much of the International Festival's theatre output in recent years, The War is a cross-over between forms that might have fitted better in a performance or opera programme.
It is certainly a prodigious feat for all concerned but the average viewer might struggle to gain more than a small proportion of the intended meaning, even if they have received a classical education.
Even then, they have to endure a gruelling two hours and forty minutes in an over-heated theatre without even the respite of an interval to get watered and recharge the mental batteries, which will have been tested to the extreme by a difficult work delivered primarily in Russian with surtitles.
The subject matter is at least important, viewing the horrors of The Great War through the eyes of a Tommy named George.
This Everyman undergoes a tough war, perishing almost at the Armistice, much to the distress of many loved ones.
His story is told in parallel with Achilled's foray into Troy from The Iliad. The purpose is probably to establish that war and suffering are timeless.
The main attractions of SounDrama Studio's Vladimir Pankov's production for the Chekhov International Theatre Festival lie outside the text.
There are a series of striking and often haunting images, while Artyom Kim and Sergey Rodyukov's music is perfect for this staged requiem.
Quite why the musicians and singers need to spend part of the time suspended in mid-air may be more apparent to enthusiasts for this brand of performance.
In keeping with the company's intentions as indicated by the programme, none of the actors from the ensemble is identified directly.
Reviewer: Philip Fisher