The Wars of the Roses: Henry VI
Adapted from William Shakespeare's Henry VI, parts I, II, III, and Richard III by John Barton in collaboration with Peter Hall
Rose Theatre, Kingston
–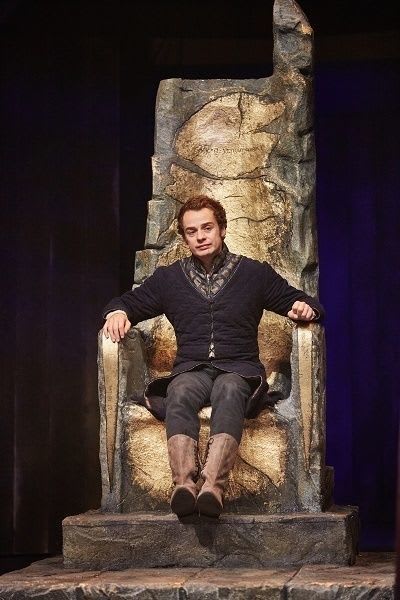 You have to hand it to Sir Trevor Nunn: most men of 75 would be reluctant to even contemplate watching a 12-hour day of Shakespeare, fearing that they might lack the energy to remain awake throughout.
The intrepid former head of both the RSC and the National has gone much further, bravely choosing to resurrect John Barton and Sir Peter Hall's epic adaptation of the (chronologically) later history plays for the Rose, Kingston.
The original production for the RSC in 1963 has become a piece of theatre history, featuring such stars as David Warner and Sir Donald Sinden plus Dames Peggy Ashcroft and Janet Suzman. That was clearly going to be a hard act to follow.
Henry VI has enough drama for two full plays packed into its three hours and gets close to doing so.
Designer Mark Friend, following John Napier's original concept, has created an attractive Elizabethan-style wooden set to back the theatre's thrust.
Before the interval, the action rarely slows down, as England attempts to retain its estates in France against the opposition of Norwegian actor Kåre Conradi's Dauphin and his holy lover Joan la Pucelle, given muscular authority by Imogen Daines.
With the King who took the throne aged only nine months too young to rule, he is obliged to rely on advisers, themselves torn apart by roseate strife, Andrew Woodall as Gloucester and Oliver Cotton playing the Bishop of Winchester heading the two factions.
The battle scenes are breathtaking and the pacing is commendable.
After the interval when the French are finally forced to bow to the English rule, the lecherous Exeter played by Geoff Leesley finds and promotes the claims of Joely Richardson's fearsome Margaret of Anjou as a fit wife for the young King. She is certainly ambitious and suffers none of the moral scruples of her gentle husband.
Alex Waldmann's gentle, noble monarch grows into the role in the face of treachery from all around, ultimately, taking authority as a true King, however young, must, but not before Alexander Hanson playing the Richard of York begins to make his mark.
While it is inevitably the nobles who take centre stage for most of the play's duration, mention must be made of James Simmons who is striking as the heroic warrior Talbot.
This really is high quality theatre and promises much from the succeeding parts.
Reviewer: Philip Fisher