The Wars of the Roses: Richard III
Adapted from William Shakespeare's Henry VI, parts I, II, III and Richard III by John Barton in collaboration with Peter Hall
Rose Theatre, Kingston
–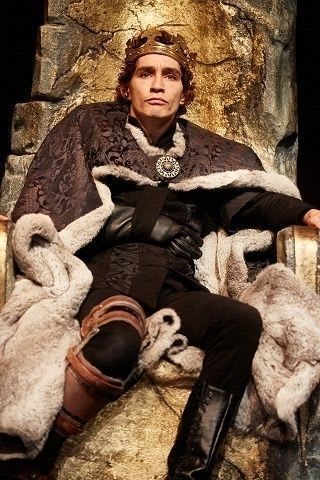 The making of the third production in the epic trilogy is Robert Sheehan who gives a lovely, balanced reading of the central role.
Early on, he is somewhat camp, pushy but absolutely charming and continues in this often witty vein, even when ordering murder after murder.
However, just when it seems that this calm, crippled devil is unshakeable whatever the provocation, the man who by this stage has become almost a self-appointed King begins to show signs of stress, finally cracking in the nightmare scene before he meets Richmond (the future Henry VII) and his maker at Bosworth Field.
Before that can happen, the arch schemer who was once many lives away from becoming King steadily works his way through the friends and family list, exterminating almost all, even the odd one that he had married for advancement.
The litany includes women and children, where necessary and even sacrifices his loyal right-hand man Buckingham. The latter is convincingly played like a kind of Yorkist Uriah Heap by Alexander Hanson in one of a number of eccentric wigs that appear throughout the day.
Richard's charm is critical, as it explains to a degree how an odious, immoral murderer could marry a Queen and worm his way into the good offices of both the people and their rulers, generally dispatching the latter after they have served their purpose.
Only when the three women closest to Richard come together is there real recrimination, Joely Richardson's Margaret egging on Susan Tracy as the King's mother and Alexandra Gilbreath as his putative mother-in-law.
This final part of what is a long day, coming in at close to 12 hours including breaks if the project is seen together, doesn't quite have the pace of the earlier plays but comes into its own as Richard moves up in the world. Combining mass murder with the kind of PR attributed to 21st-century spin doctors, he just keeps going until he runs out of horsepower on that fatal field in Leicestershire.
Along the way, one gets some understanding of how the bitter, internecine Civil War, not to mention the familial in-fighting, might have been a contributory factor in making Richard III the ruthless man that Shakespeare portrays in a play still so popular over 400 years after it was written.
Sir Trevor Nunn has made a fantastic contribution to the current theatre scene by reviving a sequence of plays that seemed destined to remain in history forever.
While there is no question that spending a whole day in a theatre can be both draining and tiring, when the quality of the entertainment on offer is as high as The Wars of the Roses, the investment of time and effort is fully justified.
Reviewer: Philip Fisher