The Waverly Gallery
Kenneth Lonergan
Golden Theatre, New York
–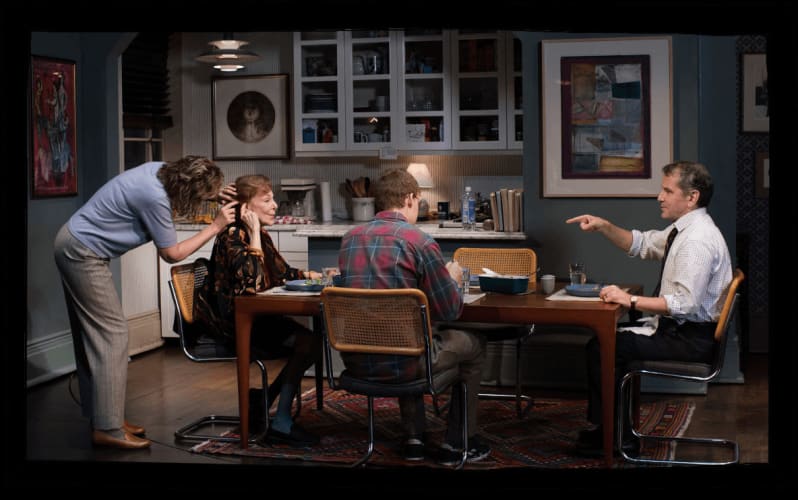 The Waverly Gallery is hardly the kind of play that one expects to find on Broadway two decades into the 21st-century.
Most producers are now looking for sensation and spectacle, where this 1999 play by Kenneth (Manchester by the Sea) Lonergan, still best known in the UK for Lobby Hero, looks like an autobiographical sliver of New York life in the late 1980s.
Lila Neugebauer's 2¼-hour-long revival is built around an outstanding performance from 86-year-old stage and screen veteran Elaine May (slightly older than her character at the start of the evening and making her first Broadway appearance in 58 years) as Jewish matriarch Gladys Green.
This lady, who is never short of an observation that may be witty, irritating or even, occasionally, relevant, is an instantly recognisable type. She is also almost certainly exactly like your own mother / grandmother / great-grandmother (deplete as inapplicable).
Indy film favourite Lucas Hedges is Daniel, the lady's grandson who narrates the play as well as taking a major role in her story. For better or worse, he lives in a Greenwich Village apartment along the corridor from hers, every setting brought to the stage in meticulous detail by designer scenic designer David Zinn.
All things considered, when we first meet her, retired lawyer Gladys is no more than mildly eccentric, running the eponymous Waverly Gallery happily, even if she seems to have few customers and no sales.
That threatens to change with the arrival of Don Bowman, Michael Cera playing the ultimate optimist who is never disheartened by the failure of any of his paintings to find new homes.
He benefits from the generosity of the gallery owner, who allows him to sleep in the back, for which he reciprocates by looking after her.
While the younger men manage to humour Gladys and be amused by her, Joan Allen playing daughter Ellen is driven to very recognisable distraction, barely calmed by her dull second husband Howard, portrayed by the multi-talented David Cromer dividing his time between acting in this role and directing one of Broadway's biggest hits, The Band's Visit.
What starts out as a sweet little domestic comedy about the mild frustrations of dealing with an elderly relative develops into something far deeper and more moving as Gladys, threatened by the loss of her gallery and her mind, moves faster and faster towards the kind of dementia that leaves its victim happily oblivious and his/her family stuck between a rock and a hard place.
Judging by audience reactions at the performance under review, most theatregoers have had direct experience of dealing with an elderly relative suffering from dementia, uncertain whether to look after the victim themselves, hire in carers or (usually reluctantly) move them into a care home.
While The Waverly Gallery is hardly a bundle of laughs, this is an intelligent play which directly addresses the kind of issue that is becoming increasingly relevant as human longevity increases in the developed world. It is also the kind of star vehicle that is perfectly designed for an octogenarian actor and Elaine May plays her part to perfection to the extent that the final speech is almost drowned by the snuffling of empathetic audience members.
Reviewer: Philip Fisher