The Wedding Singer
Music by Matthew Sklar, lyrics by Tim Herlihy, book by Chad Beguelin and Tim Herlihy
Dan Looney in association with Paulden Hall Productions, Jason Haigh-Ellery, Tom O'Connell Productions and Tim Lawson
Curve Theatre, Leicester
–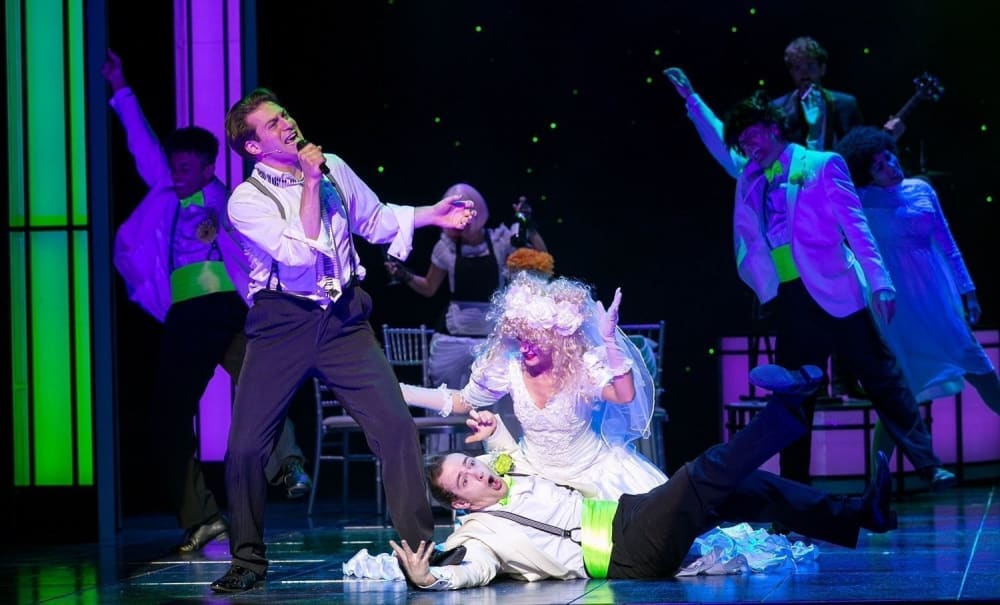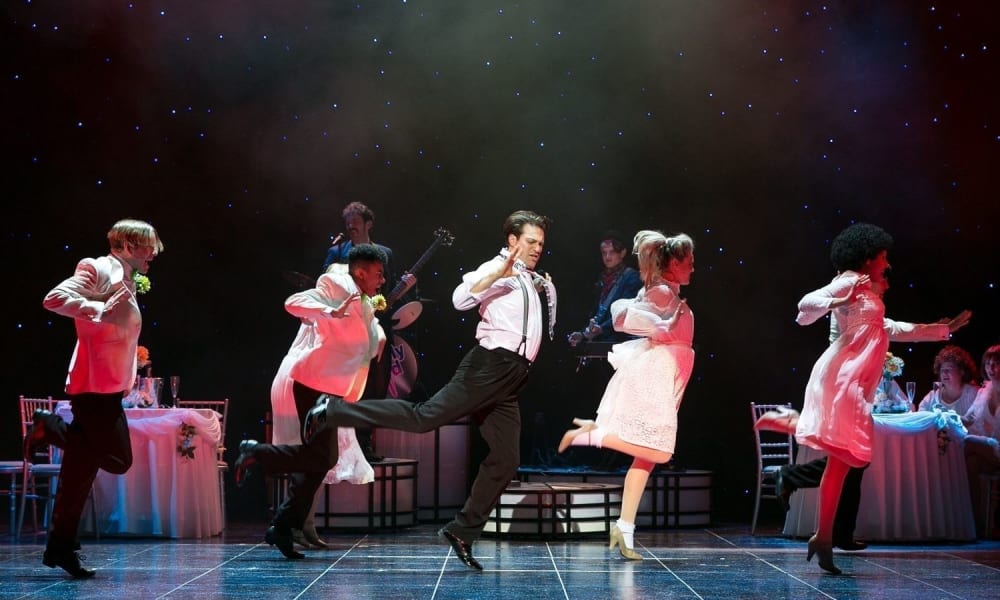 Aptly opening its national tour at Curve on Valentine's Day, The Wedding Singer is all about love, marriage and a "will they, won't they, oh get on with it" kind of storyline.
The film of the same name (starring Adam Sandler and Drew Barrymore) was a huge hit in 1998; the musical opened on Broadway in 2006, bagging a Tony award nomination.
Thanks to a film trailer montage of the period, we are transported back to 1985 to meet Robbie (Jon Robyns) and Julia (Cassie Compton). Robbie plays in a band, his past dreams of stardom long gone as he earns his living as a wedding rather than a rock singer. Robbie is engaged to Linda but she jilts him at the altar. He takes it badly, moping around like an angst-ridden teenager.
Nice-girl Julia is a waitress at the wedding venue. She bows to conformity, becomes engaged to her slimy, greed-is-good boyfriend Glenn (Ray Quinn), but feels there's something missing between them. Cue a series of somewhat contrived events leading to a kiss between Robbie and Julia, who both realise (but of course, don't tell) that they have feelings for each other.
Throw in a bar mitzvah, misunderstandings and a Vegas wedding complete with '80s pop lookie-likeys and you have all the ingredients for a cheesy, sometimes cringeworthy musical.
The problem is not with the performances—these are all excellent and there's good chemistry between Robyns and Compton. Ruth Madoc struts her stuff as Rosie in an almost pantomime turn—and looks like she's loving it. Soap-throb and X Factor star Ray Quinn oozes bad boy charm, and it's a shame there's not more stage time for his role.
Following his success last year with an international tour of Legally Blonde, director and choreographer Nick Winston includes a smattering of references to '80s dance moves, a regular stream of comedic touches and a couple of stand-out numbers: the Thriller-themed "Casualty of Love" and ode to bachelor-dom "Single". Tim Herlihy's lyrics are clever; unfortunately many are drowned out by an over-loud orchestra.
Francis O'Connor's set design zips around well on Curve's large stage, although his costume design is less successful—think 1985 loaded with shoulder pads, big hair and Miami Vice suits. I counted no more than two sets of shoulder pads on stage at any point, and the whole look of the show seemed twenty years ahead of its time.
However, the main issue is with the writing. Apart from several topical references shoehorned into the dialogue, it's hard to tell which decade the two-dimensional characters inhabit. Acknowledging the purpose of The Wedding Singer is not to provide a history lesson. Some edge could have been added by breaking out from tired stereotypes and, sadly, it's another case of if you're female you're either virgin, whore or matriarch. The sole desire of virtually everyone on stage is to get married, or at the very least be in a relationship, making for dull and self-indulgent characterisation.
The audience for opening night included a sizeable proportion of VIP guests who whooped, clapped and cheered throughout. No doubt this is an entertaining show, but, as can sometimes be the case with weddings, once you've had enough champagne, the fizz falls flat and you're hoping it's not long for the taxi home.
Reviewer: Sally Jack