The Welkin
Lucy Kirkwood
National Theatre
Lyttelton Theatre (National Theatre)
–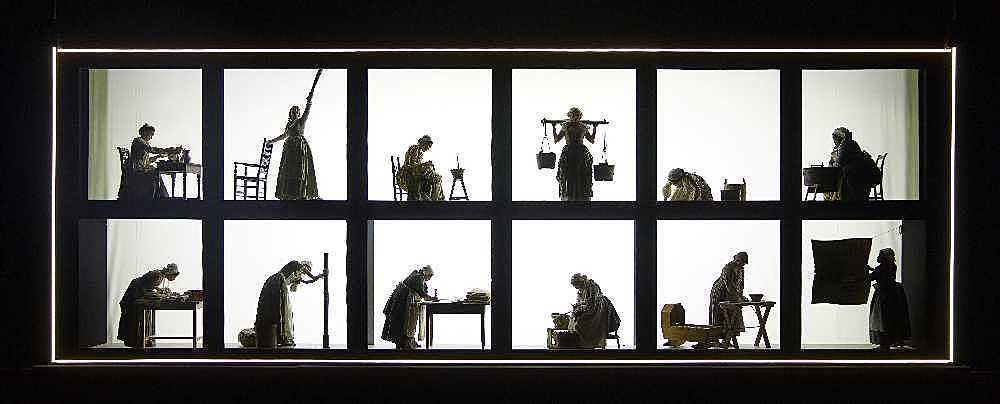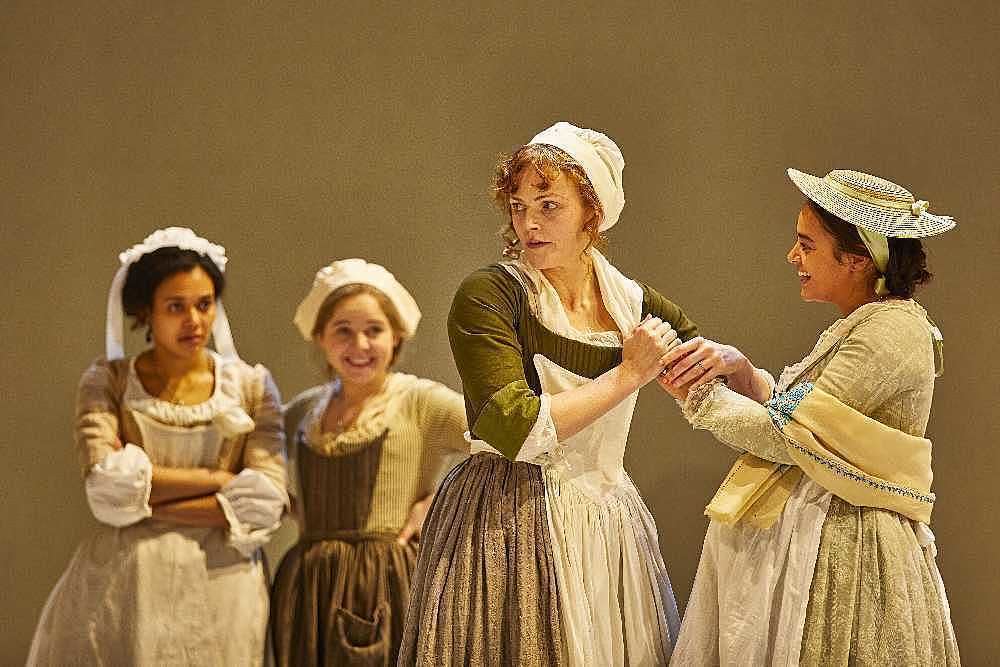 The National Theatre has hit the ground running in 2020. The Welkin is just the kind of play that it should be producing, with a British writer, a large cast and contentious, topical subject matter addressed through the medium of the past.
For the uninitiated, welkin is the sky but, more likely in a historical setting, a reference to heaven.
This seems somewhat ironic in the context of Sally Poppy, played with gloriously flippant defiance by Ria Zmitrowicz, who is perfectly cast for the leading role in a play that could be seen as Twelve Angry Men (actually women) meets The Crucible.
Director James Macdonald and his designer Bunny Christie start the evening with a series of letterbox scenes, first depicting the harshness of women's working life in East Anglia and then moving into a courtroom.
Following an 18-minute hearing during which Sally is condemned to death for the murder of an aristocratic 11-year-old girl, somewhat bizarrely, she is locked in an empty room with "a jury of matrons", 12 diverse women who are starved and frozen in an effort to achieve a quick decision.
Even then, they have no more power than to determine whether the accused is quick with child, i.e. pregnant, in which case the lynch mob outside will be disappointed when her execution is commuted to transportation to America.
What ensues is accurately described by her impassioned, self-appointed defender, Maxine Peake's Elizabeth Luke, somewhat incongruously both the local launderer and midwife, as "a farce".
Elizabeth has far more power than one might expect, given that Haydn Gwynne as the patrician for matron Charlotte Cary has strong views, always supported by Cecilia Noble in the role of Emma Jenkins. Unfortunately, she is also a victim of the kind of slanders that today would be called fake news.
However, she is also central to one of a series of far-fetched and even explosive twists that entertain while reducing veracity, but contain some great storytelling which will lead willing viewers up a number of misleading garden paths.
It very quickly becomes apparent that 18th-century life was governed by superstition, rather than rationality, with some of the women's beliefs unbelievable, if frequently fascinating, to modern viewers.
In writing this play, there seems little doubt that Lucy Kirkwood not only saw an opportunity to give 13 women excellent roles on stage but also make some trenchant comments on the way in which females were downtrodden 250 years ago in a society where class was also paramount, at the same time allowing us to draw parallels with some contemporary events and masculine attitudes.
James Macdonald does a fine job in directing such a large cast and ensuring that Lucy Kirkwood's detailed characterisation and complex plotting are clearly conveyed in a running time of just over 2¾ hours, which feels like much less.
The Welkin makes for compelling viewing and is almost certain to be one of the best new plays this year, while Ria Zmitrowicz, relishing the wonderful role of feisty Poppy, gives the kind of performance that should also be up for awards.
The performance on 21 May will be broadcast live around the world as part of the NT Live programme.
Reviewer: Philip Fisher