The Well
Ellie Rose
Ellie Rose
Salford Arts Theatre
–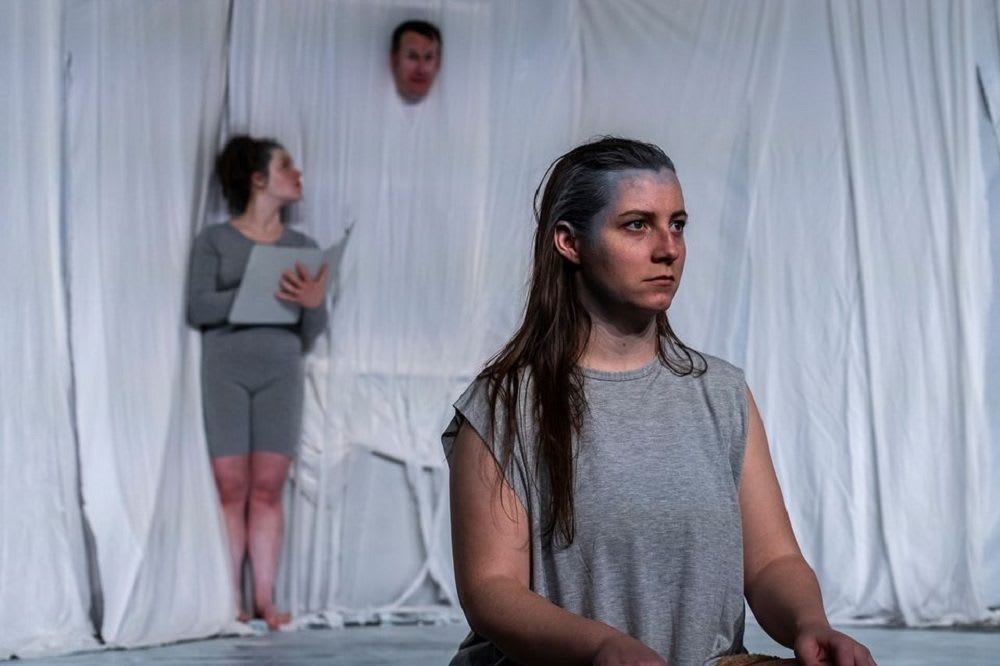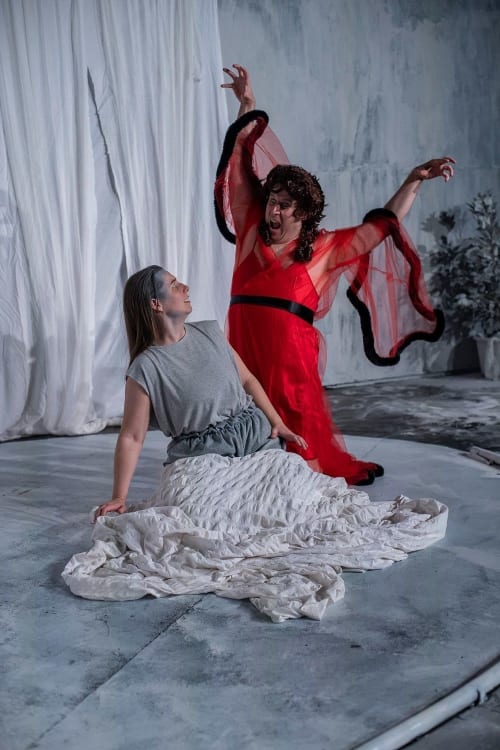 Mental illnesses are so subjective, it is sometimes hard for a neutral observer to sympathise with, or understand, the feelings of someone living with a mental illness. Writer-director Ellie Rose reflects this conflicted situation by setting The Well within the mind of Cecilia (Becky Downing) whose anxieties are so extreme she rejects the well-meaning efforts of Phoebe (Helen O'Hara) to help and is dismissive of her Therapist (Ben Rigby).
Rose utilises Theatre of the Absurd techniques to reflect the confused situation. The tone of the play is, in the tradition of Waiting for Godot, bleakly funny. Classic comedy routines are employed—gaps in curtains allow heads to float above the stage and, as characters reach offstage, their hands appear on the other side. However, the absurdist setting moves the play away from 'funny ha ha' to 'funny peculiar'; the humour is disquieting rather than cathartic. The impression is that Cecilia regards efforts to help her as unsuccessful comedy.
As the play is shaped by Cecilia's perceptions, the cast play character traits rather than actual characters. Helen O'Hara's Phoebe is presented as over-bright and too cheerful, boisterously urging Cecilia to shake off her self-imposed confinement. Ben Rigby's Therapist lacks authority, uncertain in his diagnosis and barking out words we cannot be confident he understands. Cecilia, however, never turns her insight upon herself. It becomes hard to sympathise with someone about whom we know so little other than that she used to have assistants and commuted by bus. Cecilia remains enigmatic—the closest we get to an indication of the cause of her illness is Ben Rigby in drag with a Southern Belle accent suggesting the origins may lie with a manipulative and domineering mother.
The staging is visually impressive. The drab, nondescript clothing worn by Downing and O'Hara hints at an institution. Cecilia's defensive tendency to reject help and cut herself off from others is represented by her being wrapped in blankets and screened by curtains. Each scene opens in darkness with Cecilia isolated in a scarlet circle.
One of the reasons I dislike online theatre is it highlights my technical limitations. At times, I found the dialogue in The Well to be inaudible and, as there were no closed captions, my limited knowledge and basic equipment prevented me from boosting the sound levels and so hindered appreciation of the play.
The absurdist techniques make The Well an original but respectful approach to a sensitive subject but limit the extent to which it is possible to relate to the central character.
Reviewer: David Cunningham