The White Card
Claudia Rankine
Northern Stage with Leeds Playhouse, Birmingham Rep, Soho Theatre in association with HOME Manchester
HOME Manchester
–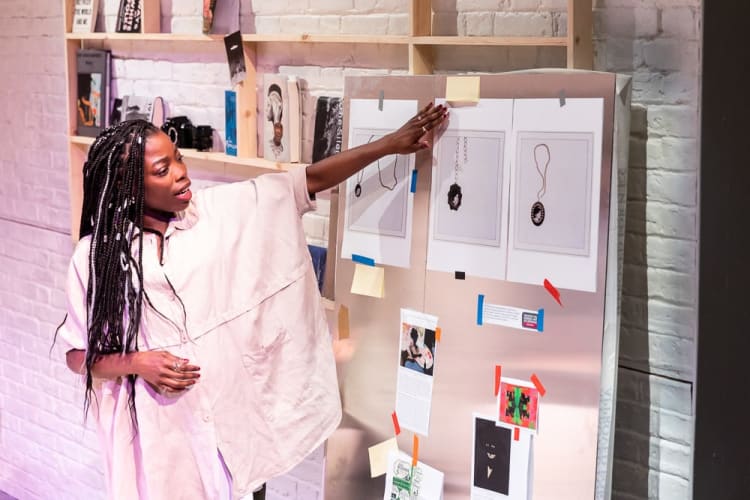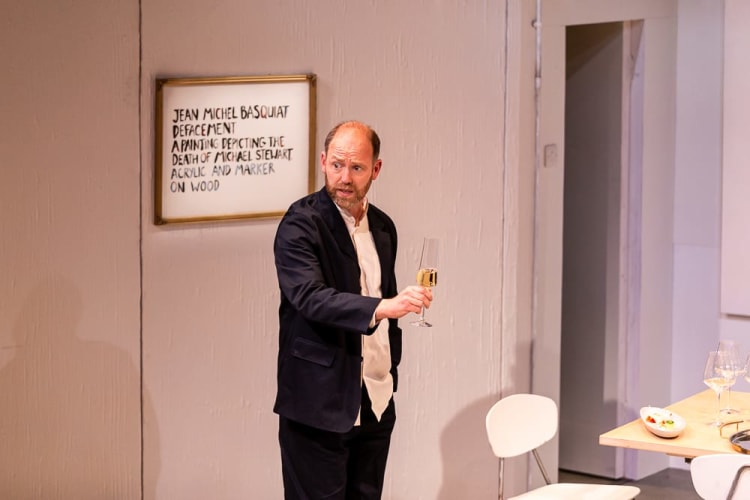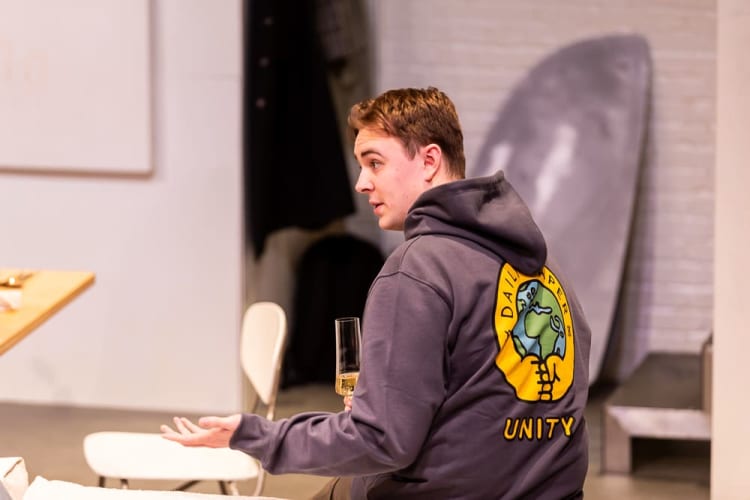 The White Card begins well before the scheduled start time allowing the audience to appreciate the meticulous way director Natalie Ibu stages the play. The cast, in character, wander around the set preparing for a party. Well, no—a black maid does the actual preparation and is then sent home to avoid causing offence to the guests. The hosts are so remote from everyday concerns that, in the absence of their maid, they fail to open the door when the doorbell rings.
Debbie Duru's austere, trendy set and costumes reflect the wealth and privilege of the hosts: jacket lapels are high and narrow and trouser cuffs raised to reveal socks. Rajiv Pattani's lighting shades the room in a discrete lavender tinge. Most significantly, the frames on the walls do not include actual pictures but rather written descriptions of them taken from a catalogue: artist name, title and brief summary. It is clear these are people who know the price, but not the value, of art.
Wealthy construction magnate Charles (Matthew Pidgeon) and his wife, Virginia (Kate Copeland), employ go-between art dealer Eric (Nick Blakeley) to make a connection with rising black photographer Charlotte (Estella Daniels). Charles offsets liberal guilt by buying artworks depicting black suffering and using them to raise awareness and hopes to commission work from Charlotte, who photographically recreates racist atrocities.
The party, however, does not go as planned; skeletons in Charles's closet are revealed by his agonisingly woke son Alex (C J Coleman). The family fortune is based upon building private prisons and Charles refused to save his other son, whose lifestyle did not accord with his principles, from going to prison. While Virginia pays lip service to tackling racial prejudice, she is not committed to the cause, mistaking Charlotte for another black artist and making an embarrassing verbal faux pas.
In the aftermath of the disastrous party, Charles visits Charlotte in her studio only to find her art has taken a direction which challenges his perception of himself.
'White privilege' is a concept which drives affluent white liberals to self-lacerating displays of guilt but has less impact upon the alienated underclass working in dead-end jobs or living on sink estates. Author Claudia Rankine sidesteps this aspect of the argument by choosing characters who are privileged in every sense of the word. This is summed-up with a beautifully terse description of Charles: "you're like Moses; doors just open for you". Charles claims he 'curates' rather than 'collects' artworks as if preserving them for future generations.
The careful staging of the play stems from the script, which builds arguments forensically with lots of factual statistics and references to topical events. Unfortunately, they are all American, so the only way a UK audience can get the full benefit of the play would be to study the script while fact-checking on the Internet. UK audiences watching the play may be reduced to passivity—having to accept, rather than consider or challenge, the statements.
Author Rankine is determined to avoid a simplistic approach to provoke outrage, preferring reasoned argument leading to contemplation. While the second scene includes fewer references, it moves towards a more abstract tone, debating the nature of skin colour and whether Charles's preference for artworks which show black people as victims without depicting white people amounts to exonerating the latter from blame.
Director Natalie Ibu includes visual hints to encourage the audience to consider their own complicity in casual racism. The set change between scenes is undertaken by non-white actors dressed as cleaners who, at one point, hold up mirrors reflecting the faces of the audience.
It is doubtful that a UK audience can get the full benefit of The White Card without having a higher-than-normal awareness of American recent political / social events and black civil rights in that country. It remains, however, a powerful examination of a controversial subject thoughtfully staged and featuring stunning performances.
Reviewer: David Cunningham