The White House Murder Case
Jules Feiffer
Orange Tree, Richmond
–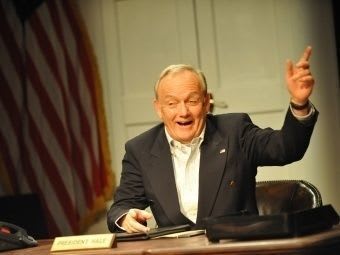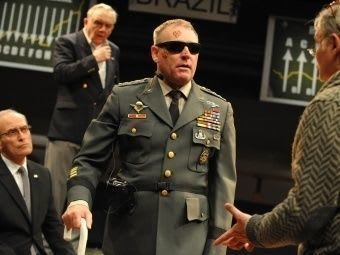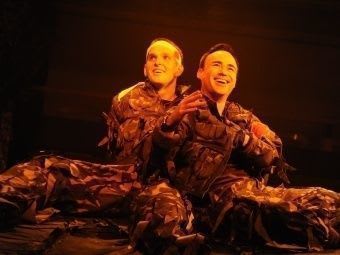 The White House Murder Case combines political satire with whodunit in this belated UK première, 42 years after it was written. It starts with a critical moment during the USA's insurgency into Brazil (ironically one of the relatively few countries they haven't been tempted to conquer of late), when a 5* General makes a call so bad that it threatens global peace.
This is like manna from heaven to Samantha Coughlan's Evelyn Hale, the Hillary to the White House's resident Bill, Bruce Alexander playing President Emmerson Hale.
She is a peacenik, much to the discomfort of her husband's presidential staff, a no-good set of goofs who have made face-saving their life's mission.
While diplomacy in the form of creative rewriting of history is going on to justify the deaths of 750 US army officers with home-brewed nerve gas, the war in Brazil continues. This is personified by two GIs (James Alper and Joseph Balderrama) suffering from some weird side-effects of the gas, one of which is generous bonhomie as limbs begin to fall off with alarming regularity.
The play bifurcates as post-Catch 22 soldiering alternates with The West Wing politicking plus a dose of Doctor Strangelove-influenced imagery, with a deeply satirical tone on either side.
Added drama is injected immediately before the interval as the play earns its title, courtesy of a murder weapon that is adorned with a placard ironically suggesting that it would be better to "make love not war".
The funniest scenes are those as the quintet of politicians including John Chancer as the blinded General Pratt, who lives up to his name, attempt to justify their own actions with a constant collective eye on a presidential election campaign that has six weeks to run.
We will all have to hope that President Obama suffers a quieter lead in to his own attempt at re-election, although he might enjoy some light-hearted comedy of the type in which Jules Feiffer specialises.
Christopher Morahan and his designer Sam Dowson find novel ways to stage this play in-the-round, while the cast convince despite a high level of absurdism which could easily have led to a great deal of hamming.
The result is a sharp but witty attack on Governmental expediency and empire building created around a crime story contrived and silly enough to have been penned by Agatha Christie on contraband drugs.
Reviewer: Philip Fisher